Poker and Game Theory Featured in Hit Film 'Crazy Rich Asians'
The new film "Crazy Rich Asians" is dominating the box office, raking in more than $26 million over the weekend and $35 million in its five-day total. Card-playing moviegoers might be surprised that some elements of poker play a role in the new film.
As Entertainment Weekly notes, the films tells the "story of a Chinese-American NYU professor meeting her boyfriend's obscenely wealthy family in Singapore." The lead character, Rachel Chu (played by Constance Wu), didn't realize her boyfriend Nick's family was so wealthy until the trip, and the story revolves around her work to win the approval of his mother.
"The key is playing to win, instead of trying not to lose."
The movie is based on the bestselling 2013 book by Kevin Kwan, which also brought about two popular sequels. The film became the first major Hollywood film since "The Joy Luck Club" (1993) with a completely Asian cast. Kwan has said his goal was to introduce the country to contemporary Asian life.
Poker in Crazy Rich Asians
If the box office receipts are any indication, Americans were ready for the introduction. The movie also includes a bit of poker mixed into the fun. The main character Rachel is a professor of economics and game theory. Viewers first meet Rachel in a poker game as part of a lecture demonstrating game theory and the concept of playing to win, according to Entertainment Weekly. Rachel faces a player with two pair, but her all-in move forces another player to fold.
"The key is playing to win, instead of trying not to lose," Rachel advises.
Reviews by poker players have been a bit mixed in regards to the actual poker scene, but reviews for the film have been good.
As many poker players know, game theory focuses on the study or use of mathematical models of strategic interaction between decision-makers. The theory has been used in many scientific fields, and numerous players have found the theory useful in poker games – both online and at brick-and-mortar casinos. Elements of game theory can apply to a wide range of human behavior.
Many successful players come from a background involving game theory, including Liv Boeree, Chris Ferguson, Dan Harrington, Erik Seidel, and numerous others. Online players have studied Game Theory thoroughly as well, with some of the best players incorporating elements of their study into their game.
Game theory also plays a big role in the film's climactic mahjong game, according to media reports. The centuries-old Chinese game is immensely popular throughout Asia and much of the world. In the game, players try to create numerous combinations of tiles before their opponents. Regular players utilize strategy and skill to come out on top.
As Vox.com notes: "Communication, negotiation, strategy, and even cooperation are far more critical in mahjong than in most card games. Watching what your opponents discard as well as the completed sets they lay out in front of them — when one steals a tile that another player has discarded, one must expose the completed set — is the key to understanding what each is attempting to accomplish."
That sounds like some of the traits that go into winning any major Texas Hold'em tournament.
"Crazy Rich Asians" has received nice reviews and at one point was scoring 100 percent on Rotten Tomatoes (now 93 percent, still a stellar score). Wall Street Journal ($) film critic Joel Morgenstern notes that the film is "a movie about people who have it all, succeeds in having almost all on its own ambitious terms. Bright, buoyant and hilarious, though far from flawless, this romantic comedy, directed by Jon M. Chu and based on the popular novel by Kevin Kwan, is also a cultural milestone. It's the first major studio film since 'The Joy Luck Club' opened almost a quarter-century ago in which an Asian filmmaker has told an Asian-American story with Asians in all of the leading roles. The result is hugely enjoyable, and hooray for Hollywood for making it happen."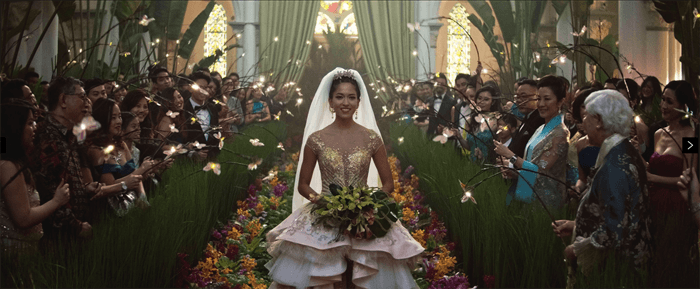 Play Poker Like Rachel Chu in 'Crazy Rich Asians'
If your interest in poker is sparked by the events depicted in the movie, you can give online poker a try.
Before you sign up for an account, though, read up a bit first. Because, as in the movie, being successful at poker demands a calculated approach. We have an extensive library of poker rules and tips:
If you're getting the hang of it, and like some more poker in your life, we have some good news for you! Poker is available worldwide, where you can play for real money against people from all countries. If you're based in the United States, check out Global Poker. If you're based anywhere else, give PokerStars, partypoker, or 888poker a try. Those are the biggest online poker rooms around, with besides Hold'em a ton of different games on offer as well. Mahjong isn't available in any of these rooms though; you'll have to do with "just" poker.
Imagery courtesy of crazyrichasiansmovie.com
Sean Chaffin is a freelance writer in Crandall, Texas. His work appears in numerous websites and publications. Follow him on Twitter @PokerTraditions. He is also the host of the True Gambling Stories podcast, available on iTunes, Google Play, TuneIn Radio, Spotify, Stitcher, PokerNews.com, HoldemRadio.com, and TrueGamblingStories.com.