PokerNews Podcast: Ana Marquez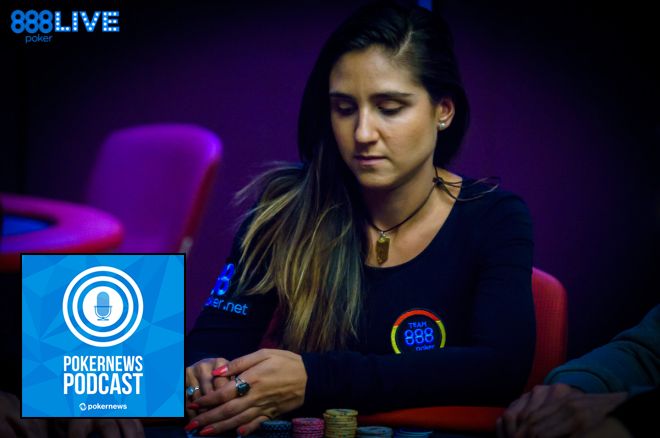 It's Sarah Herring coming at you from Bucharest with a brand new episode of the PokerNews Podcast. 
She flies solo on this one for a minute ([Removed:139] is probably firing some nightly tournament somewhere in Vegas), but then gets some help from 888poker ambassador Ana Marquez. 
The two dive into a wide-ranging conversation at the 888poker LIVE event in Bucharest, discussing bankroll management, vloggers, tournament strategy, and more!  
Plus, Sarah takes a look at the top stories in the poker world. 
This week's sponsor: Natural8!
Show Time Stamps
| | |
| --- | --- |
| 0:20 | Intro: Sarah in Bucharest for the 888poker LIVE event |
| 0:40 | Sponsor: Natural8! |
| 2:35 | Another shoutout to Sean Allison for winning the CSOP seat, seems like he had a great time at the event |
| 3:10 | Ana Marquez joins Sarah to go through the top stories! |
| 3:45 | Jeff Gross Joins partypoker as the Team Online Roster Grows |
| 5:00 | A discussion on streaming, can it lead to profitability/better exposure for online sites? |
| 8:30 | Tony Miles Prepares for American Ninja Warrior for Prop Bet with Shaun Deeb |
| 9:30 | Sarah's Interview with Tony from last year |
| 12:40 | LAPC Main Event draws huge turnout, discussion on WPT delayed final tables |
| 17:15 | 72-Year-Old Retired Dentist Elik Vodovoz Turns $220 Satellite Seat Into $294K |
| 18:20 | Sarah and Ana's PN Pod Facebook Live |
| 19:20 | Ana's experience against Romanian players: "They're aggressive, but I don't see a big difference. I've actually played with a lot of Romanians." |
| 23:00 | Should poker rooms be accommodating towards vloggers? "I think it's a good idea, I think vlogging is really cool, it's attracting more attention to the game." |
| 27:20 | Do women get treated differently at the poker table in different countries? "Everywhere is kinda the same, I don't see it so much, I don't notice it so much." |
| 33:00 | GTO conversation: "I think there's more talk than actually what's going on. Everyone talks about GTO, how many people are actually implementing it right?" |
| 37:30 | Are a lot of young players still coming into the game? "Maybe it has to do with the high roller scene. When the young kids came when I started playing poker and everything, there was no high roller scene. It was easier for all of us to jump into high stakes...it was easier to make money back then." |
| 42:00 | Goals for 2019: "I'm trying to learn to have small goals. I'm trying to do things little by little. I always have too many big goals and too much expectations." |
| 45:40 | Turning into a tournament grinder: "Everything you do before tournaments builds how your game is going to be. Sit-n-go players are pretty good with short stack in tournaments, cash game players are good playing deep...I'm a firm believer if you want to be an elite poker player, you have to dig in all the varieties." |
| 54:50 | Next week: Jeff will take over hosting duties while Sarah travels back...he'll be joined by 2017 WSOP Main Event Champion Scott Blumstein! |
Tell us who you want to hear from. Let us know what you think of the show - tweet about the podcast using #PNPod, and be sure to follow Sarah and Jeff on Twitter.
You can subscribe to the PokerNews Podcast on iTunes here!