PokerNews Podcast: PCA Recap with Aleeyah Jadavji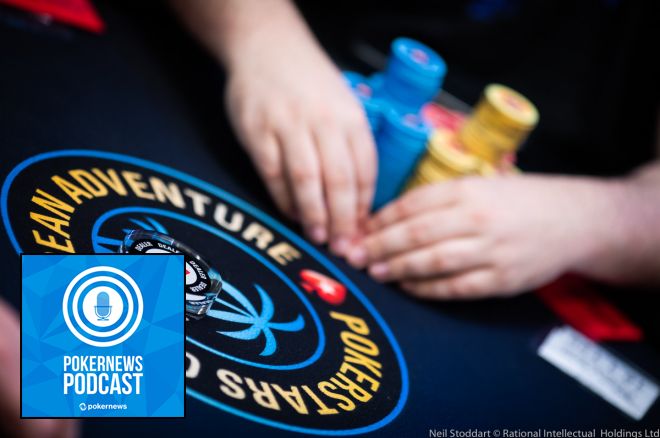 It's another episode of the PokerNews Podcast, featuring a special recap of the PokerStars Caribbean Adventure.
[Removed:139] was in the Bahamas covering the festival, and Sarah Herring chats with Platinum Pass winner Aleeyah Jadavji about an incredible experience at the PokerStars Players Championship.
Plus, Jadavji explains her thought process behind leaving Poker League of Nations. She and Sarah debate some of the methods used by PLON, and what needs to change with poker organizations that are trying to promote the game to women.
Show Time Stamps
| | |
| --- | --- |
| 0:20 | Intro: Jeff & Sarah sit down to start the show, but then Sarah learns her truck is stolen. Not a great start to the show! |
| 2:00 | Sarah brings Aleeyah Jadavji on the show! |
| 4:20 | Winning the Platinum Pass: "The nomination alone to be in the top five with those amazing people...it was humbling to be on that list...I'm grateful, I really hope that I was at least able to do the media proud." |
| 7:30 | Aleeyah taking it upon herself to live a healthier lifestyle: "I kinda jumped into it, and I lost the most weight that I've lost, so that was a really proud achievement." |
| 9:20 | Finding out that she had a cancerous tumor, and how the change in lifestyle might've changed things: "I could've very well saved my own life." |
| 11:20 | Dealing with setbacks: "Tackle what you can, and don't beat yourself up if you can't tackle everything at once." |
| 14:00 | Some love from the Facebook chat for Aleeyah |
| 16:20 | Her experience playing the PSPC: "It was cool, because I ended up running the biggest bluff of my life." |
| 17:20 | Taking us through a big bluff against Amit Makhija |
| 20:30 | Playing at the secondary featured table (with Maria Ho): "She comes to me and says 'you're doing really well, your table presence is amazing, keep crushing, good luck.'" |
| 22:20 | Summing it all up: "The experience was amazing...it was surreal, I got to meet so many people from around the world." |
| 23:40 | Shifting from reporter to player: "Honestly, it was a lot of fun." |
| 25:40 | Crediting PokerStars for the experience they provided Platinum Pass winners with: "They were making us feel like celebrities." |
| 29:20 | Controversy surrounding the Poker League of Nations: Aleeyah discusses being photoshopped and how that led to her leaving PLON. |
| 32:00 | Talking with Lena Evans (founder of PLON) about the issue: "We're a women's group, we should be lifting each other up, not bringing each other down." |
| 34:15 | On Evans's leadership style: "There's so much censorship in this group, she's turning off commenting when people start to have an opinion, clothing restrictions, editing our faces...and excluding members because they're part of other women's groups." |
| 36:20 | Sarah discusses using Photoshop as a positive tool, or at least a necessary one at times for work. |
| 38:40 | Aleeyah on her specific Photoshop: "It was a super-drastic change...it was so brutal." |
| 42:40 | Speaking up for herself more and more: "The old me was a pretty big pushover, I was easily manipulated by friends...I wish I was the person then that I am now." |
| 47:20 | Women's organizations in poker fighting each other: "I think it defeats the purpose of having groups like this." |
| 51:20 | Video of Sarah's chat with Aleeyah on Facebook Live |
| 54:40 | Playing the WSOP Ladies event: "I stone bubbled...it was such a fun event, everyone was on their feet, I had people cheering for me on the bubble." |
| 58:30 | What's next for Aleeyah |
| 1:04:50 | [Removed:139] jumps on from the PokerStars Caribbean Adventure in the Bahamas |
| 1:12:40 | Next week: Tommy Angelo, and more! |
Tell us who you want to hear from. Let us know what you think of the show - tweet about the podcast using #PNPod, and be sure to follow Sarah and Jeff on Twitter.
You can subscribe to the PokerNews Podcast on iTunes here!