8 Considerations When Playing the 8-Game Mix & Other 'Rotation Games'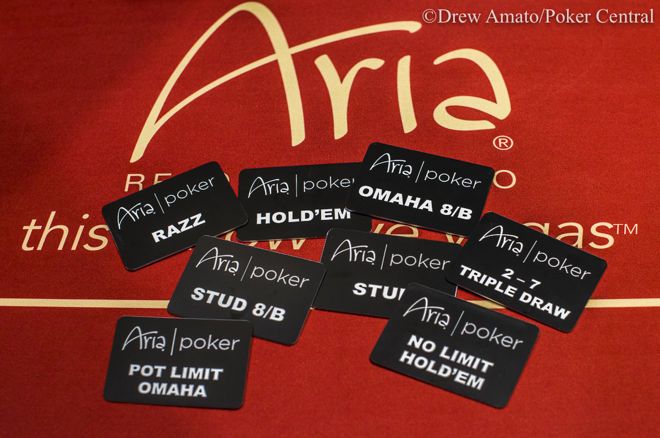 The action is getting tougher in no-limit hold'em. The "dead money" or easy pickings are largely leaving the game as they get pounded by those of you who play better than they do. Pot-limit Omaha is gaining in popularity, of course, but many grinders are reluctant to take on PLO because of all of the swings. What is a competitive poker player to do?
The bigger rooms often spread "rotation games," also known as mixed games. Sometimes the games are limited to just switching back and forth between NLHE and PLO. But increasingly other variants are added in as well, including seven-card stud, seven-card stud hi-lo, razz, Omaha hi-lo, fixed-limit hold'em, and 2-7 triple draw — that is, games that along with NLHE and PLO comprise the "8-game mix." Badugi and other less common variants like Super-Razzdugi also sometimes turn up as well.
Must you be an expert in every game offered in the rotation for you to have a sufficient edge to make money? Fortunately, for now at least, the answer is no. But having even a small advantage in these games can be especially profitable.
Here are eight tips for gaining an edge in these other "rotation games," even if you're not an expert at every one of them.
1. For all of the games, learn at least the basic strategy on every street.
You don't have to become an expert. But you do need to learn at least the basic strategy of each game. There's plenty of material available, including right here on PokerNews. Do a Google search, read up, and at least become aware of the broad guidelines for profitable play on every street of play for every game.
2. Take notes on what you learn about each game, and regularly add to those notes from your own experience as you learn more.
It's not enough to just read through something once or watch a couple of training videos. You need to study up on these games in a serious and systematic way.
This is no substitute for playing the game, of course — you want to do that, too. But you want at least to master the basic instruction that you will give yourself. Doing this requires at least some note-taking and review to make sure you retain and build on what you learn.
3. Know your relative strengths and weaknesses in each game.
You will come to mixed games with certain strengths and weaknesses. What's important is where you stack up against your opponents. Don't assume that because you fancy yourself really good at limit hold'em that this means you can dominate other players whenever the LHE placard gets turned up. Other players may, in fact, be better than you at this game.
Similarly, even if you're not yet an expert at Badugi, if you're the only player who understands even basic strategy, you'll certainly have an edge against opponents who are entirely clueless.
4. Be willing to avoid confrontations with better opponents.
Poker players often have big egos. They like to embrace the adage "Quitters Never Win and Winners Never Quit." This is a terrible slogan for a successful poker player. Be willing to quit when you are behind and avoid confrontations when you view yourself as less skilled than your opponent.
If there's a game where you know you're at a disadvantage, be more selective than you tend to be in your best game. Similarly, take whatever breaks you need during your worst games relative to your opponents. There's no award for valiantly losing against a better player.
5. Be aware of your image in each game.
It's important to recognize how others view you in the particular game that is being dealt. If you're viewed as the expert, they may be less likely to call you, eager to concede to you in a game that is not their best. On the other hand, if they view themselves as dominant in a certain game, they may think they can bully you out of a pot with aggression.
Factor this changing image from game to game into your decisions about whether and how to play.
6. Don't assume you'll be a winner at your best game.
You are not destined to win just because you are the best player in a certain variant.
Though you should generally be willing to enter more pots initially in a game where your skills dominate others, do not take this to an extreme. The cards are still the cards. Your hand is still your hand. One of your skills in your best game should be knowing when you are clearly dominated, and maintaining the self-control to make skillful folds.
7. Resist "Fancy Play Syndrome" in your best game.
It's tempting to get really clever in the game in which you think you are best, using the occasion to show off your skills. If you are indeed possessed of superior skills, acknowledge that less-skilled opponents may not be clever enough to be fooled by your brilliant plays, and rely on solid poker more than trickery.
8. Keep careful track of what game you're playing.
That seems so obvious as to be unnecessary to state. But I've seen expert players err in this regard.
To avoid this mistake, before every single hand confirm the game you're in by looking at the placard and saying it to yourself. It takes no more than a second or two, and doing so could save your stack.
Ashley Adams has been playing poker for 50 years and writing about it since 2000. He is the author of hundreds of poker articles as well as Winning 7-Card Stud and the brand new Winning Poker in 30 Minutes A Day. He is also the host of poker radio show House of Cards. See www.houseofcardsradio.com for broadcast times, stations, and podcasts.