888poker Strategy: 5 Tips for Spotting Online Poker Tells with Sofia Lovgren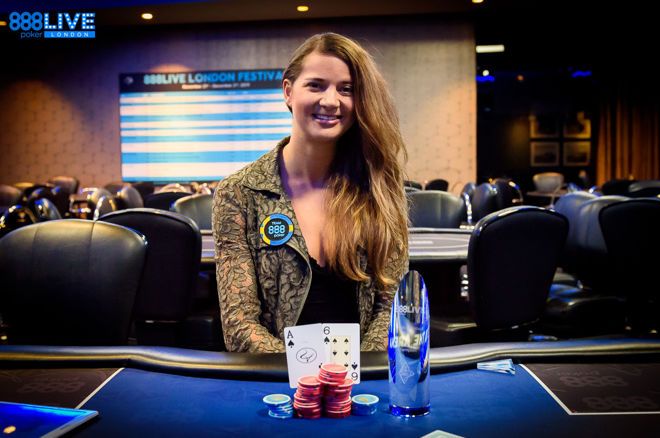 888poker's Sofia Lövgren has played poker for 15-years, with her career choice allowing her to live and travel all around the world to get into the best games on the planet.
Lövgren is no stranger to success, whether in the live or online poker scene, the Swedish pro has recorded 14 WSOP cashes. This includes a $35,267 score following a deep run in the 2017 WSOP: $10,000 Main Event as well as a 12th place finish in the 2016 WSOP: No Limit Holdem Millionaire Maker for $75,000.
Despite some excellent tournament results, the 888poker ambassador's bread and butter are cash games, where she started off her profession, and is often found streaming mid to high stakes cash tables on the platform. Lövgren's experience at the virtual tables has allowed her to pick up on a host of player tendencies and shares five great tips for players looking to spot online tells.
Watch the video, take in the information, and try it out at 888poker's recreational player friendly tables.
1. A Pause Can Mean Strength
One of the first rules of tells is that a strong hand may try to act weak whereas, a weak hand may try to look strong. If a player is taking a longer than usual time to make their decision and then raises, it can often mean that they have a strong hand.
888poker is the Perfect Site for Beginner Poker Players
2. Watch Out For Quick Calls & Checks
Trying to gauge whether an opposing player has a made hand or a drawing hand can be tricky, but there are some online poker tells that can make to help you make the best decision in that moment.
If an opposing player makes a really fast call, Lövgren notes that this can often indicate that the caller is on a draw and that they want to see another card. If an opponent has a strong made hand, they won't want to give away the strength of it, the player will act more hesitantly before putting their chips in the middle.
If someone at the poker table makes an instant check, this can mean the same thing. It is possible that that they have their check/fold button ticked already because they have a weak hand. You should bet and take the pot right down there.
3. Acting Super Fast Can Mean Weakness
A fast show of strength can mean a player is bluffing, remember a weak hand will want to look strong. If someone starts instantly betting when they usually take bit more time to act, it can be a sign that they want you to fold, so there is a stronger chance that the player is bluffing.
888poker Strategy: 5 Poker Tips for Playing On The Bubble from Vivian Saliba
4. Don't Fall For the Long Pause
You may have heard of the term "Hollywood" at the poker table, a player that is "hollywood-ing" is putting on a big act of strength or weakness. If a player takes a long pause on each decision and continues with aggression, you should be wary and not fall into their trap.
5. Watch the Chat Box
A player that may have just had their bluff called or been on the wrong side of a bad beat will sometimes start venting their frustrations in the chat box. You should take notice of this behaviour when you are in a hand with this player; as they may be on tilt and playing any two cards. Be prepared to take advantage of this and call down lighter as your opponent will not be playing their A-game when in this mental state.
---
888poker Strategy: 5 Tips for 3-Betting in Position from Chris Moorman
Get more from 888poker
For more strategy advice explained, head on over to 888poker strategy section.
If you don't have an 888poker account you are eligible to a free bonus as soon as you register an account to play.
888Poker bonuses vary depending on your location and range from a free $88 bonus to a £20 UK poker bonus with no deposit needed.
Calum has been a part of the PokerNews team since September 2021 after working in the UK energy sector. He played his first hand of poker in 2017 and immediately fell in love with the game. Calum's proudest poker achievement is winning the only tournament he has ever played in Las Vegas, the prestigious $60 Flamingo evening event.