I'll Be Bach: Breaking Down Seven-Card Stud with David Bach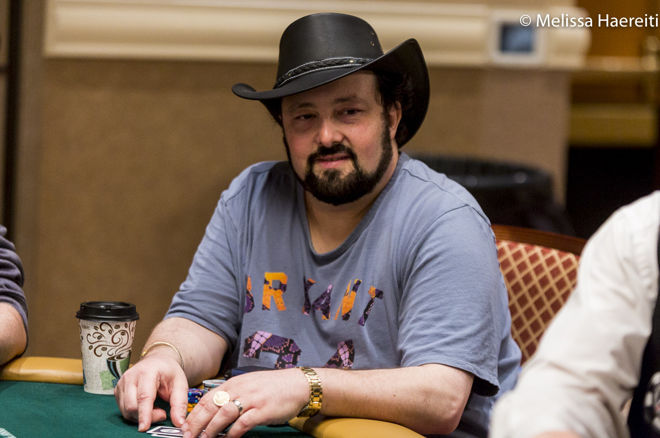 The $10,000 Seven Card Stud Championship got underway this afternoon, the last event on the 2017 World Series of Poker schedule before the Main Event begins tomorrow (with the Little One for One Drop still to come next week).
David Bach has had a great WSOP thus far, and he was back again today with a plan to multi-table the stud event along with the $1,000 WSOP.com ONLINE No-Limit Hold'em Championship. With all of that on his plate, he still found time before getting started today to talk with PokerNews about his general strategy and outlook on stud.
Bach is a good one to go to for seven-card stud advice, a game that was in the mix for both of the bracelet events the 45-year-old has won this summer — Event #11: $1,500 Dealers Choice 6-Handed and Event #30: $10,000 H.O.R.S.E. Championship. Bach's other bracelet also involved stud — the $50,000 H.O.R.S.E. Championship he won in 2009 for $1,276,806.
"It was actually my first real game," says Bach, who has more than $4 million in tournament winnings.
"It's really popular in Georgia where I'm from. For my 18th birthday, my father took me to a log cabin north Georgia where we played for cash money, a $25 limit seven-card stud game. That was the first real money I ever made from poker."
Stud poker, which involves players receiving a mix of up and down cards, has deep roots in American culture. A form of the game using four, five, or seven cards has been played in the United States since the Revolutionary War. A game of five-card stud was a common sight in soldiers' camps during the Civil War.
The five-card game then gave way to the seven-card version in the 20th century. The game grew in popularity in home games and casinos, only to lose some luster as Texas hold'em became the variant favored by most (especially when shown on television with visible hole cards).
Bach says stud is an aggressive game where memory helps a lot to track which cards have been played, those that are out on the table, or those that may have been folded.
"The up cards are super important," he says. "Every hand is different because of the up cards, and I think that makes it a beautiful game. If your cards are dead, your hand's not nearly as good. If your cards are live, it's much better. If you can pay attention to what your opponents are likely to have, that's important also."
While you may have a likelihood of making your hand, Bach notes, simply making note of opponents' likely hands may also save valuable chips or cash in the long run. Indeed, as he explains, memory plays a role in stud that is much different than in games like Texas hold'em.
"In hold'em you remember things that your opponent did in previous hands," he says. "But in stud you have to remember and adjust to the boards also, which is an extra factor."
When it comes to straight seven-card stud (high only) versus the split-pot, hi-lo version, Bach believes there is more gamble to the high version with players looking to draw to bigger hands and playing more aggressively with big starting cards and drawing hands.
"To me, hi-lo is more kind of A-B-C poker — not that there's not a lot of play to it, but there's a lot more straightforward situations like where somebody has three low cards so the high hand checks to them because he's freerolling," he says.
"Whereas in stud high, even though somebody may have a bad board, they can still have hidden trips or two pair. It's a little more flexible game, I guess."
"I'd like to see more people playing it," Bach adds. "I hate that it's kind of dropped off in popularity because it's a great game if people give it a chance. There's a lot to it."
Bach says seven-card stud involves the ability to adapt and be aggressive with a bit more gambling than is the case in hold'em, as players fish for draws to beat opponents' made hands.
"It's also a really, really good game for the recreational player who likes to gamble because in stud you're really not that far behind," he says. "If someone has aces and you have kings, you're not 20 percent like you are in hold'em — you're like 35 or 40 percent."
"So the average recreational player's going to win more often and enjoy the game," he explains. "It's a better game for an amateur than no-limit hold'em, and that's why it was more popular before television. It's just not that great on television."
As the Stud Championship kicked off, Bach was in the field in the Amazon room hoping his bets and draws paid off — while playing Texas hold'em on his tablet, and seven-card stud on the felt. Multi-tabling another pair of bracelet wins would certainly be a nice way to continue his monster run at the WSOP.
"That's what I'm going for," he says, laughing. "To get back in the Player of the Year!"