John Beauprez Offers Big O Advice With WSOP Tournament Looming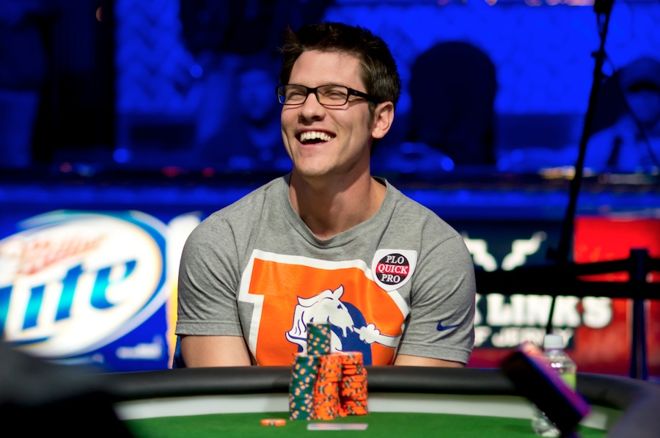 A brand-new event on the 2016 World Series of Poker schedule is Event #53: Mixed Pot-Limit Omaha Hi-Low/Omaha Hi-Low/Big O, set to begin this afternoon at 3 p.m.
That last part of the event's name is a bit of a surprise, actually. Despite being a popular cash game variant at the Rio All-Suites Hotel and Casino the last few summers, "Big O" has never been featured in any bracelet event until now.
Big O is a version of pot-limit Omaha Hi-Low in which players are dealt five cards instead of four. As in PLO8 (and other Omaha games), players use two hole cards and three board cards to make a five-card hand.
With such a niche game, there's very little material out there, so it's possible there's a big edge to be had in this tournament.
One man with considerable PLO knowledge is John Beauprez, founder and head instructor of PLOQuickPro.com, a training site dedicated entirely to PLO coaching. Beauprez has also had plenty of success at the WSOP, having won a bracelet in 2013 in a $1,500 NLHE six-handed event for $324,764.
He agreed to share some thoughts with us regarding Big O strategy in advance of the WSOP running an event with it for the first time.
PokerNews: Tell us about your history playing Big O.
John Beauprez: Up until a couple of years ago, I didn't have any. I play a home game back in Colorado, and they all give me a hard time because I didn't even know what a low was 18 months ago. But, it's a good home game and the Big O action is good out here in the summers.
It's important for people to learn how to play. You'd be surprised how it can help your other games, whether you're a PLO player or NLHE. It's just a different way to look at poker and look at board textures and analyze opponents.
So most of your Big O experience is playing cash?
It's all cash.
For a player used to regular PLO or PLO8, what's the No. 1 adjustment to Big O?
It's super-important if you're going to play a big pot to have a draw to both sides. One of the most common mistakes I see people play is drawing huge to one side of the pot. If people are deep-stacked and have just the nut-low draw, they'll play it way too fast. They have a good draw but it's to only half of the pot. You really have to have a hand that draws both ways.
How can a player exploit a mistake like that?
I think the best players are really good at picking up when other people are weak to one side. They can use their nuttiness on one side of the pot to semi-bluff [out players on the other side].
How does having five cards versus four change the calculus of starting hands? Do you need three wheel cards to start (instead of two)?
Yeah, ace-deuce is still a really powerful combination, but you really want ace-deuce with another wheel card if you put in a lot of money preflop. The fifth card adds a lot more combinations. You're going to run into another ace-deuce hand pretty frequently, so it's really important to have ace-deuce with another low card. You have to play ace-deuce definitely a lot slower in Big O than you do in PLO8.
And to be clear, you still need ace-deuce or ace-three in your hand most of the time, especially in early position?
I would say so.
How important is it going to be that a player who enters this is competent in Big O?
It's huge. It's going to be a lot of the tournament, so it's an extra edge. The guy who just won the PLO/NLHE combo tournament is a good friend of mine, Loren Klein. [In that event, it was] a huge advantage for him because he's great at both games.
No matter how good you are at one game... those tournaments where games are combined it's going to be a huge edge if you can at least hold your own in all of the games. You don't have to be Phil Ivey in all of the games, but if you can hold your own in all of them, it's going to go a long way for you.
And you would expect the Big O sections of the tournament to be the juiciest since it's the new game on the block, right?
Definitely. Big O and PLO8 games are legendary for being soft, so it's invaluable to be able to hold your own in those games.
Want to stay atop all the latest in the poker world? If so, make sure to get PokerNews updates on your social media outlets. Follow us on Twitter and find us on both Facebook and Google+!