Don't Try This At Home: Michael Mizrachi's Take on Poker Strategy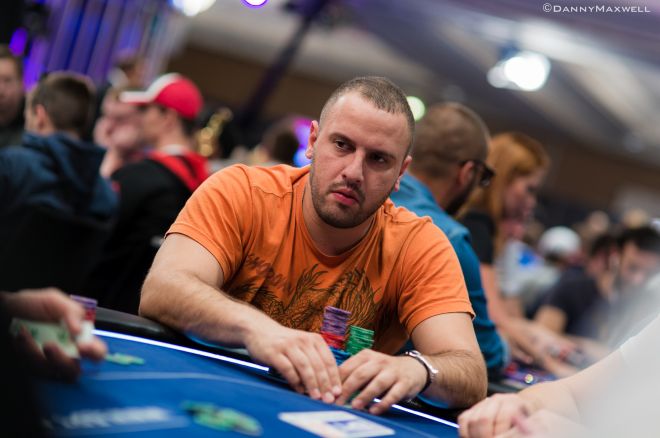 Michael Mizrachi is a poker legend, there's no doubt about it. His loose-aggressive style has blown the minds of poker fans and players alike, and his approach to the game is as unique as anyone's. For this strategy piece we spoke to Mizrachi about what makes his style different, and whether or not you can adopt the Mizrachi brand of poker.
"Don't play like me," Mizrachi says with a laugh when asked if beginning players should look at his style in search of help with their own game. He then turned toward to topic of starting hand selection, addressing how new players can get themselves in trouble playing too wide of a range of hands.
"There are a lot of hands you just don't know what to do with — for example, flopping top pair and being able to get rid of it. I know how to get rid of those hands in certain situations. In general, it's hard to play hands like
,
,
."
"For inexperienced players, I would recommend playing the hands that are easier like aces, kings, ace-king and ace-queen. Those hands are typically easier to play, but with my style you're going to have to have a plan for any two cards."
It's clear that Mizrachi's style is not for the faint of heart, as it can easily result in early eliminations and blown chip leads. But with $14.8 million in live tournaments earnings, including 156 live cashes, 80 final tables, and 26 outright wins — among them two World Poker Tour titles and three World Series of Poker bracelets — he's doing more than a little bit right.
In response to our question, "What specifies your style of poker?" we got the most Mizrachi-like answer possible from the only two-time winner of the $50,000 Poker Players Championship at the WSOP.
"I really don't have a specific hand range, and that way nobody can put me on a hand," he says. "People always assume that I'm bluffing, so when I have the goods I always get paid off. I use a lot of overbets [as well], and those always get paid off."
Mizrachi went on to explain how he does use math, but only occasionally and in a different way that you might think.
"I use math sometimes in tournaments, but rarely. Sometimes I take a gamble for 25% of my stack. I take 25% of my stack for flips and if I'm down to the last 50% of my stack I'll play solid again. My imagination helps me to create new plays and do things that people have never seen before. That's confusing for a lot of players," Mizrachi says with a big smile.
Part of what makes Mizrachi one of the toughest opponents to play against is his ability to gather chips quickly in tournaments and subsequently push people around. Some of the largest chip leads we've seen in poker tournaments over the last 10 years have belonged to Mizrachi, making it no shock to find him 15th on the all-time money list.
"I seek out risk, that's what I do," he explains. "I know I need a big stack to play my style. I do make a lot of adjustments. I can play very fast and slow if I want. I can do whatever I choose to do. My style is just so different from everybody else's, and I like to see a lot of flops — more than getting it in preflop."
Confidence aside, Mizrachi is well aware that the game has gotten at lot tougher over recent years. A coin flip nowadays is worth a lot more than it used to be, when that was probably the worst way in which to get your money.
"If I have to, though, I'll get it in as a flip," Mizrachi concedes. "Getting it in as a flip these days is pretty good, as it's very hard to get it in as a huge favorite against good players. You're only going to get it in as a big favorite against inexperienced players most of the time."
When asked about more specifics with regards to his style, Mizrachi explains how it would be hard to comprehend right away the meaning behind the moves he makes.
"I've got 20 years of experience, so you're going to have to sit behind me for a very long time and you're going to want to ask me a lot of questions on the hands that I play. Most of the time you'll be thinking, 'What the heck is going through his mind?'"
When it comes to live reads and tells, Mizrachi doesn't attach too much significance to them for his approach. But it is relatively easy for him to spot the weaker opponents.
"You can see at the table right away who's good and who's not, most likely," he says. "You can see things by the way they sit at the table, the way they set up their chips, the way the act in a hand, the way they play. I know who to be aggressive with and who to sit back against. I've seen everything already, and I've even seen people play my style but a lot worse. Those people are just gambling, and I try to get it in through much better spot. When I get my money in, I usually have the goods."
Finally, Mizrachi has one key piece of advice for everyone out there looking to run over his or her table:
"In the end, you just have to stay aggressive!"
Want to stay atop all the latest in the poker world? If so, make sure to get PokerNews updates on your social media outlets. Follow us on Twitter and find us on both Facebook and Google+!