Omaha Hi-Low Strategy with Bart Hanson: Differences in Cash Games and Tournaments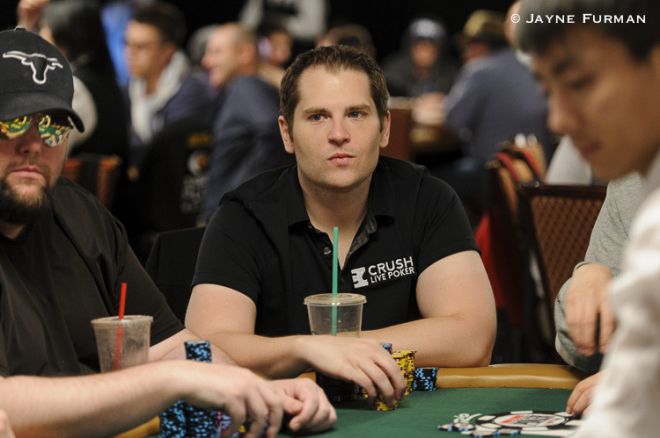 "Anytime you learn another form of poker, you'll learn how to play your best form better."
That's what Bart Hanson said when we asked him to give us a reason to improve our Omaha hi-low game, and we couldn't have put it any better ourselves.
This year at the World Series of Poker, a total of 12 different games are spread, and only one of those doesn't have its own bracelet event. Badugi will be a part of the $50,000 Poker Players' Championship, but we don't discriminate and every single one of these games will have at least one, possibly more, strategy articles.
Today we're kicking things off with one of the most popular games at the WSOP, Omaha hi-lo. It's also commonly known as Omaha hi-low 8-or-better, Omaha-8, and Omaha 8-or-better, but it's all exactly the same game.
In case you've never heard of it, here is a brief explanation to get you up to speed.
Omaha hi-low is a flop game where every player gets dealt four cards. Just like with pot-limit Omaha, you have to use two cards from you hand, but the big difference is that you can use a different two for the high than you use for the low. On every single hand, the high will qualify, but since this game has an "eight-or-better" qualifier, the low only comes in when a player has a combination of five unpaired cards lower than an eight.
Example hand:
If you hold
on an
board, then your high hand is
for a four-of-a-kind, and your low hand is
. In this example, you have "nut-nut," which is the two best possible hands, high and low.
For this first strategy piece, we spoke to the aforementioned Bart Hanson, who's very well rounded in all forms of poker. Hanson has live tournament results in many forms of the game, and six in Omaha hi-low. During the 2012 WSOP, Hanson had his best result in this game, placing seventh in the $5,000 Omaha hi-low event for $45,084. Here's what he had to say.
"People play this game with different strategies," he said. "I really believe — and I"m from the Mike Matusow school of this game — that the correct style is to play a little bit defensive. It's very different from any kind of other tournament and the unfortunate part is that even if you get a good table draw, when players are aggressive it ramps up the variance so much for good players. This is a reason why I love the $10,000 Omaha 8-or-better tournament because guys are not just jamming it every hand, and because you get so many chips it's very hard for them to burn you. You'll be able to overcome that higher variance since you will see more spots and hands."
Hanson also emphasized the importance of being able to scoop, which means winning both the high and the low portion of the pot.
"The low only comes in about 60 percent of the time, so sometimes high-only hands have value when the low bricks out," he advised. "However, you might run an amazing hand against a very trashy hand and it will only scoop about 60 percent of the time. If you can stay in there for cheap, it's good, but fundamentally you want to build on a low. Hands that include ace-deuce and ace-three are really powerful, because once you hit that low you're on a freeroll against high-only hands."
As an example, Hanson uses the following scenario:
"Even if a guy has two kings on
, which would be the current nut high, you could have
or
and sometimes even with a flush draw, so you are freerolling for the low with a chance to also make a better high hand on the river."
He added, "In tournaments, it's definitely good to play tight in this format, as it's more of a defensive game and saving bets is very important. Unlike, let's say no-limit hold'em, where you just get it all in and win or lose, it's a split-pot game and you're not getting knocked out all that frequently when you get it all in."
Also in tournaments, Hanson was sure to point out the difference between how many players go to a flop versus when in a cash game, and this cane certainly change one's approach.
"In a tournament, this game is usually a lot more short-handed post flop, but in cash games you need to at least draw to the nuts in one way because there is so much multi-way action," Hanson said. "Fundamentally, it is good to draw to the nuts, but if you are in a heads-up pot you can absolutely play more than just the nuts."
Using an example of this, Hanson elaborated with the following:
"If I defend my blinds and flop a jack-high flush draw and the third nut low draw, I will go with it," he said. "It's very unlikely in that scenario that he's beating me both ways, but in the early levels it's different. When it gets limped around seven ways, and I have
and the flop comes down
with two clubs, I'll just fold that hand. The third nut low draw and the third best flush draw are not very good in multi-way pots, so I would say that the more multi-way the pots are, the more you need to be drawing to the nuts."
There are plenty of tournament options at the WSOP if you like this game, but usually it's easier to find some cash-game action, especially if you want to test the waters there are lots of tables all over Vegas that spread Omaha hi-low. Based on experience we can say that Omaha hi-low is the second most popular cash game in Las Vegas behind no-limit hold'em.
For remaining WSOP Omaha hi-low events, check out the following schedule:
| Date | Time | Event No. | Game | Buy-In |
| --- | --- | --- | --- | --- |
| June 3 | 4 p.m. | 13 | Omaha/Seven-Card Stud Hi-Low | $2,500 |
| June 21 | 4 p.m. | 21 | Omaha Hi-Low Championship | $10,000 |
| June 14 | 4 p.m. | 31 | Pot-Limit Omaha Hi-Low | $3,000 |
| June 24 | 12 p.m. | 49 | Pot-Limit Omaha Hi-Low | $1,500 |
If you have any more questions about Omaha hi-low strategy, you can find Hanson on Twitter at @BartHanson.
Want to stay atop all the latest in the poker world? If so, make sure to get PokerNews updates on your social media outlets. Follow us on Twitter and find us on both Facebook and Google+!