Strategy with Kristy: Vanessa Rousso, Liv Boeree, & Lex Veldhuis Discuss Life on the Road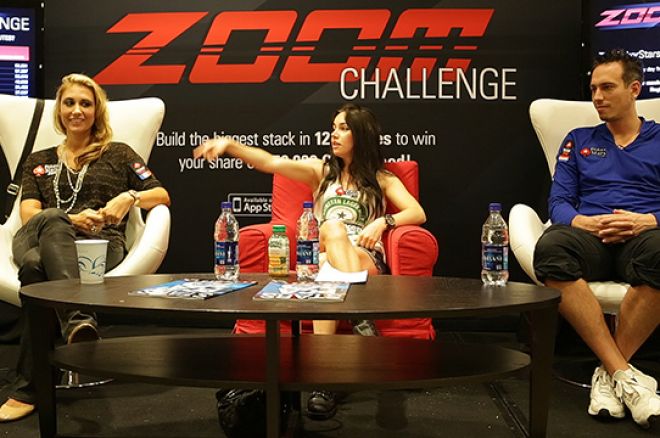 For many poker players, home consists of hotels and suitcases, especially for those who travel the worldwide tournament circuit. During the 2013 PokerStars Caribbean Adventure, PokerStars held special question-and-answer sessions with its pros on specific topics. In one such session, Team PokerStars Pros Liv Boeree, Vanessa Rousso and Lex Veldhuis discussed life on the road as professional players and also shared a few interesting stories from their travels.
The audio has been made available for this edition of the Strategy with Kristy podcast. Here is a snippet:
Lee Jones: Tell us about your worst trip. You can either say, in general, the place that you dread going to, or one specific trip you.
Veldhuis: Well, I had one unfortunate trip where I had to go from Amsterdam to Austria, which is normally a two-hour trip. It was during off season though, so I had to have a connection in Frankfurt. I thought this would be no problem. It was for a cash-game show, so I said I would play because I didn't have anything to do and it sounded interesting. I ended up having a 13-hour layover in Frankfurt, and then the flight got canceled because of bad weather. For what's usually a 2-hour trip, I ended up stay in the airport for 18 hours. So, I'm probably never going there again.
Boeree: It's hard to say a least favorite place. I've definitely had a bunch of ones where I just thought, "Oh this place is awful, get me out of here." In terms of hotels, I think the place that takes the biscuit is Sanremo. Actually, kind of a funny story, the first time I went to Sanremo, which incidentally turned out quite well for me... [laughs]
Jones: ...Yes, you won the tournament.
Boeree: Right, so I'm not going to complain too much, but that year I stayed in the cheapest hotel I could find. I wasn't even meant to be going there. The volcano went off so I couldn't fly home. I was with a friend, Liz Lieu who said we should take a bus there. It ended up being three buses and two trains. The trains were on strike, so it took 12 hours to get across 300 miles. So I get there, take a shower, and there are no towels. I call down and ask for some, and they told me they were in the bathroom. I look again, but there are nothing but small hand towels. They were tiny, and there was no softness to them. It was like a head scarf. Apparently that's what they use.
Rousso: [laughs] Actually, the person I was staying with and I shot a video of me jumping out of the shower, but with clothes on just pretending, and I pulled out the little towel. I was just like, "I don't really know what I'm suppose to be doing with this."
Tune in every week for new episodes of Strategy with Kristy. Feel free to send in questions, ideas or suggestions for the podcast to kristy@pokernews.com. Also remember to follow Kristy Arnett and PokerNews on Twitter for up-to-the-minute news.