Vince Van Patten on Playing WPT Events, Home Games & '7 Days to Vegas'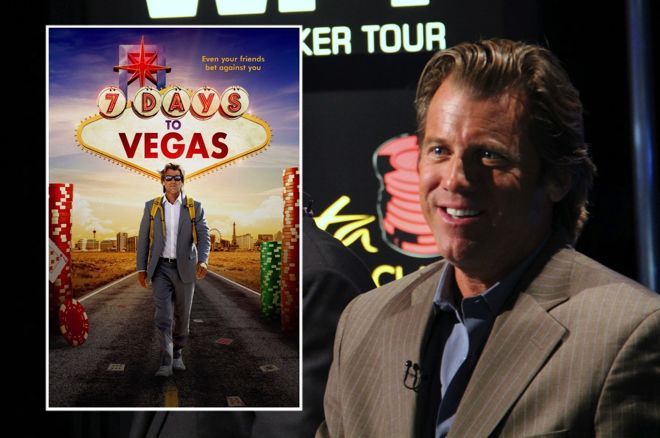 For the past 18 seasons, Vince Van Patten has been the co-host of the World Poker Tour. After having kicked off the inaugural WPT season in 2002 with Poker Hall of Famer Mike Sexton, the 61-year-old former childhood actor has most recently been sharing hosting duties with former WPT Raw Deal host, Tony Dunst.
The son of prolific actor Dick Van Patten, Vince has ventured down multiple paths during his diverse life from acting in many films and TV shows to being a professional tennis player. He was the 1979 ATP Rookie of the Year, defeated John McEnroe en route to winning the 1981 Seiko World Super Tennis Tournament, and was once ranked as high as 26th in the world.
It was his father who introduced Vince to many forms of gambling. In fact Dick Van Patten preceded him as a poker commentator by hosting ESPN's coverage of the World Series of Poker back in the 1990s, with Vince joining the broadcast in 1998 — kind of foreshadowing his later career. Vince has also hosted many celebrity poker games in Beverly Hills, becoming known as the "King of the Hollywood Home Games."
Recently, he has ventured down yet another path, starring in a new film 7 Days to Vegas which he co-wrote with Steve Alper. The movie provides viewers a glimpse of the inside world of gambling and prop bets. It opens in select theaters across the country today and is also available on iTunes.
I recently sat down with Van Patten to talk about his new film as well as to get his advice for players looking to play on the World Poker Tour.
PokerNews: Vince, can you believe that it has been 18 years since you began hosting the WPT?
Vince Van Patten: No, Bernard. It's really amazing. You know when the World Poker Tour came around, they already had Mike [Sexton] and they were looking for a second person. Shana Hiatt, who was my sister-in-law at the time, got her WPT job first and they were asking her if she knew poker. She told them that I was her brother-in-law and that she had been to my Beverly Hills home game. They had already wanted to reach out to me, so she gave them my number and they contacted me.
They knew I played a lot of poker. I had already hosted the WSOP with my dad when Scotty [Nguyen] won. I had a game in Beverly Hills and on top of that, I was an actor.
So I get this job. Mike was great right from the start and we clicked right away. But we never thought it would catch on and figured that it would probably go off air after a few shows. But lo and behold, it became this big thing and we are going strong 18 years later.
How did you get started playing poker?
My dad taught me how to play. He had two or three games a week and I got to watch the games. When I was around 15-and-a-half, my dad said "All right Vinny, you can join the game. You have some money from acting." So I would play in this game with my dad and it was so much fun.
Then when I was 16, I would go to Gardenia, California where they had legalized poker. But to get in, you had to be 21, [so] I had a fake beard and mustache made so I could actually look over 21.
The movie that you co-wrote and star in, 7 Days To Vegas, is it based on your home game?
Yes. It's based on my game back in the '90s that went from a smaller game in San Fernando Valley to when it got to be a big game in Beverly Hills. But it wasn't about the poker at all. It's about the crazy people and they are bigger than life. They would bet on anything. And it is about the bets that we made.
In the movie, one of the craziest bets of all was that they bet me a lot of money that I couldn't walk from L.A. to Vegas in seven days.
It's a comedy and it's a lot of fun. I really had a great time writing it. It also co-stars my wife Eileen Davidson] and Jennifer Tilly, with a lot of cameos including Mike Sexton, Phil Hellmuth, Phil Laak, and Antonio Esfandiari.
Having watched so many WPT tournaments over the years, what advice would you give amateur players who want to play a WPT Main Event?
I like calling the amateurs "non-professionals" because I have seen so many players have tremendous success and beat the pros on the World Poker Tour.
Players play in a WPT Main Event to go after a dream, but don't play with scared money. Definitely play with money that you can afford to lose as only about 10 percent cash in the event.
I like calling the amateurs "non-professionals" because I have seen so many players have tremendous success and beat the pros on the World Poker Tour.
Also, don't be intimidated by the pros, because if you study poker, you know basically how many of them will play. But as a non-professional, you can actually have an edge as the pros won't know how you will play against them. If you are perceived as very tight, you can open up your game and take advantage of this perception.
What advice would you give to the players who are getting deep and aspire to be on the WPT final table set?
Many of the non-professionals are generally pretty tight players as they are survivors. Some who have survived to the last few tables don't have the experience of closing under pressure. So when the blinds start getting up there, I might suggest that they should get a little more aggressive. But it's a balancing act between surviving and [being] aggressive.
These players might want to watch some past WPT tournaments to get a feel of how the end of these tournaments play out, especially the final table.
During your 18 years calling the action for the WPT, what has been your greatest moment?
Without a question, it has to be Mike winning in Montreal at the Playground Poker Club. When we started out, the WPT wouldn't allow us to play in the tournaments because they worried that if we made a final table, the public would say that maybe something is weird about it. However, after 11 years, WPT management finally gave in and allowed us to play.
Mike is such a great guy and everyone loves him. We were all really rooting for him during that final table. Mike is such an excellent player and it all worked out for him on that day.
You have also played in several WPT events and have done well, making it to the final three tables in a couple of Main Events. Do you like playing in tournaments?
Personally, I don't play as many tournaments. I prefer cash games. I don't have the patience to play well for four to five straight days.
What advice would you give players interested in playing in cash games?
For me, I prefer cash games because you get the feel of the table. After an hour or so, you can put more money in if you feel good or you can let what you have in the game ride out, playing short-stacked and seeing what happens.
In cash games, I like the freedom as you can get up whenever you want to. You can play for 20 minutes or you can play for four days. There are so many more options when you play a cash game compared to a tournament.
What are your favorite games that you play at the casino or in your home games?
For me, I love no-limit hold'em and also pot-limit hold'em, but Pineapple is my favorite home game.
Thanks for spending the time and all the best with your movie.
Thanks so much, Bernard.