WATCH: 'Solve For Why' Debuts New VLOG with Matt Berkey LAPC Run
Spend a little time on Twitch or YouTube these days and you soon discover a lot of interesting, new poker strategy, a lot of which is both entertaining and instructive.
Case in point — the guys behind the Solve For Why poker training academy have recently launched a new video blog with a first episode featuring poker pros Jordan Young, Matt Berkey and Christian Soto.
"We're going to bring up topics a lot of pros have shied away from," explains Berkey at the start of the episode, while Soto adds that the trio plans to "show the blood, sweat and tears of what it means to be a poker player."
From the looks of the first episode, in addition to providing viewers a glimpse of the life of a poker player, the group plans to offer some useful and entertaining strategy content as well.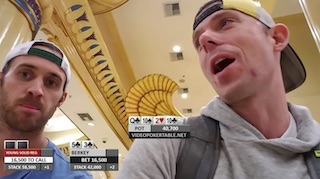 The show finds them following what eventually became a deep run by Berkey in the World Poker Tour L.A. Poker Classic Main Event from a couple of months ago. Starting with Day 2 of the event, Berkey and Young spend breaks discussing key hands Berkey played, analyzing the action and Berkey's thought process at each decision point.
They've superimposed hand graphics during the discussions, which helps the viewer follow the action and get more out of the range-reading Berkey describes himself performing.
Several of the hands involve tricky postflop decisions, including some big calls and tough folds as Berkey battles with Antonio Esfandiari, Dietrich Fast and others.
We won't give away how things end for Berkey in the tournament — take a look for yourself:
You can subscribe to the Solve For Why YouTube channel here. Meanwhile, find out more about Solve For Why and their upcoming academy at the Solve For Why website.
Finding a trustworthy room to play online poker can be a monumental burden. That's all the more true if you're just looking for a place to play poker for free. We've listed five of the best play-money poker sites to enjoy and help hone your skills.