Level Info
| | |
| --- | --- |
| Level | 29 |
| Blinds | 50,000 / 100,000 |
| Ante | 10,000 |
Players Info
Main Event
Day 3 Completed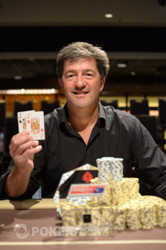 That's a wrap folks! The final day of play at the PokerStars.net Australia New Zealand Poker Tour Sydney Main Event has come to a close. There were 27 players still in contention at the start of the day, but after 12 hours of play only one player could take down the title and that was Gordon Huntly from Scotland.
When the day started it was Nicholas Heather who held the chip lead, but that wouldn't last long as he faltered late in the afternoon. In the end Heather bowed out just shy of the final table in a very solid 12th place.
Eventually only nine players remained and going into the final table it was Liam O'Rourke who had a monster chip lead. O'Rourke put on a bit of show in the lead up to the final table and continued his aggressive play well into the early hours of the morning.
The first elimination at the final table occurred just a short while after it began, with 2008 APPT Sydney Champion Martin Rowe going home in 9th place. At this point it was O'Rourke who held control of the final table, with the young Aussie seemingly involved in every hand.
Not long after Rowe's elimination, it was Bradley Lancken who would find himself on the rail in 8th place. Shortly thereafter Craig Blight was eliminated in 7th place, before 2012 Aussie Million Main Event Champion Oliver Speidel joined him on the rail in 6th place.
Jason O'Brien and O'Rourke rumbled for much of the final table and as such it was somewhat apt that O'Brien's elimination would come at the hands of O'Rourke. O'Brien lost a massive flip holding
against O'Rourke's
and it was out the door in 5th place.
The final four fought fiercely, but this is when it all slowed down. It took over two hours for the next elimination to occur, but finally it was Stewart Ballard who was eliminated in 4th place.
Going into three-handed play it was Huntly who was the chip leader and from there the Scotsman never looked back. When O'Rourke eliminated Anthony Aston in 3rd place, he would going into the heads-up battle with a slight chip lead, but that would change very quickly.
It took less than half an hour for Huntly to take care of O'Rourke. Huntly chipped away and chipped away before O'Rourke eventually fell to the rail in 2nd place to see Huntly head straight to the rail to celebrate with his friends. For his runner-up finish O'Rourke pocketed a very respectable A$144,754.
2012 ANZPT Sydney Main Event Final Table Payouts

| | | |
| --- | --- | --- |
| Place | Player | Payout ($AUD) |
| 1st | Gordon Huntly | $226,812 |
| 2nd | Liam O'Rourke | $144,754 |
| 3rd | Anthony Aston | $80,214 |
| 4th | Stewart Ballard | $62,696 |
| 5th | Jason O'Brien | $48,405 |
| 6th | Oliver Speidel | $39,185 |
| 7th | Craig Blight | $29,965 |
| 8th | Bradley Lancken | $23,511 |
| 9th | Martin Rowe | $17,518 |
Lynn Gilmartin interviewed Huntly table side after his win.
That's all from us here at The Star in Sydney. All in all it was a hugely successful ANZPT Sydney Main Event as Gordon Huntly has overcome the second largest ANZPT field in history. A big thank you goes out to all the staff here at The Star and of course to PokerStars for hosting another world-class event.
Just because we're done here, doesn't mean the live reporting stops. PokerNews' worldwide leading Live Reporting Team is constantly all over the globe providing updates from the biggest and best tournaments on the circuit, so be sure to check those events out as well. We'll see you at the next stop.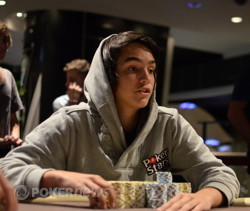 It has been a big day for Liam O'Rourke. Of all the players in the tournament today, O'rourke was definitely the most active. His stack ebbed and flowed throughout the final table, with the young Australian player holding a chip lead for much of the last six hours. But alas, it had to come to an end for Gordon Huntly to emerge as the champion.
The last hand of the night for O'Rourke saw him all in preflop holding
. It was up against the
of Huntly and when the board ran out
, it was all over for O'Rourke in 2nd place. That effort sees O'Rourke go home with an impressive A$144,754. And with that, Gordon Huntly is our ANZPT Sydney Champion!
Gordon Huntly started the heads-up battle by chipping away at Liam O'Rourke. That has continued recently as the following big hand played out. It started when O'Rourke opened the button and Huntly made the call in the big blind.
On the
flop, Huntly checked and then called a bet of 250,000 from O'Rourke. The
turn saw Huntly again check and this time O'Rourke bet 450,000. Huntly then slid out 1,000,000 and O'Rourke instantly got rid of his hand as Huntly took a commanding chip lead.
Liam O'Rourke and Gordon Huntly have just discussed a deal. It is seeming like O'Rourke and Huntly will be taking home $160,000 each and the winner will be left with $31,780.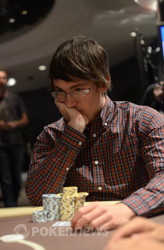 Just a couple of hands after the break and we have lost another player. This time it was Anthony Aston as he goes home in 3rd place.
The last hand of Aston's tournament began when Liam O'Rourke opened the button to 200,000. Aston was in the big blind and he shoved all in. O'Rourke snapped him off and the two players turned their hands over.
Aston:

O'Rourke:
When the board ran out
, it was all over for Aston as he goes home with A$80,214. However, a deal was discussed when the players were three-handed and it seems like the third place finisher would be taking home $100,000.
Level:

29
Blinds:

50,000/100,000
Ante:

10,000