Level Info
| | |
| --- | --- |
| Level | 23 |
| Blinds | 12,000 / 24,000 |
| Ante | 4,000 |
Main Event
Day 3 Completed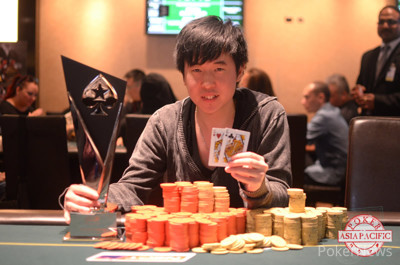 The first stop on Season 6 of the Australia New Zealand Poker Tour has drawn to a dramatic conclusion as Australia's David Lim dominated the final table to be crowned the ANZPT Auckland champion!
Lim came into the day with the second largest chip stack and managed to maneuver that stack all the way to a victory. Lim, from Perth, only recently started playing tournaments after previously playing mostly Omaha cash games. We expect Lim will start playing more tournaments now that he has an ANZPT title on his resume.
The day started off action-packed as Jason Cook was quickly eliminated in 12th and Raybon Kan in 11th as 10 players remained in the ANZPT Auckland Main Event. Then the last lady standing Angela Brewster was eliminated in tenth place when her
couldn't improve against the
of Nathan Gubieski and the final table was set.
Considering he started the day with such a massive stack, it's not surprising that Amant Nauhria started the final table with the chip lead. David Lim still wasn't far behind, while Gubieski and La Rimamaki were the biggest improvers prior to the final table.
It took only a few hands to see the first player eliminated at the final table and unfortunately for Aussie Dean Stevenson, it was he who would find the rail in 9th place for a NZ$10,650 collect.
Next to go was the affable Kiwi Ia Rimamaki as he was eliminated in 8th place. When seven-handed action began, four of the remaining players had less than 20 big blinds in their stack. One of those players was Brad Stafford and it didn't take long for him to be on the rail in 7th place.
Stanislav Chataline had been nursing a short stack for much of the previous few levels eventually fell in 6th place. Oger was then eliminated in 5th place in dramatic fashion.
Following the elimination of Oger, Lim had almost 2 million in chips and was a big chip leader, having almost half of all the chips in play alone. Nathan Gubieski had worked his way into second in chips, while start-of-day chip leader Amant Nauhria had dwindled down to under 1 million.
Nauhria continued to lose chips to almost every player at the table, but he would hang onto his tournament life as Paul Gahan hit the rail in 4th place.
Compared to his opponents, Nauhria was extremely short stacked at the beginning of three-handed play and wouldn't be able to re-build. His last chips went to David Lim and he was sent home in a disappointing 3rd place.
At the beginning of heads-up Lim had just over a 2-1 chip lead over Gubieski and it would take only 15 minutes for Gubieseki to be sent home as the runner-up and Lim be crowned the ANZPT Auckland Main Event champion!
ANZPT Auckland Final Table Payouts

| Place | Player | Prize (NZD) |
| --- | --- | --- |
| 1st | David Lim | $110,760 |
| 2nd | Nathan Gubieski | $70,290 |
| 3rd | Amant Nauhria | $39,618 |
| 4th | Paul Gahan | $31,950 |
| 5th | Nicolas Oger | $26,625 |
| 6th | Stanislav Chataline | $22,365 |
| 7th | Brad Stafford | $18,105 |
| 8th | Ia Rimamaki | $13,845 |
| 9th | Dean Stevenson | $10,650 |
We must congratulate all the final table players on their effort and of course, our latest ANZPT champion, David Lim!
Big thanks to all the great staff here at the SKYCITY Auckland Casino and to the team at PokerStars for running yet another world class event. The next PokerStars event in this region will be the upcoming Aussie Millions, which for the first time will be run in partnership with the APPT.
Until then, good night from Auckland!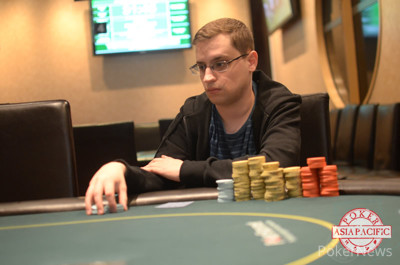 It's all over!
Heads-Up began around 15 minutes ago and now a champion has been crowned.
The final hand of the ANZPT Auckland Main Event began with Lim opening the button to 50,000. Nathan Gubieski then three bet to 119,000 and it was back on Lim. After a few moments, Lim four-bet an extra 100,000 and Gubieski moved all in for around 900,000.
Lim nodded his head and said, "call."
Gubieski turned over his
and was at-risk and behind the
of Lim.
Lim was five cards away from winning.
The dealer spread out a
board and that was that.
Gubieski takes home NZ$70,290 for his gallant second-place effort, while Lim picks up NZ$110,760.
Following a few small heads-up pots, David Lim has taken down a hefty one.
It started with Lim opening the button to 50,000. Nathan Gubieski then three-bet to 127,000 and Lim made the call. On the
flop, Gubieski led for 88,000 and Lim made the call.
The
turn would see Gubieski check and Lim bet 270,000.
When Gubieski opted to fold, Lim flipped over
.
Level:

23
Blinds:

12,000/24,000
Ante:

4,000
The heads-up battle has begun.
It's David Lim with just over a 2-1 chip advantage.
Both Lim and his opponent Nathan Gubieski are from Australia.
No player other than a Kiwi has won ANZPT Auckland or an APPT Auckland in the history of both of these events.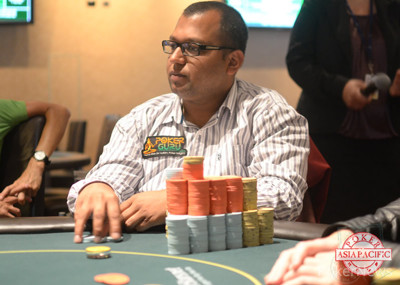 Amant Nauhria's entertaining run has ended in 3rd place. On the first hand of three-handed play, David Lim opened the small blind to 40,000 before Nauhria jammed all in for around 300,000. Lim had no hesitation in making the call.
Nauhria:

Lim:
The board ran out
and just like that we are heads-up for the title. Lim will carry the chip lead with about 2.8 million to Nathan Gubieski's 1.3 million.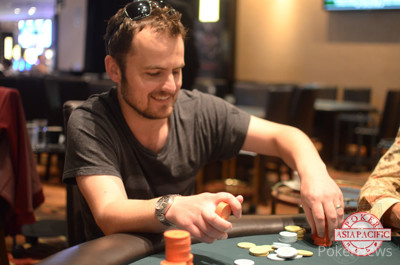 Just as play was starting to lull during four-handed action and Paul Gahan has been eliminated.
Gahan's final hand started with Nathan Gubieski opening to 40,000 from the button. Gahan called from the small blind and it was on David Lim on the big blind, who three-bet to 110,000. Gubieski got out of the way and Gahan moved all in for around 180,000. Lim called off the extra chips and the two players turned their hands over.
It was Gahan holding
against Gubieski's
.
The board ran out
and it was all over in 4th place for Gahan.
Then there were three!
| | | | | | |
| --- | --- | --- | --- | --- | --- |
| David Lim | | | | 1,990,000 | 20,000 |
| Nathan Gubieski | | | | 1,350,000 | 50,000 |
| Amant Nauhria | | | | 460,000 | 60,000 |
| Paul Gahan | | | | 300,000 | -200,000 |
Nathan Gubieski opened to 40,000 from under the gun and Paul Gahan called on the button.
Amant Nauhria called in the big blind and the three took a flop of
.
Action checked around and the turn produced the
. That was enough for Nauhria to declare himself all in for 241,000. Gubieski and Gahan both gave it some thought but let it go as Nauhria stems the bleeding with a much-needed pot.