Event Info
| | |
| --- | --- |
| Prize Pool | 24,235,200 HKD |
Level Info
| | |
| --- | --- |
| Level | 19 |
| Blinds | 120,000 / 240,000 |
| Ante | 40,000 |
Super High Roller
Day 1 Completed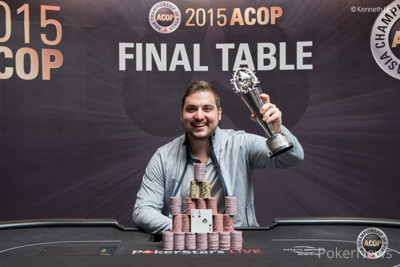 It took just over four levels of play to wrap up the final table of 2015 Asia Championship of Poker HK$500,000 Super High Roller, and when the dust had settled, it was Serbian-American player Andy Andrejevic standing victorious. Andrejevic beat John Juanda heads up to win the coveted title and HK$8,725,000 (approx. $1,112,000).
The final six players returned at 2:30 p.m local time and all were already in the money as play finished on Day 2 after the bubble had burst. Two hours later, three players had already hit the rail.
Erik Seidel came in as the shortest stack and was the first out. He moved all in with ace-seven, but Anton Astapau had ace-ten, called, and took him out.
Astapau himself was out 15 minutes later after when he ran into Andrejevic and couldn't survive despite flopping a set.
The last player out before the break was reigning champion Steve O'Dwyer. Despite beginning the day second in chips behind Andrejevic, he lost a big chunk of his stack when he ran kings into Bryn Kenney's aces. The rest went to Andrejevic, with O'Dwyer's king-queen fairing worse than ace-ten after five cards, and the back-to-back run was over.
Andrejevic, Juanda, and Kenney battled hard for more than two hours without an elimination, then two quick hands at the end of the fourth level saw Kenney depart.
Kenney first doubled with ace-eight to Andrejevic's queen-jack and went to head off for the break, but the dealer quickly gathered the cards and riffled with seconds to spare on the level, so there would be one more to play. That one more hand turned out to be Kenney's last, as he sat back down, picked up king-jack, three-bet all in, and busted to Andrejevic's dominating ace-king.
Heads-up play only lasted four hands before Andrejevic sealed the deal. After he had invested just HK$40,000 into a live satellite for this event, Andrejevic's dreams were made true. As it turned out, Andrejevic was ready to leave Macau, but stayed an extra couple days after his friends begged him, entered the satellite, and won a seat. The rest, as we say, is history.
That's wraps up PokerNews' coverage of Season 9 of the APPT. Season 10 of the tour kicks off in January back here in the City of Dreams for the Macau Millions, quickly followed by the spectacular Aussie Millions down in Melbourne. Click here for more details.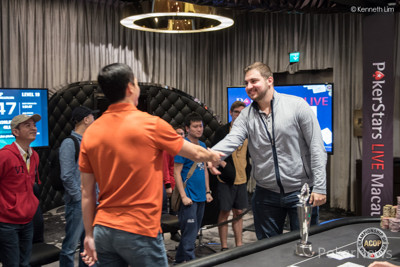 John Juanda three-bet folded the very first hand of heads up and then was out three hands later.
Andy Andrejevic raised to 500,000 from the button before Juanda three-bet to 1,500,000 from the big blind. Andrejevic shoved and Juanda winced and said, "I only looked at one!" He looked at the other and admitted it was bad but still might call. After a minute he showed the
and folded.
Three hands later, Juanda moved all in for just over 3.5million and Andrejevic called.
Juanda:

Andrejevic:
Junada was happy with what he saw but not for long as the board ran
to give Andrejevic the pot, the scalp and the title!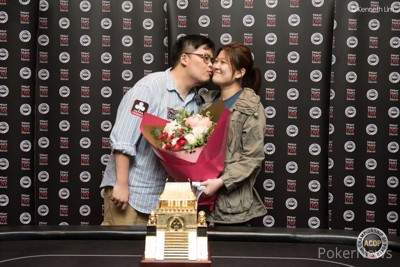 Alan King Lun Lau is the 2015 Asia Player of the Year. On the final day of the Asia Championship of Poker, Lau celebrated his player of the year honor by proposing to his girlfriend. She said yes and there wasn't much of a sweat, unlike the last week of the APOY race.
Lau was in first place going into the ACOP Main Event. Ka Cheong Wong was only 20 points behind Lau and needed at least a tenth-place finish to take the lead. Won finished in 11th place and all but sealed the deal for Lau.
Congratulations to the newly-engaged Alan King Lun Lau, the 2015 APOY winner.
Level:

19
Blinds:

120,000/240,000
Ante:

40,000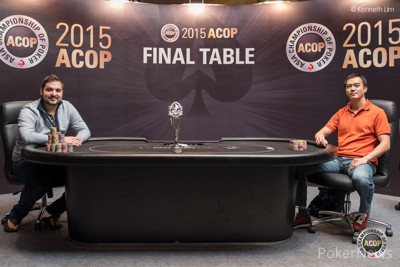 John Juanda and Andy Andrejevic are heads up for the ACOP Super High-Roller Championship. They are on a ten-minute break and will resume play after some they take a few photos.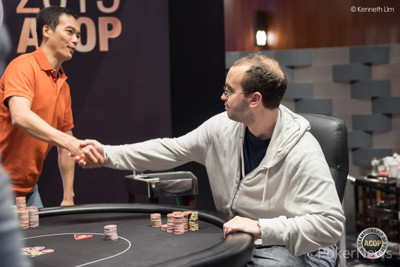 Bryn Kenney doubled up on what he thought was the last hand before the ten-minute break. The dealer had already started shuffle and the tournament director called Kenney back to his seat to play one more hand.
That last hand insured that Kenney would have a break longer than ten-minute break. He would be eliminated on the hand by the far-and-away chip leader, Andy Andrejevic. The same player who doubled him up the hand before.
Kenney doubled up when he shoved all in from the button and Andrejevic called from the small blind. John Juanda folded and Kenney turned over
. Andrejevic held
and couldn't catch up after an ace hit the flop and the run out finished
.
The next hand, Andrejevic raised from the button and Kenney was all in again. Andrejevic snap called again, but this time he was ahead and would stay ahead. Andrejevic had
and Kenney had
. The board ran out
and Kenney was eliminated in third place.
Kenney's elimination leaves EPT12 Barcelona Champion John Juanda heads up with Andy Andrejevic, who won his seat in the satellite held on Day 1 of the Super High-Roller.
The last couple of orbits were dominated by John Juanda and Andy Andrejevic, with the former getting the best of it.
Andrejevic raised to 450,000 and Juanda called from the small blind. He check-called another 550,000 on a
flop before the
turn and river were checked down. Juanda opened
and Andrejevic folded.
Two hands later, Andrejevic raised to 550,000 from the small blind and Junada called to a
flop that was checked. Andrejevic led for 675,000 on the
turn and Junada called to the
river where the action was checked to him. He bet 1,420,000 and Andrejevic tanked for several minutes before folding.
| | | | | | |
| --- | --- | --- | --- | --- | --- |
| Andy Andrejevic | | | | 14,010,000 | -3,990,000 |
| John Juanda | | | | 7,100,000 | 2,760,000 |
| Bryn Kenney | | | | 3,890,000 | 640,000 |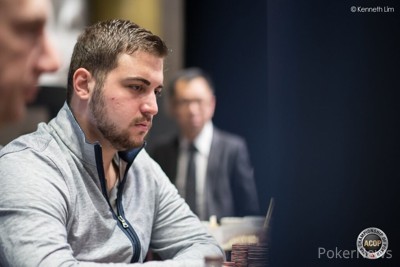 Andy Andrejevic is continuing to rebuild his stack after doubling John Juanda up. He just won three hands in a row.
Hand #1: Bryn Kenney raised to 450,000 from the button and Andrejevic reraised to 1.125-million. Kenney folded.
Hand #2: This time Andrejevic was on the button and he raised to 450,000. Juanda and Kenney both folded their blinds.
Hand #3: It was Juanda's turn to raise the button and he did so, making it 400,000. Andrejevic defended his big blind and the two players awaited the flop. Andrejevic checked after the dealer put down the
flop. Juanda bet 460,000. Andrejevic three-bet to 1.175-million and Juanda folded.
Juanda managed to get some back on the next hand. Andrejevic limped the button and Juanda made it 650,000, Andrejevic called. The flop came
and both players checked. Juanda took it down on the turn when the
hit and he bet 820,000 after an Andrejevic check.
| | | | | | |
| --- | --- | --- | --- | --- | --- |
| Andy Andrejevic | | | | 18,000,000 | 3,000,000 |
| John Juanda | | | | 4,340,000 | -1,160,000 |
| Bryn Kenney | | | | 3,250,000 | -1,750,000 |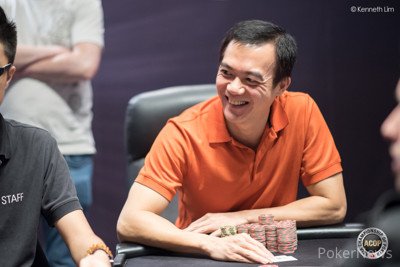 John Juanda has risen to second in the counts after doubling through Andrejevic and taking a pot of Bryn Kenney.
Andrejevic raised to 450,000 and called after Juanda shoved for 2,390,000. Juanda opened
which was ahead of Andrejevic's
and stayed there after a roller-coaster board ran
.
The next hand he raised to 425,000 but folded when Kenney shoved on him.
Then he called a 450,000 button raise from Kenney while in the big blind. Both players checked the
flop before Juanda led for 360,000 and 755,000 on the
turn and river. Kenney folded on the river.
| | | | | | |
| --- | --- | --- | --- | --- | --- |
| Andy Andrejevic | | | | 15,000,000 | -1,000,000 |
| John Juanda | | | | 5,500,000 | 2,800,000 |
| Bryn Kenney | | | | 5,000,000 | -1,500,000 |