₱33,000 APPT National
Days: 3
₱33,000 APPT National
Day 3 Completed

Level 31 : 80,000-160,000, 160,000 ante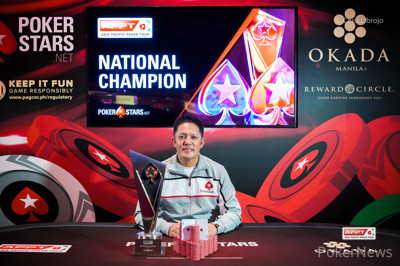 The 2019 PokerStars Asia Pacific Poker Tour Manila National is over, and it was Benigno Jr Ledina who put on a dominant performance in the final day to win the trophy and the first-place prize of ₱4,174,500 ($81,805).
The final day of the event started with 16 hopefuls out of a total field of 674 entries, all eyeing the win in the first big event of this year's APPT in Manila. Benigno Jr Ledina was the one who had this honor after almost eight levels of play, and managed to hit this cash, which is just his second lifetime cash, according to the Hendon Mob website. His first cash came from this very festival, after finishing 87th in the Kickoff event for a min-cash.
"I play mostly cash games, but sometimes in festivals i fire up some tournaments," a happy Ledina said after his win.
Ledina's win is even more important, if the ability of the second-place finisher is to be considered. During heads-up, he encountered Linh Tran, a highly successful player with more than $1.1 million in total lifetime cashes, according to the Hendon Mob. Tran is a former champion in Manila, after winning the 2016 APPT Manila Main Event, and this time fell short from a second title. He had to settle with second place and a ₱2,586,500 ($50,686) consolation prize.
Ledina has a day job, as he was a corporate public accountant up until 18 months ago, which is when he decided to quit, and start his own business as an accountant. He plays poker for more than ten years but he considers himself a recreational who just likes to enjoy playing the game in Manila's various poker rooms.
"Really love the game because of the thinking process, love the tournament's more than the cash games as it's less like gambling, it's more of a challenge," said shortly after his win. He might play mostly cash games, but there is something that excites him regarding tournaments, and this is the competition. He likes to face other players to win a trophy and a bigger prize, and he did accomplish this mission in the best possible way here in Okada Manila.
Final Table Results
| Place | Player | Country | Prize (in PHP) | Prize (in USD) |
| --- | --- | --- | --- | --- |
| 1 | Benigno Jr Ledina | Philippines | ₱4,174,500 | $81,805 |
| 2 | Linh Tran | Vietnam | ₱2,586,500 | $50,686 |
| 3 | Lee Wang Yong | South Korea | ₱1,602,000 | $31,393 |
| 4 | Eran Shaham | Israel | ₱1,213,500 | $23,780 |
| 5 | Hogyun Kang | South Korea | ₱825,000 | $16,167 |
| 6 | Si Yang Phua | Indonesia | ₱631,000 | $12,365 |
| 7 | Tetsuro Tomita | Japan | ₱524,500 | $10,278 |
| 8 | Thijs Hilberts | Netherlands | ₱437,500 | $8,573 |
| 9 | Jason Kyle Magbanua | Philippines | ₱370,766 | $7,266 |
Action of the day
The day started with 16 players, and it took some time for the first elimination to take place, even though there was plenty of action in the beginning of the day, but somehow short stacks managed to double up every time. The player who broke the rule was Kok Wei Sim, who was left very short after a lost all in, and got tangled in a three-way all in with jack-nine against ace-king, and ace-queen that resulted in his elimination.
After this elimination, there was a burst of bustouts with Arravind Udayakumar (15th - ₱204,000; $3,998), Tae Hoon Han (14th - ₱204,000; $3,998), Ting Shum Kwok (13th - ₱204,000; $3,998), Jiang Yongbo (12th - ₱253,000; $4,958), Yang Li (11th - ₱253,000; $4,958), and William Kang (10th - ₱253,000; $4,958), all eliminated in less than an hour to send the rest of the field to the official final table.
When the final table started it was Tran and Eran Shaham who had the chip lead, as the only players with more than four million chips. The first elimination came just half an hour in the final table, and it was Jason Kyle Magbanua who got crippled with nines against aces, only to lose the rest of his chips with king-nine against Si Yang Phua's ace-jack.
Thijs Hilberts, the Dutch player, was the next to leave the field, as he shoved his short stack with five-four to get called by Lee Wang Yong's queen-jack, who found two more queens on the flop to leave Hilberts drawing dead, and busted in 8th place.
Just five minutes later, and it was the time of Tetsuro Tomita to hit the rail, being short-stacked, and shoving with tens to get called by Ledina's king-jack. A king on the flop was enough to give Ledina the pot, and send Tomita out in seventh place.
At this point, it was when Ledina's surge to the top started, as he was winning one pot after the other, and he managed to get the chip lead with almost seven million chips, when the first break of the final table started.
Tran took the tally from this point on, as he picked up aces to win a big pot out of Lee Wang Yong when he hit top set in the river, and got paid, while in the next hand he cracked Si Yang Phua's aces with threes when a three hit the river, to send Phua packing in sixth place.
The next elimination came again from Tran's hand, and it was again with pocket threes. Hogyun Kang shoved the rest of his stack preflop with king-jack, Tran called with threes, and held in the five community cards.
Shaham was short for a big part of the final table, especially in six-handed play, and onward. He laddered up to the fourth place, but this is when his ran stopped, when he fell with queens in Yong's aces.
In three-handed play, Ledina was still the chip leader, and actually was the first player to go over ten million chips. It took an enormous 60-big blind pot to bust Lee Wang Yong in third place, in a crucial flip. Ledina was in the small blind, and called with pocket fours Tran's open, while Yong shoved from the big blind with ace-ten. Ledina tanked for some time, and called to hold with his fours and sent the event to heads up.
The heads up started with Ledina having almost a 3-to-1 chip-advantage against Tran, and he managed to hold the chip lead as long as their battle lasted. Tran tried to attack but never got there to surpass Ledina, and he was in the ropes for the biggest part of their confrontation. Ledina was overly aggressive, and was firing bets almost in every opportunity, playing mostly big-bet poker, with pot-bets and raises, in many hands.
His aggression finally paid off when Tran limped the button with eights, and Ledina picked up aces to raise, and call Tran's shove. The board brought an ace on the flop, and Tran had zero equity by the turn, to bust in second place.
The PokerNews coverage for the 2019 APPT Manila National concludes here, but there are still more to come. The Super High Roller continues tomorrow with Day 2, along with Day 1a of the Main Event. Stay tuned for all the action here in Okada Manila.

Level 31 : 80,000-160,000, 160,000 ante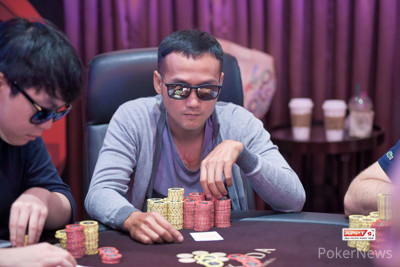 The heads up battle is over with Linh Tran falling shortly of a second APPT Manila title in his career.
The last hand of the tournament started with Tran limping the button, and Benigno Jr Ledina raising to 500,000. Tran announced all in, and Ledina snap-called.
Linh Tran:

Benigno Jr Ledina:
Ledina exploded from his seat when the two hands were open on the table, shouting a big "Yes!". His rail came closer to the table, while he once more got away of it, not able to stand there and watch the showdown.
The flop was absolutely decisive for the hand. The
gave top set to Ledina, and Tran needed a miracle to stay alive.
The
brought even more celebrations from Ledina, and his rail, while the
on the river was just a formality.
Stay tuned, as a full recap for the final day of the National will follow.

Level 31 : 80,000-160,000, 160,000 ante
Benigno Jr Ledina limped from the button, and Tran checked with the flop coming
. Ledina bet 250,000, and Tran called.
The
on the turn brought two checks, and the
came on the river.
Tran reached out for some chips, and bet 250,000, with Ledina announcing all in and Tran snap-calling.
Ledina:

Tran:
Tran hit a runner-runner flush in the river and managed to double up.
Level: 31
Blinds: 80,000/160,000
Ante: 160,000

Level 30 : 60,000-120,000, 120,000 ante
Another 10-minute break, and players will return to play Level 31: 80,000/160,000.

Level 30 : 60,000-120,000, 120,000 ante
Benigno Jr Ledina took some chips of Linh Tran's double up back, showing for one more time aggression in the river.
Ledina opened to 300,000 and Tran called with the
on the flop. Ledina bet 400,000 and Tran called.
The
came on the turn, and both players checked this time.
The
was the final card of the board, with Tran betting 575,000. Ledina answered with a shove, and Tran folded quickly.

Level 30 : 60,000-120,000, 120,000 ante
Lihn Tran picked up aces, and heard his opponent announcing all in, for him to snap-call.
Ledina:

Tran:
The board ran out
and Tran managed to find a crucial double since before this hand he was left with less than 15 big blinds.

Level 30 : 60,000-120,000, 120,000 ante
Ledina has his opponent on the ropes, winning one pot after the other.
Linh Tran is down to 2,700,000, after another pot that he had to fold facing Ledina's aggression.
Ledina opened to 300,000, and Tran called with the flop coming
. Ledina bet 400,000, and Tran called.
The
appeared on the turn, and both players checked.
The
completed the board on the river, and Tran bet 375,000. Ledina proceed with a raise to 1,200,000, and Tran folded.

Level 30 : 60,000-120,000, 120,000 ante
Benigno Jr Ledina has won some consecutive pots to get far away from Linh Tran. In the last one, Ledina opened from the button to 300,000 and Tran called from the big blind. The flop came
and both players checked.
The
came on the turn, and Ledina bet 400,000 with Tran calling.
The
was the river, and this time Ledina bet 1,000,000 after Tran's check, which made him fold after some tanking.