Main Event
Day 1b Completed
| Table | Seat | Player | Chips |
| --- | --- | --- | --- |
| 1 | 1 | Kuo Shun Lan | 30900 |
| 1 | 2 | Jiajun Hu | 66000 |
| 1 | 3 | Jonathan Krela | 53100 |
| 1 | 4 | Frangky Tegoeh | 64200 |
| 1 | 5 | Zhongshan Fu | 74300 |
| 1 | 6 | Akira Jaeik Cho | 18800 |
| 1 | 7 | Tim Shun Timpson Luk | 24200 |
| 1 | 8 | John Gallagher | 32500 |
| 1 | 9 | Soo Jo Kim | 39300 |
| | | | |
| 2 | 1 | Xiaomao Zhou | 21800 |
| 2 | 2 | Seyed Borghei | 60800 |
| 2 | 3 | Adrien Allain | 38000 |
| 2 | 4 | Yi Zhang | 44600 |
| 2 | 5 | Evan Mc Niff | 76600 |
| 2 | 6 | Paphawin Laodee | 25700 |
| 2 | 7 | Henry Szmelcer | 68300 |
| 2 | 8 | Hyun Dong Jin | 18100 |
| 2 | 9 | Renjun Yang | 63400 |
| | | | |
| 3 | 1 | Michael Kanaan | 54000 |
| 3 | 2 | Pengcheng Liu | 34900 |
| 3 | 3 | Thomas David Mcgarrity | 85700 |
| 3 | 4 | Tyrone Kerrigan | 36200 |
| 3 | 5 | Chao Duan | 61400 |
| 3 | 6 | John Quoc Tuan Hoang | 35800 |
| 3 | 7 | Ivan Zalac | 45100 |
| 3 | 8 | Jaswinder Suri | 149500 |
| 3 | 9 | Zhao Feng | 64200 |
| 3 | 10 | Takaaki Nakayama | 12800 |
| | | | |
| 4 | 1 | Yu Xia | 71100 |
| 4 | 2 | Tony Chang | 71400 |
| 4 | 3 | Anson Gong Wah Wong | 12500 |
| 4 | 4 | Bin Li | 50300 |
| 4 | 5 | Xuanlin Li | 10600 |
| 4 | 6 | Tsuyoshi Ishibashi | 18200 |
| 4 | 7 | Guanqun Gu | 50300 |
| 4 | 8 | Yeow Chung Chong | 47000 |
| 4 | 9 | Elias Abou Saleh | 14300 |
| | | | |
| 5 | 1 | Yauheni Maksimau | 51700 |
| 5 | 2 | Wei Zhang | 41700 |
| 5 | 3 | Zhong Wang | 39700 |
| 5 | 4 | Boyat Manish | 38100 |
| 5 | 5 | Alex Lee | 71400 |
| 5 | 6 | Bryan Huang | 31300 |
| 5 | 7 | Kevin Clark | 32300 |
| 5 | 8 | Victor Chong | 86000 |
| 5 | 9 | Daniel Blakeman | 46900 |
| | | | |
| 6 | 1 | Xiao Liu | 28200 |
| 6 | 2 | Shunyan Li | 36400 |
| 6 | 3 | Xiongzhen Wu | 19000 |
| 6 | 4 | Y Phan Chhang | 68600 |
| 6 | 5 | Daniel Laidlaw | 29400 |
| 6 | 6 | Ryan Alexander Navarro | 46500 |
| 6 | 7 | Yongjun Ma | 62500 |
| 6 | 8 | Shu Xu | 69400 |
| 6 | 9 | Billy "The Croc" Argyros | 40900 |
| | | | |
| 7 | 1 | Yu Han | 46400 |
| 7 | 2 | Hui Wen | 56300 |
| 7 | 3 | Jean Marie Peyron | 105700 |
| 7 | 4 | Guangfu Ye | 42600 |
| 7 | 5 | Sahil Agarwal | 74700 |
| 7 | 6 | Pipi Fu Bang Huang | 58400 |
| 7 | 7 | Ryan Mingho Yum | 17100 |
| 7 | 8 | Musstapha Fawaz | 26800 |
| 7 | 9 | Wei Hsiang Yeu | 40600 |
| 7 | 10 | Chang Hau Huang | 20900 |
| | | | |
| 8 | 1 | Shengqing Zhu | 115400 |
| 8 | 2 | Huazhenlong Guo | 25900 |
| 8 | 3 | Yosuke Moriyama | 27400 |
| 8 | 4 | Jianyu Chen | 44300 |
| 8 | 5 | Minhui Lian | 32300 |
| 8 | 6 | Wei-chuan Hsu | 42600 |
| 8 | 7 | Sebastien Hoyez | 82600 |
| 8 | 8 | Yong Lin | 75000 |
| 8 | 9 | Ying Fu | 18700 |
| 8 | 10 | Kam Fung Ma | 26500 |
| | | | |
| 9 | 1 | Jeff Wang | 83700 |
| 9 | 2 | Ping Lin | 17700 |
| 9 | 3 | Feng Lin | 92800 |
| 9 | 4 | Alvan Yifan Zheng | 151400 |
| 9 | 5 | Antoine Pignon | 55000 |
| 9 | 6 | Paul Wing Bor Cheng | 13900 |
| 9 | 7 | Fabien Parisel | 40000 |
| 9 | 8 | Chen An Lin | 31200 |
| 9 | 9 | Nan Tu | 29200 |
| | | | |
| 10 | 1 | Xudong Li | 23400 |
| 10 | 2 | Hon Cheong Lee | 39400 |
| 10 | 3 | Jiajie Liang | 30000 |
| 10 | 4 | Jiahua Liu | 65500 |
| 10 | 5 | Christian Haggart | 65200 |
| 10 | 6 | Linh Tran | 88900 |
| 10 | 7 | Haisheng Ma | 14800 |
| 10 | 8 | Jiefei Yu | 76200 |
| 10 | 9 | Feng Wen Chen | 56900 |
| | | | |
| 11 | 1 | Wei Chen | 119600 |
| 11 | 2 | Amir Iranfar | 17900 |
| 11 | 3 | Joachim Ulsrud | 64700 |
| 11 | 4 | JJ Liu | 10200 |
| 11 | 5 | Darian Kok Fye Tan | 45700 |
| 11 | 6 | Hui Wang | 19700 |
| 11 | 7 | Gang Deng | 23000 |
| 11 | 8 | Mingchao Wu | 30000 |
| 11 | 9 | Dhanesh Vija Chainani | 54600 |
| | | | |
| 12 | 1 | Sang Kyoun Kim | 53600 |
| 12 | 2 | Rongwei Pei | 24700 |
| 12 | 3 | Amit Ajwani | 47800 |
| 12 | 4 | Shivan Abdine | 124800 |
| 12 | 5 | Hoi Ting Lee | 69500 |
| 12 | 6 | Mathew Russell | 21500 |
| 12 | 7 | Chi Hang Ip | 69700 |
| 12 | 8 | Tom Linern Chio | 10100 |
| 12 | 9 | Xue Qian Wu | 30900 |
| | | | |
| 13 | 1 | Shuai Yan | 32900 |
| 13 | 2 | Daniel Demicki | 61500 |
| 13 | 3 | Haifeng Xue | 121000 |
| 13 | 4 | Carson Choi | 51000 |
| 13 | 5 | Jeffrey Chotikul | 31600 |
| 13 | 6 | Hongming Zhou | 28300 |
| 13 | 7 | Girish Vijay Shahane | 28500 |
| 13 | 8 | Xiaoyu Lin | 33900 |
| 13 | 9 | Henrik Tollefsen | 34400 |
| | | | |
| 14 | 1 | Shengliang Kong | 36500 |
| 14 | 2 | Justin Chan | 37800 |
| 14 | 3 | Iori Yogo | 37500 |
| 14 | 4 | Jiaxiu Liu | 66200 |
| 14 | 5 | Chia Wei Tsui | 35200 |
| 14 | 6 | Nick Wong | 42000 |
| 14 | 7 | Franco Cultreri | 100100 |
| 14 | 8 | Anyang Xu | 32200 |
| 14 | 9 | Wee Yee Tan | 77900 |
| | | | |
| 15 | 1 | Hoang Anh Do | 32200 |
| 15 | 2 | Karl Peter Wittmann | 34200 |
| 15 | 3 | Fan Cao | 46200 |
| 15 | 4 | Ruigang Yao | 41300 |
| 15 | 5 | Ziyang Zhao | 48300 |
| 15 | 6 | Yoichi Fujiya | 46100 |
| 15 | 7 | Wai Kwan Yuen | 30800 |
| 15 | 8 | Jianjun Huang | 21700 |
| 15 | 9 | Carlos Kuo Chang | 62500 |
| | | | |
| 16 | 1 | Steven Yibo Zhou | 90300 |
| 16 | 2 | Yin Liu | 24400 |
| 16 | 3 | Kunal Jain | 22800 |
| 16 | 4 | Xiang Fang | 43400 |
| 16 | 5 | Yaxi Zhu | 7000 |
| 16 | 6 | Hongxing Yu | 57400 |
| 16 | 7 | Yucheng Rong | 53100 |
| 16 | 8 | Justin Wong | 41900 |
| 16 | 9 | Chengxin Song | 71800 |
| 16 | 10 | Tao Peng | 16900 |
| | | | |
| 17 | 1 | Yen Han Chen | 51300 |
| 17 | 2 | Rui Chen | 11100 |
| 17 | 3 | Ming Kit Frankie Wu | 44500 |
| 17 | 4 | Quan Zhou | 8500 |
| 17 | 5 | Victorino Torres | 50000 |
| 17 | 6 | Maurice Wee Teck Tan | 50000 |
| 17 | 7 | Kitty Hui-chen Kuo | 16700 |
| 17 | 8 | Yingdi Wu | 36200 |
| 17 | 9 | Masayuki Hakoda | 67100 |
| 17 | 10 | Christopher Park | 61300 |
| | | | |
| 27 | 1 | Fabian Spielmann | 14500 |
| 27 | 2 | Minh Hau Nguyen | 28300 |
| 27 | 3 | Xiadong Li | 58100 |
| 27 | 4 | Dawid Mysieics | 35000 |
| 27 | 5 | Zhe Bian | 33600 |
| 27 | 6 | Sailesh Varma | 17800 |
| 27 | 7 | Hao Tian | 80600 |
| 27 | 8 | Rui Cao | 51900 |
| 27 | 9 | Yiu Wah Kwok | 16600 |
| | | | |
| 28 | 1 | Zhiyong Long | 117300 |
| 28 | 2 | Kai Yat Fam | 98300 |
| 28 | 3 | Chin Lon Lin | 37400 |
| 28 | 4 | Sparrow Cheung | 44900 |
| 28 | 5 | Kenny Chung Kang Shih | 52800 |
| 28 | 6 | Kitson Kho | 40000 |
| 28 | 7 | Justin Marsh | 50800 |
| 28 | 8 | Yat Wai Cheng | 36300 |
| 28 | 9 | Toshiyuki Onda | 49300 |
| 28 | 10 | Antonio Domingues de Silva Martins | 103500 |
| | | | |
| 29 | 1 | Wenxin Chen | 56100 |
| 29 | 2 | Jicheng Su | 18600 |
| 29 | 3 | Qu Liu | 46200 |
| 29 | 4 | Yasuyuki Tsuji | 30300 |
| 29 | 5 | Emi Hibuse | 41600 |
| 29 | 6 | Neo Li Han Chen | 31700 |
| 29 | 7 | Bawoo Hyunshik Yun | 14300 |
| 29 | 8 | Jiajun Liu | 142800 |
| 29 | 9 | Bo Xie | 166000 |
| 29 | 10 | Peter Ping San Chan | 141000 |
| | | | |
| 30 | 1 | Erdeneb Ayar Vandan | 89200 |
| 30 | 2 | Raymond Wu | 28800 |
| 30 | 3 | Celina Lin | 25900 |
| 30 | 4 | Joonhee Yea | 28500 |
| 30 | 5 | Roman Yitzhaki | 33100 |
| 30 | 6 | Mansour Khorramshahi | 33500 |
| 30 | 7 | Kwok Chun Yip | 39400 |
| 30 | 8 | Victor Teng | 56900 |
| 30 | 9 | Ki Nicole Wong | 47400 |
| 30 | 10 | Archit Khandelwal | 23900 |
| | | | |
| 31 | 1 | Xixiang Luo | 32000 |
| 31 | 2 | Andre Cyril | 80800 |
| 31 | 3 | Hongbing Li | 22100 |
| 31 | 4 | Colin Chong Man Ip | 18900 |
| 31 | 5 | Tom Alner | 15700 |
| 31 | 6 | Paul Rosen | 38600 |
| 31 | 7 | Raiden Kan | 32700 |
| 31 | 8 | Xiaofei Wan | 16000 |
| 31 | 9 | Yifan Zhang | 42500 |
| | | | | | |
| --- | --- | --- | --- | --- | --- |
| Peter Chan | | | | 141,000 | |
| Shivan Abdine | | | | 124,800 | |
| Haifeng Xue | | | | 121,000 | |
| Wei Chen | | | | 119,600 | |
| Zhiyong Long | | | | 117,300 | |
| Shengqing Zhu | | | | 115,400 | |
| Antonio Martins | | | | 103,500 | |
| Feng Lin | | | | 92,800 | |
| Erdeneb Ayar Vandan | | | | 89,200 | |
| Victor Chong | | | | 86,000 | |
| Thomas Mcgarrity | | | | 85,700 | |
| Jeff Wang | | | | 83,700 | |
| Hao Tian | | | | 80,600 | |
| Wee Yee Tan | | | | 77,900 | |
| Jiefei Yu | | | | 76,200 | |
| Yong Lin | | | | 75,000 | |
| Sahil Agarwal | | | | 74,700 | |
| Zhongshan Fu | | | | 74,300 | |
| Chengxin Song | | | | 71,800 | |
| Alex Lee | | | | 71,400 | 57,400 |
| Tony Chang | | | | 71,400 | |
| Chi Hang Ip | | | | 69,700 | |
| Hoi Ting Lee | | | | 69,500 | |
| Shu Xu | | | | 69,400 | |
| Jiajun Hu | | | | 66,000 | |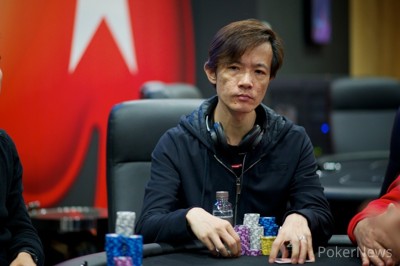 The final Day 1 flight has come to a close at the 2014 PokerStars.net APPT Macau Main Event and it was an exciting day of play which did not disappoint. There were an impressive 282 players who turned out for seven and a half levels of play today and by the end, 119 survived with Peter Chan bagging up the most chips with 141,000.
Close behind him and also reaching the six-figure club include Shivan Abdine (124,800) and Haifeng Xue (121,000) who all battled for the lead throughout the final stages of play.
The combined Day 1 flights made for a presentable 494-player field. Of those players, there will be 206 players returning for Day 2 and will be vying for their share of the HKD$11,021,140 prize pool.
Some well-known players to take their seats throughout the day included recent APPT Seoul champion Chane Kampanatsanyakorn, 2013 WSOS ACOP gold bracelet winner Aaron Lim and reigning APPT Macau champion Alexandre Chieng. Unfortunately for these three, their day would be cut short.
Returning tomorrow will be a collection of notables including PokerStars Team Pros Raymond Wu (28,600) and Celina Lin (25,900), Michael Kanaan (54,000), Ivan Zalac (49,700), Darian Tan (45,700), Sparrow Cheung (44,900), Nick Wong (42,000), Raiden Kan (32,700), and J.J. Liu (10,200) who were all able to bag up various amounts of chips.
Day 2 is set to kick off at 3:00 p.m. local time on Friday as PokerNews will again be on the floor in the magnificent City of Dreams Macau!
With 15 minutes left on the clock, the tournament dealer announced there would be four more hands and then the bagging will begin.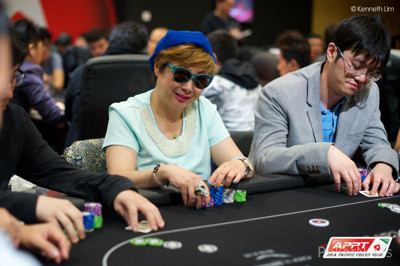 We've been keeping our eye on J.J. Liu knowing she is short-stacked and the end of day near. And sure enough just as action folded to her in late position, she moved her remaining chips into the middle. It almost appeared as if it would fold around but the player in the big blind made the call.
Big Blind:

J.J. Liu:
Liu was happy to see the
flop and the
turn and
river gave her yet another double up. She is stil short but her stack is moving in the right direction.
| | | | | | |
| --- | --- | --- | --- | --- | --- |
| J.J. Liu | | | | 9,200 | 3,200 |
Level:

8
Blinds:

500/1,000
Ante:

100
J.J. Liu moved all in and had two callers. The flop came
. The player in early position checked and the other player bet 3,000 forcing the fold. The hands were than tabled.
Liu:

Opponent:
The early position player appeared upset and seeing the hand of his opponent, who asked if he had him beat. The early position player nodded and the opponent just shrugged his shoulders.
The
turn and
river completed the board and gave Liu the double up. At just 6,000, she will need to keep making some moves.
| | | | | | |
| --- | --- | --- | --- | --- | --- |
| J.J. Liu | | | | 6,000 | -5,000 |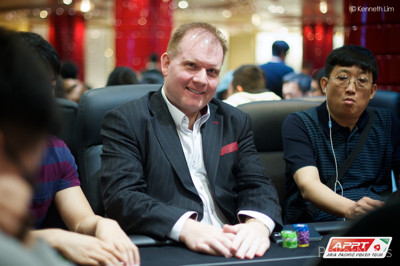 Andrew Scott was nursing a short-stack for a long time.
He finally pushed all in with pocket deuces and was called by three players.
Unfortunately for Scott, the odds were not in his favour and he was unable to improve.
We were just told that Shengqing Zhu left for the day to head home. According to the players he left about an hour ago with about 2 hours left to play in the day. He is currently sitting with about 70,000 which is enough to get him through to day 2. We'll know tomorrow if he intends on claiming his chips.