Payouts Confirmed in Accumulator; A$188,860 for First Place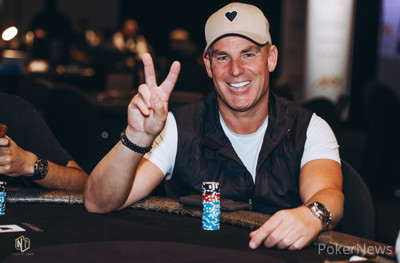 A total of 867 players entered Event 9: No-Limit Hold'em Accumulator generating a prize pool of A$888,675.
With the likes of Shane Warne, Scott Davies, Michael O'Grady, Graeme Siow, Luke Edwards, Martin Finger, Harry Lodge, and Corey Kempson already through from either of the first two starting flights, Flight 3 attracted 395 players and wahs the biggest by far.
The remaining players in Flight 3 will all be looking to make it through to Day 2, with just 90 places paid and a min-cash worth A$2,845.
A seat at the final table of nine will earn players A$16,000 and the winner will walk away with A$188,860 and the ANTON Jewellery Championship ring.
Accumulator Payouts
| Place | Payout (AUD) | Payout (USD) |
| --- | --- | --- |
| 1 | $188,860 | $130,580 |
| 2 | $115,530 | $79,879 |
| 3 | $71,100 | $49,159 |
| 4 | $53,325 | $36,869 |
| 5 | $35,550 | $24,580 |
| 6 | $27,910 | $19,297 |
| 7 | $22,220 | $15,363 |
| 8 | $19,110 | $13,213 |
| 9 | $16,000 | $11,063 |
| 10 | $13,335 | $9,220 |
| 11-12 | $10,670 | $7,377 |
| 13-15 | $8,885 | $6,143 |
| 16-18 | $7,110 | $4,916 |
| 19-21 | $6,220 | $4,301 |
| 22-24 | $5,330 | $3,685 |
| 25-27 | $4,620 | $3,194 |
| 28-36 | $4,085 | $2,824 |
| 37-45 | $3,375 | $2,334 |
| 46-54 | $3,375 | $2,334 |
| 55-63 | $3,200 | $2,213 |
| 64-72 | $3,020 | $2,088 |
| 73-90 | $2,845 | $1,967 |