Event 3 - $550 Limit 7C Stud/7C Stud Hi-Lo/Razz
Level Info
| | |
| --- | --- |
| Level | 17 |
| Blinds | 6,000 / 12,000 |
| Ante | 1,000 |
Players Info
Event 3 - $550 Limit 7C Stud/7C Stud Hi-Lo/Razz
Day 1 Completed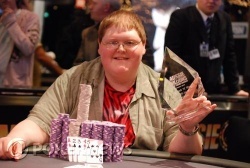 Jimmy "gobboboy" Fricke was the runner-up at last year's Aussie Millions main event championship after losing to Gus Hansen heads up. Although his victory tonight does not come close to his feat last year, this was pretty close.

"I really wanted to win last year. Maybe I can scratch off the date on the trophy," he joked.

With about three tables to go, Gobboboy emerged as the chipelader and began to distance himself from the rest of the pack. Once the final table began, he kept adding to his already big stack.

The feeling in the poker room was not one of "if" Gobboboy was going to win... rather "when" he was going to take it down. And exactly at 2am local time, he did just that.

Congrats to Jimmy "gobboby" Fricke for his victory in Event #3.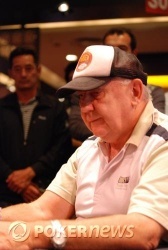 Kiwi G just didn't have the chips to fight Gobboboy's massive stack.
Whittled down to about 30,000, Graeme Putt raised on third street showing the
and Jimmy Fricke called with the
up.
Putt (X-X)
Fricke (X-X)
Fricke bet on fourth and Putt called. Both players checked on fifth. Fricke led out on sixth and Putt called. On seventh Fricke led again and Putt folded, leaving himself with only 7,000 in chips.
"Wanna chop?" quipped Putt as Fricke raked in his chips.
Two hands later, Putt got the rest of his chips in on third street.
Putt [
]
[
]
Fricke [
]
[
]
Fricke picked up a wheel draw on fourth street and hit it on fifth to "ooohs" and "ahhhs" from the rail. Putt was drawing dead on sixth and stood up to shake Fricke's hand before the river card was even dealt. He'll receive $9,600 for his runner-up finish.
Congratulations to Jimmy Fricke, our Event #3 champion, who takes home $16,800 for his victory!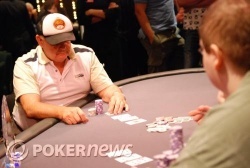 We are now heads-up between Jimmy "gobboboy" Fricke and Graeme "Kiwi G" Putt.

Fricke 324,000
Putt 60,000
Emmanuel Sideridis' hand could not improve against Jimmy Fricke's pair of aces for high and 7-6 low, and the short stack who fought so hard these last few hours finally met his fate and headed to the rail in 3rd place. He'll collect $5,760 for his finish.
A severely short-stacked Emmanuel Sideridis caught trip queens against Graeme Putt's trip fives and got a much-needed double-up to 45,000.
Jared Bottroff got the rest of his chips in on fourth street with two aces in the hole against Jimmy Fricke's pair of tens with an ace kicker. Unfortunately for Bottroff, Fricke caught the case ace to make aces and tens and with neither player making a low, Fricke scooped and sent Bottroff to the rail. He earns $4,800 for his 4th place finish.
Jimmy "gobboboy" Fricke 262,000
Graeme "Kiwi G" Putt 68,000
Jarred Bottroff 28,000
Emmanuel Sideridis 22,000
Split-pot time. The ante is 1,000, the bring-in is 1,000 and the betting limits are 6,000-12,000.
Level:

17
Blinds:

6,000/12,000
Ante:

1,000