$3,500 Main Event
Day 4 Completed

Level 33 : Blinds 200,000/400,000, 400,000 ante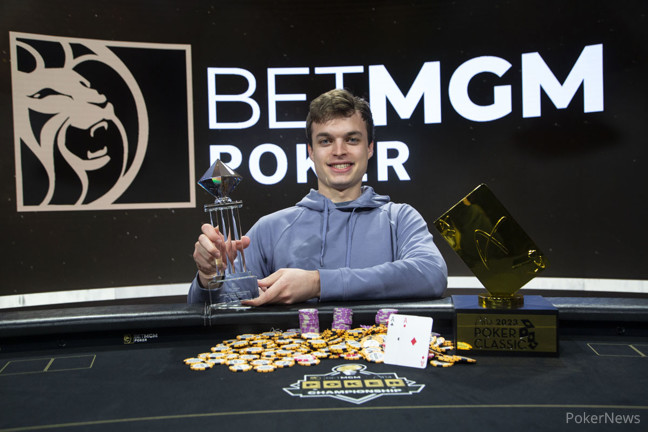 After four days of play, a winner has been crowned at the 2023 BetMGM Poker Championship, which took place inside the ARIA Resort and Casino as well as the PokerGO Studio.
Michigan's Leo Taffe was the last player standing from the 1,026 entry field after defeating Mike Vanier at heads-up to capture the title and $560,442. He followed in the footsteps of Joey Weissman, who won the inaugural edition of this event in 2022.
Taffe's prize is more than double that Weissman claimed due to the fantastic turnout this time around. Boosting the number of entries this year were the 94 BetMGM Poker qualifiers, who all booked their seat for a fraction of the price.
Thirteen of the qualifiers took home a slice of the $3,283,200 prize pool, with former Major League Baseball player Jason Kipnis (107th - $6,534) being the most notable name from the crop. Danny DeJesus went the furthest, making it through to Day 3 before bowing out in 28th place for $14,512.
2023 BetMGM Poker Championship Final Table Results
| Place | Winner | Country | Prize (USD) |
| --- | --- | --- | --- |
| 1 | Leo Taffe | United States | $560,442 |
| 2 | Mike Vanier | United States | $392,704 |
| 3 | Mo Zhou | China | $254,645 |
| 4 | Stephen Song | United States | $188,193 |
| 5 | Sundiata DeVore | United States | $142,655 |
| 6 | Johann Ibanez | Colombia | $114,157 |
| 7 | Kevin Berthelsen | United States | $94,523 |
Taffe Elated and Embarrassed After Victory
Speaking to PokerNews after his first major live tournament win, Taffe noted he was "elated" with the result while also "embarrassed" about how well he ran.
Taffe woke up with big pairs anytime his opponents jammed into him and held out to scoop each time. Taffe knew the situation he came into today was very unique with his overwhelming chip lead, and he said the only thing on his mind was not to choke.
The winner's spoils set Taffe up now to tackle bigger events, but he has no firm plans for the summer except for "sleeping for the next 24 hours."
Prior to today, Taffe's live tournament earnings stood at $271,497, with his former biggest cash being the $182,603 he received from finishing third in the $1,700 WSOP Circuit Cherokee Main Event earlier in the year. Taffe mainly plies his trade on BetMGM Poker Michigan, where he plays under the "NuttyWolves" screen name.
Taffe Dominates Final Table
Just seven players returned for Day 4, and Taffe came onto the final table with an uncatchable chip lead. The 24-year-old started with 115 big blinds, which nearly accounted for half of the chips in play. The finalists had all locked up $94,523 at this point, with the pay jump hitting the six-figure mark when six remain.
Sundiata DeVore was nearly the first to leave on Day 4, but he correctly folded his pocket jacks on a ten-high board. Taffe had pocket kings and put him all in on the turn, but DeVore opted to save his chips with considerable ICM implications on the line.
The opening elimination ended up being the short-stacked Kevin Berthelsen, who was ousted by 2022 GPI Player of the Year and WSOP bracelet winner Stephen Song. The latter had Berthelsen dominated and held out to seal the pot. Song had made it to the final table thanks to surviving numerous all-ins the previous day to keep him on track to securing his tenth live tournament win.
Soon after, Pot-Limit Omaha specialist Johann Ibanez left the final table after he ran into Taffe's aces and then DeVore bowed out when he did the same thing. DeVore has had a year to remember so far as he banked another six-figure score which follows the $926,128 he banked from being the runner-up at The Return - A Borgata Championship Event in January.
Play would slow down for a short while, but things picked up again when Song's all-in was called by Taffe. Song moved in with ace-deuce while Taffe had another premium hand in pocket queens. Taffe continued to run well and avoided his opponent pairing their ace to bring the tournament to its final three players.
It was then Zhou's turn to end up on the wrong side of the rail. After doubling up Vanier, the American then finished him off after his ace-seven beat Zhou's ace-king. The $254,645 third place marked Zhou's first tournament cash in the United States.
Taffe went into heads-up with a nearly two-to-one chip lead and would have to navigate the final stage of the tournament more cautiously as Vanier finally had a stack that could do some damage.
However, Taffe picked up aces once again, and they held out for a third time. Vanier could not improve to two pair or better, and he had to settle for the $392,704 runners-up prize.
This concludes the live updates for the BetMGM Poker Championship - See you next year!

Level 33 : Blinds 200,000/400,000, 400,000 ante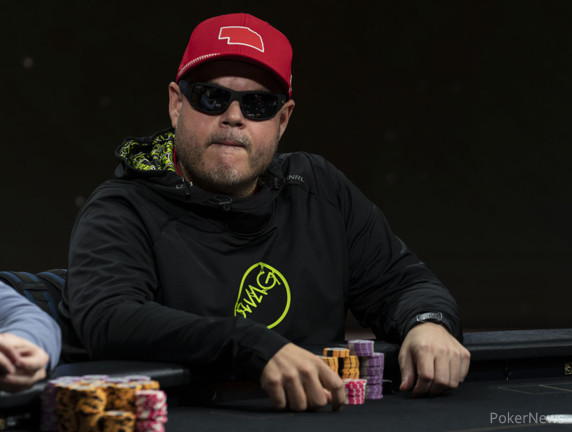 Leo Taffe opened to 900,000 after waking up with A♦A♣ again. Mike Vanier defended with 5♦3♥.
Vanier paired up on the 10♠4♦5♣ flop and check-called for 1,050,000. The K♥ turn hit the felt, and Vanier check-jammed for 7,230,000 after Taffe fired a second barrel of 3,000,000. Taffe quickly called, and the cards were tabled.
Taffe was ahead with his pair of aces and he improved to a set on the A♠ river to seal the victory.
Level: 33
Blinds: 200,000/400,000
Ante: 400,000

Level 32 : Blinds 150,000/300,000, 300,000 ante
Mike Vanier opened to 750,000 with 10♦7♣ and Leo Taffe called with the A♦5♦.
Taffe remained ahead on the Q♦J♦3♠ flop and checked, Vanier bet 900,000 and folded when Taffe made it 2,900,000.

Level 32 : Blinds 150,000/300,000, 300,000 ante
Leo Taffe opened to 750,000 from the button with J♥J♦ and Mike Vanier defended with 6♥7♠.
The flop came out 6♠10♦Q♠ and both players checked to see the K♥ on the turn.
Action checked through once again and the 3♦ fell on the river.
Vanier bet 300,000 but then Taffe raised him to 1,800,000. After a few seconds, Vanier made the call with his pair of sixes but was then shown the jacks to award the pot to Taffe.

Level 32 : Blinds 150,000/300,000, 300,000 ante
Leo Taffe opened to 750,000 from the button with 10♥2♥ and Mike Vanier defended with 10♠9♠.
The A♦5♥4♥ flop saw Taffe pick up a flush draw and he took down the pot after his 725,000 bet was uncontested.

Level 32 : Blinds 150,000/300,000, 300,000 ante
Mike Vanier opened to 750,000 with K♣Q♣ on the button and Leo Taffe defended with J♠3♣.
The flop of 3♠5♦2♦ gave Taffe a pair of threes and he check-called a bet of 900,000 from Vanier.
The turn came the J♣ and both players checked tp see the 7♥ fall on the river.
This time Taffe led out for a large sizing of 5,500,00 with his two-pair but Vanier promptly folded to award him the pot.

Level 32 : Blinds 150,000/300,000, 300,000 ante
Leo Taffe opened to 750,000 with Q♣8♣ and Mike Vanier defended from the big blind with J♥7♦.
The flop came out 3♥6♥8♥ to give Taffe top pair but also gave Vanier a flush draw.
Taffe continued for 600,000 and Vanier decided to make the call and the two went to the turn 6♣.
Both players decided to check and the J♠ appeared on the river to give Vanier the lead with his jack.
Vanier then bet 2,100,000 and Taffe quickly called but was then shown the bad news by Vanier.
Vanier was then pushed the sizable pot to shorten the gap between him and Taffe.

Level 32 : Blinds 150,000/300,000, 300,000 ante
On the first hand of heads up play, Mike Vanier limped in with 10♣2♦ and Leo Taffe checked his Q♥9♣.
Taffe check-called for 300,000 on the A♠K♣7♥ flop which brought in the 4♥ turn. Action checked through to the 10♥ turn and Taffe checked one more. Vanier fired out 600,000 and then Taffe bluff-raised to 4,200,000 and Vanier folded the best hand.