Event Info
Level Info
| | |
| --- | --- |
| Level | 25 |
| Limits | 50,000 / 100,000 |
| Ante | 0 |
Players Info - Day 2
| | |
| --- | --- |
| Players Left | 1 |
| Entries | 76 |
Event #2: $340 OE H/L 8B
Day 2 Completed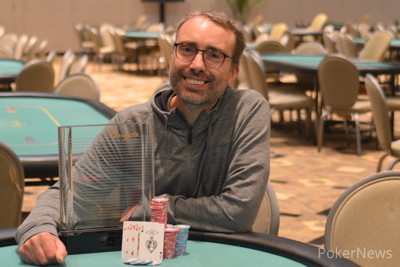 In his first-ever reported tournament win, Rolf Andersen of Galloway, New Jersey, earned $8,404 and the hefty Borgata Poker Open trophy for taking first place in Event 2: $340 Omaha/Stud High/Low tournament. Originally from Denmark, Andersen has been living in New Jersey for the last eight years.
Andersen is primarily a cash game player, but the mixed cash games are a little "too rich" for his bankroll, so he decided to try his luck in this tournament. He got a bit unlucky on Day 1 when his pocket kings ran into the rolled-up jacks of Sandra Demaskey and he was left with only 1,200 chips — one big bet.
"You only have to get lucky once," he said, as he described his comeback from that near-fatal hand. By the end of Day 1, he was fourth in chips out of the remaining 16 players and in good shape starting fresh on Day 2.
Half the players that returned for Day 2 had to leave empty-handed and that included some very experienced players and Borgata regulars. Michael Gabarick, Gary Kosakowski, Ilya Dyment, and Bill 'Bumpereno' Munley all reported to the rail short of the redraw for the final table.
The bubble took a while to burst as no one wanted to lose out on a payday. It took a double-elimination to finally break through, leaving murder-mystery novelist Matthew Stevens as the bubble boy, finishing ninth, and Lonnie Heimowitz cashing out in eighth place for $663. Andersen claimed the chip lead for the first time with that pot and continued pushing the action.
The most experienced player at the final table, by far, was Roland Israelashvili, with more than $3.3 million in career tournament earnings and 15 titles, including six WSOP Circuit wins and two Borgata trophies. All that couldn't save him, however, when his last chips went in playing Omaha 8. After flopping middle pair and a low draw, he whiffed all his possibilities and was eliminated in seventh place ($885).
Four-time Borgata titleist Barry Levy started Day 2 as the chip leader but saw his hopes for a fifth title dashed by three-time Borgata titleist Vincent Basilicata. Levy's two pair was no good against Basilicata's trips on fifth street. Levy finished fifth for $1,548.
The last woman remaining in this event, Sandra Demaskey, held her own in a tough field, but her trip fives were run down by the juggernaut of Andersen, who had a straight. She finished fourth for $1,769 and was followed to the rail by Vincent Basilicata. His stack was halved by Andersen who made Broadway to beat Basilicata's lower straight, then the last of his chips went to Kyle Sparks. Basilicata earned $2,654 for his third-place finish.
Andersen had a more than 2:1 chip lead over Sparks when heads-up play began and it didn't take long with the growing blinds and limits before Sparks was extinguished and Andersen had all the chips. Sparks took home $4,866 for second place in what appears to be his first reported tournament cash.
The most notable player in this small tournament field who failed to make Day 2 was none other than Chris Reslock, Atlantic City's own legend in the poker world. He was dispatched on Day 1 and since this was a freeze-out tournament, was unable to re-enter.
Event #2 Final Results
| Place | Player | Earnings |
| --- | --- | --- |
| 1 | Rolf Andersen | $8,404 |
| 2 | Kyle Sparks | $4,866 |
| 3 | Vincent Basilicata | $2,654 |
| 4 | Sandra Demaskey | $1,769 |
| 5 | Barry Levy | $1,548 |
| 6 | Andrew Dudley | $1,327 |
| 7 | Roland Israelashvili | $886 |
| 8 | Lonnie Heimowitz | $663 |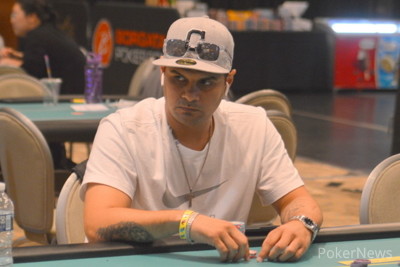 Playing Omaha/8:
Kyle Sparks was down to his last big bet and got it in on a hand of Omaha High/Low. His
needed help against Rolf Andersen's
.
The runout of
was all Andersen's, giving him kings full and the final pot of the tournament.
Sparks finished in second place, earning $4,866.
Andersen will collect $8,404 for first place and also take home his first Borgata Open trophy!
Level:

25
Limits:

50,000/100,000
Ante:

0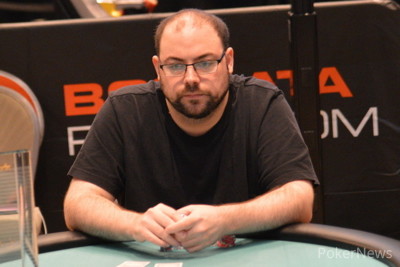 Playing Omaha/8:
Vincent Basilicata has been on a downward trend but staying alive with chopped pots.
He finally found himself all-in preflop and tabled
, with action from Kyle Sparks, who had
and was way ahead.
The board ran out
giving Sparks the pot with a set of kings.
Basilicata was eliminated in third place, earning $2,654.
Heads-up play began with Sparks holding 465,000 to Rolf Andersen's 1,055,000.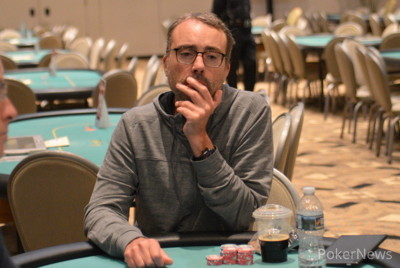 Playing Stud/8:
Rolf Andersen and Vincent Basilicata tangled in a hand of Stud High/Low. Andersen was firing until sixth street, when he checked and Basilicata checked behind.
Rolf Andersen:

Vincent Basilicata:
After receiving their final cards, Andersen bet, Basilicata hemmed and hawed a bit, then raised. Andersen stood up to get a better look at the boards and then called.
"Straight," said Basilicata.
"I've got Broadway," responded Andersen, for the nut straight. He produced
for the ace-high straight and Basilicata mucked his hole cards. His stack was cut down to 170,000, making him the short stack.
Andersen's stack crossed the 1-million mark for the first time today.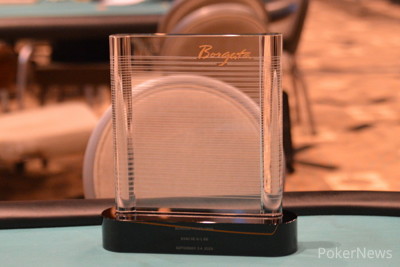 Following a break, the final three players are back on the felt. There's a bit of a disparity in the stacks, but with limits at 40,000/80,000, this is still anyone's game.
Level:

24
Limits:

40,000/80,000
Ante:

0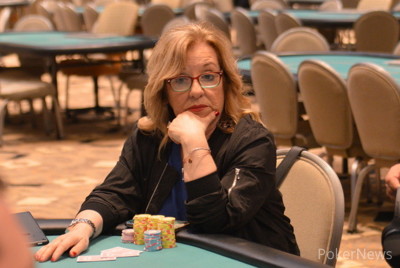 Playing Stud/8:
Sandra Demaskey got her last chips in on a hand of Stud 8 holding trip fives, but Rolf Andersen had a straight to take the pot. He's up to 695,000 and in the chip lead as the final three head out for a break.
Demaskey finished fourth place for $1,769.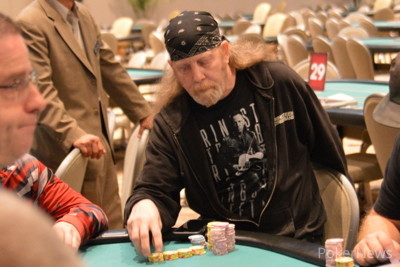 Playing Stud 8:
Barry Levy got his last chips in on sixth street and Vincent Basilicata looked him up. Levy's two pair (sixes and deuces) were beaten by Basilicata's trip fives.
Barry Levy:
/
/

Vincent Basilicata:
/
/
The river improved Barry's hand to Queens-up, but trips were still ahead and Basilicata took the pot, chipping up to 750,000. Levy busted out in fifth place, earning $1,548.