Event #3: $500 Black Chip Bounty
Event Info
Level Info
| | |
| --- | --- |
| Level | 32 |
| Blinds | 100,000 / 200,000 |
| Ante | 200,000 |
Players Info - Day 2
| | |
| --- | --- |
| Players Left | 1 |
| Entries | 688 |
Event #3: $500 Black Chip Bounty
Day 2 Completed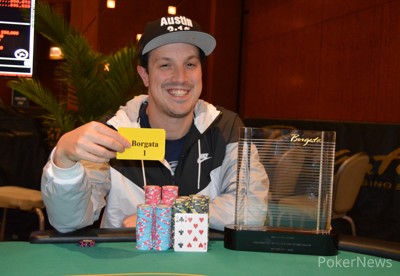 The third event of the 2019 Borgata Open came to an end after two exhilarating days of action, and it was Zach Gruneberg who emerged victorious in Event #3: $500 Black Chip Bounty for $56,073, along with a prestigious Borgata Trophy.
Gruneberg is a Boalsburg, Pennsylvania native with recorded poker cashes dating back to 2009 and almost two million in live career earnings. One place in particular that he seems to exceed the norm is at Boragata where he has scored his top two biggest cashes.
"Honestly, I've probably only come to eight or ten series overall," said Gruneberg modestly with a smile.
Gruneberg accredits healthy lifestyle change to the win, "I was kind of just lazy and like getting fat and I dunno it seems like maybe that has something to do with it!" He also mentioned that his overall outlook on life has greatly increased.
"I feel great and I'm eating great, I'm working out all the time and I've never done that in my life so I dunno, but I definitely was lazy a lot with live tournaments and generally in life, I've made a lot of changes, right now I'm doing a lot of fitness and stuff."
It seems to have paid off as he notched another feat on his belt by adding a second Borgata trophy to his resume.
Event #3 Final Table Results
| Place | Player | Hometown | Prize (USD) |
| --- | --- | --- | --- |
| 1 | Zach Gruneberg | Boalsburg, Pennsylvania | $56,073 |
| 2 | Derek Staib | Wilmington, Delaware | $31,533 |
| 3 | Arnaldo Gordon | Bowie, Maryland | $19,854 |
| 4 | Thomas Tolbert | Ypsilanti, Michigan | $16,117 |
| 5 | Santiago Vila | Kalamazoo, Michigan | $12,847 |
| 6 | Gino Gesso | Woodbridge, New Jersey | $10,628 |
| 7 | Alek Givotovsky | New York, New York | $8,526 |
| 8 | Sal Anastasio | Staten Island, New York | $6,423 |
| 9 | Tim Macht | New York, New York | $4,438 |
Final Day Action
The second day of the tournament saw just 90 players return out of the 688 entries and only 63 of would be headed to the payout desk. After just two levels of play, the bubble popped as Andrey Malinin moved all in for his last chips with pocket jacks and Barry Rosenkranz pushed over the top with his aces. Malinin failed to catch up, taking an exit in 64th place as the bubble boy and the rest of the field was guaranteed at least a min-cash of $794.
About four hours after the money was reached just 18 remained and the final two tables were set, with Alek Givovosky sitting atop the leader board. It took just a few hands to see four players take an exit and unfortunately for them it was Christian Iacobellis, Charles Micalizzi, Ryan Herold, and Louis Pelletteri who all failed to make dinner break.
Once the players returned from dinner break it took just one level of play before James Allen found himself all-in on the turn with top pair, but he was drawing dead as start-of-the-day chip leader Gino Gesso had top set and the unofficial final table was then set. Glen Passin was the first to take an exit when he shoved all-in with a flopped pair kings, only to run into the same pair in Derek Staib's hand except Staib had the better kicker and took down the pot, eliminating Passin in tenth place.
Gruneberg started to really catch some wind in his sails at this point when he doubled through Tim Macht. Gruneberg pushed his short stack all-in with jack-ten of clubs and Macht shoved over the top with jacks. The flop came down ten-high with one club and then went runner-runner club to give Gruneberg a flush as took a chunk of Macht's stack. Macht moved all in just a few hands later with pocket nines and was called by two players both holding ace-king, Anastasio and Staib. The king peeled off on the flop and the rest is history as Macht took an exit in ninth.
Anastasio ended up on the wrong end of cooler after he opened with big slick and just Gordon called. The flop came down ace-high, Anastasio bet and Gordon just called. Anastasio shoved the turn and Gordon snapped, tabling pocket jacks for a flopped set and that wrapped it up for Anastasio's night. Gruneberg grabbed another one of his crucial doubles shortly after this hand, this time through Givovosky with a pair of aces. Givovosky shoved his smaller stack in just a few hands later with eight-six, only to run into the ace-king of Thomas Tolbert in the big blind. Givovosky failed to connect and ended up as the seventh-place finisher.
The Gesso saw his stack rollercoaster up and down throughout the day and he seemed to be on a permanent upswing during the latter stages. Just a few hands turned it all around and he found himself sitting as the new table short-stack. Gesso found an optimal spot with a ten-high flush draw versus the nine-high flush draw of Staib but a runner-runner straight for Staib sent Gesso packing. Santiago Vila put up a good fight and stayed positive throughout the day. Vila took down a couple of pots, doubling up, staying alive, but he could not win a race against Staib and he was booted out of the tournament in fifth.
The four-handed play lasted for almost a level before a player fell and that player being Tolbert, who went on a cliff-dive during the last few levels of the night. Tolbert used his aggressive style to push his opponents off pots leading up to the final table but then seemed to hit a wall as a few foes caught on. Gruneberg found himself in several pots that Tolbert check-raised with air and Gruneberg instantly moved over the top, leaving Tolbert in utter disappointment as he constantly was folding hands. Staib opened with nines and Tolbert moved the rest of his chips into the middle with king-jack. A nine-high board hit the table and Tolbert took his exit in fourth place.
Gordon was on the bigger side of things throughout the better part of the day and every time he was knocked down it seemed he would bounce back two times stronger. Gordon limped from the small blind and Gruneberg raised it up. Gordon moved all in with ace-jack of clubs and Gruneberg snap-called with a pair of dimes. The board ran out dry as Gordon took an exit in third place for a respectable $19,854.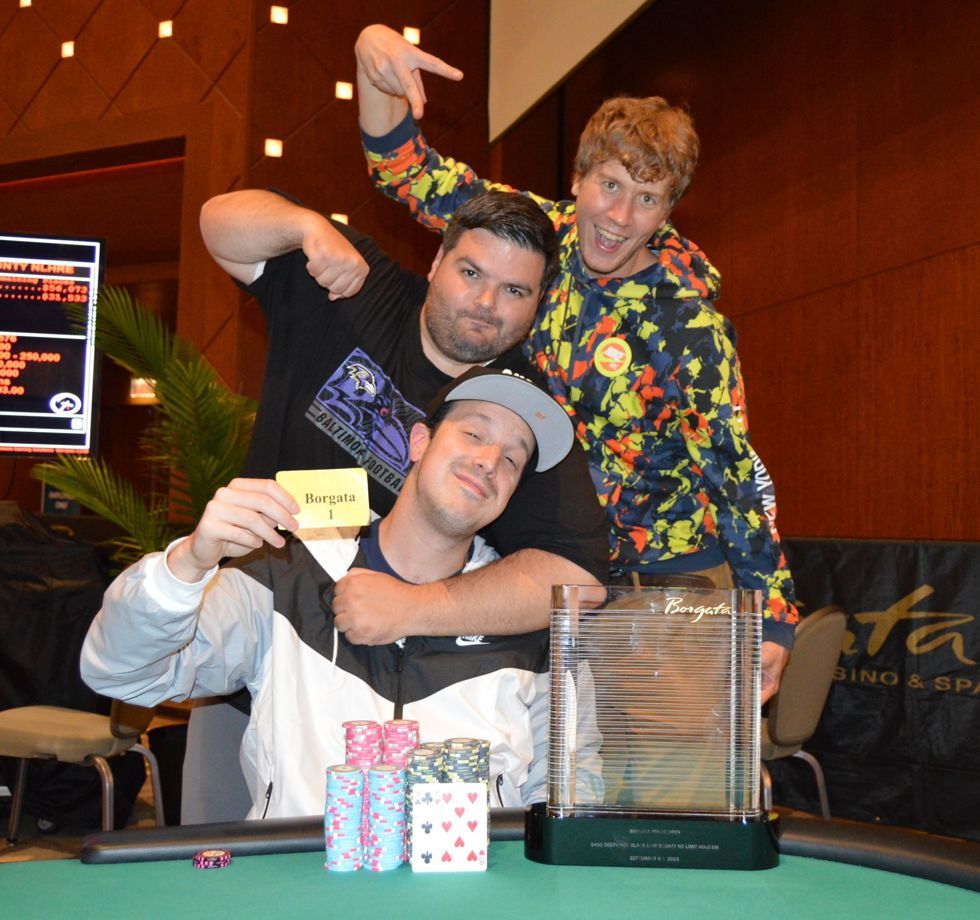 The heads-up play lasted just a matter of hands before Staib found himself on the short-stack. Staib moved his remaining chips all-in with queen-jack and was instantly called by Gruneberg and his snowmen. The flop brought some straight outs for Staib but he failed to hit anything and Gruneberg took down the pot. Staib took home a respectable $31,533 for finishing as runner-up.
That wraps it up for the PokerNews live coverage of Event #3: $500 Black Chip Bounty, but tune in tomorrow for more action as we will be covering all of the events coming up in the 2019 Borgata Poker Open.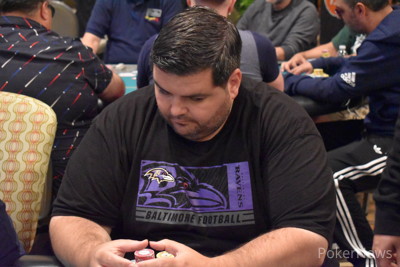 Derek Staib moved all in for just under 3,000,000 from the button and Zach Gruneberg called. The two tabled their cards in what could be the last hand of the night.
Derek Staib:

Zach Gruneberg:
The flop fell
and Gruneberg was still ahead with his snowmen but Staib picked up a straight draw to go with his two overs.
A
peeled off on the turn and Staib had just one more chance for romance. The
landed on the felt, completing the board as Staib failed to improve and was eliminated in second for a respectable $31,533.
| | | | | | |
| --- | --- | --- | --- | --- | --- |
| Zach Gruneberg | | | | 17,200,000 | |
| Derek Staib | | | | Busted | |
Derek Staib called on the button and Zach Gruneberg checked his option. The dealer fanned out
and Gruneberg checked to Staib who bet 300,000.
Gruneberg check-called and the turn came down a
. Both players checked, a
fell on the river and Gruneberg bet 475,000. Staib called and Gruneberg tabled
for two pair. Staib mucked and Gruneberg took down the pot, extending his league.
| | | | | | |
| --- | --- | --- | --- | --- | --- |
| Zach Gruneberg | | | | 13,750,000 | |
| Derek Staib | | | | 3,450,000 | |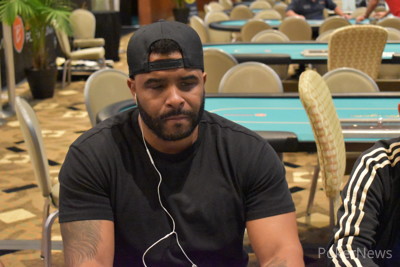 Arnaldo Gordon limped the small blind and Zach Gruneberg raised to 800,000. Gordon four-bet all in for around 4,000,000 and Gruneberg snap-called, putting Gordon at risk.
Arnaldo Gordon:

Zach Gruneberg:
The flop rolled out
and Gruneberg's dimes were still in the lead. A
landed on the turn, leaving Gordon with one more chance to keep his tournament life alive. The river unfortunately for Gordon was a
, cementing the pot for Gruneberg who scooped the chips and eliminated Gordon in the process of doing so.
| | | | | | |
| --- | --- | --- | --- | --- | --- |
| Zach Gruneberg | | | | 12,060,000 | 6,660,000 |
| Derek Staib | | | | 5,140,000 | -810,000 |
| Arnaldo Gordon | | | | Busted | |
Level:

32
Blinds:

100,000/200,000
Ante:

200,000
| | | | | | |
| --- | --- | --- | --- | --- | --- |
| Derek Staib | | | | 5,950,000 | -350,000 |
| Arnaldo Gordon | | | | 5,850,000 | 1,250,000 |
| Zach Gruneberg | | | | 5,400,000 | -900,000 |
Derek Staib opened to 350,000 on the button and Arnaldo Gordon three-bet to 750,000. Staib called and the dealer spread out
on the flop.
Gordon announced all-in and Staib hit the tank. "To be a hero or to not be a hero," said Staib as he thought about his decision. Ultimately Staib let his hand go, sending the pot to Gordon and his river shove.
| | | | | | |
| --- | --- | --- | --- | --- | --- |
| Zach Gruneberg | | | | 6,300,000 | -1,550,000 |
| Derek Staib | | | | 6,300,000 | 100,000 |
| Arnaldo Gordon | | | | 4,600,000 | 1,450,000 |
Arnaldo Gordon opened to 300,000 from the button and Derek Staib defended his big blind. The flop came down
, Staib checked to Gordon who bet 300,000 and Staib check-called to see the
river card.
The
peeled off on the turn and again action checked to Gordon, he bet 550,000. Staib check-called once more and the
hit the felt as a river card.
Staib reached for chips, pushing in 600,000 and Gordon thought for a few minutes but in the end, he released his hand and Staib took down the pot without showing a card.
| | | | | | |
| --- | --- | --- | --- | --- | --- |
| Zach Gruneberg | | | | 7,850,000 | 1,500,000 |
| Derek Staib | | | | 6,200,000 | -25,000 |
| Arnaldo Gordon | | | | 3,150,000 | -1,330,000 |
Level:

31
Blinds:

80,000/150,000
Ante:

150,000