Event Info
| | |
| --- | --- |
| Buy-in | €25,000 |
| Prize Pool | €1,975,000 |
| Players | 79 |
Level Info
| | |
| --- | --- |
| Level | 23 |
| Blinds | 40,000 / 80,000 |
| Ante | 10,000 |
€25,000 High Roller Championship
Day 3 Completed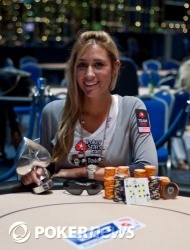 So that's it! Team PokerStars Pro Vanessa Rousso finishes the day as High Roller Champion of the EPT Grand Final here in Monte Carlo. From the beginning of the final when it raced along at breakneck speed, to the five-hour three-handed marathon, this has been an exceptional final table in many respects. The chip lead was swapped back and forth so many times we lost count, but at the end of the day the woman who started the final as chip leader ended it as victor.

Congratulations to Vanessa Rousso and thanks to all who made the PokerStars.com EPT Grand Final such a spectacular and well-run event.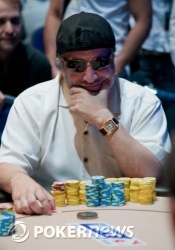 Our two marathon runners saw the
flop, which they both checked. They saw the
turn too, and this time Rousso bet 150,000. Call.
When they got to the
river, though...
All the chips went in! All of them!
The cards were flipped...
Dorfman:
for two pair.
Rousso:
for the straight.
Meaning that, at long last, we have a winner.
Said Rousso: "I'm so happy right now, that was seriously like the longest most epic final table ever." Our sentiments exactly.
Another chunky pot for Randy Dorfman now. He raised on the button to 160,000, called by Vanessa Rousso. She also check-called the
flop bet of 170,000. They both checked the
turn, and then Rousso bet out 200,000 on the
river. Dorfman tanked for the second-longest time tonight, but finally made the call. She turned
, no longer anything but a bluff, and he flipped
.
Thinking he'd made that call with jack-high, one of his railers said, "Sick call!" but then realized he had a flush. To be fair, he wasn't the only one watching who thought that for a split second...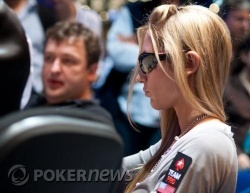 Limp-checked preflop, a high-card flop of
got no action from either Vanessa Rousso or Randy Dorfman. The
turn, however, saw Rousso check-call a 110,000 bet from Dorfman. He wasn't keen to try again on the
river though, and Rousso's
was good.
No! Of course it isn't.
On the button, Vanessa Rousso announced all in. On the big blind, Randy Dorfman called.
Rousso:
Dorfman:
Board:
Dorfman doubles up to 1,300,000, and everyone gets to stay here for a (hopefully) little while longer.
A monster hand just gave Vanessa Rousso nearly three million in chips, nicely swapping trailing in this tournament to leading it!
The major action occurred on the turn with the board standing
. A huge check-raise bluff Randy Dorfman made with
was called all in by Rousso with
. The
river was irrelevant.
Level:

23
Blinds:

40,000/80,000
Ante:

10,000
Randy Dorfman made it 160,000 from the button, and a call followed from Vanessa Rousso, and then everyone went nuts on the
flop. Rousso checked, Dorfman announced all in and an absolutely instant call from Rousso saw them on their proverbial backs.
Dorfman:
Rousso:
Turn:
River:
"Nice flop," said Dorfman unnecessarily, as Rousso doubled up again to 1,600,000 or so. This tournament now may actually never end at all.
Vanessa Rousso might be looking for good spots to double up, but she was expressing frustration even as she gave Randy Dorfman a second walk in three hands. "I gotta have better than five-high one hand in ten..." she said with a wry smile.

Meanwhile they've colored up once more -- purple 25,000 chips have made their first appearance in this High Rollers final.