2010 EPT Berlin Main Event
Day: 5
2010 EPT Berlin Main Event
Day 5 Completed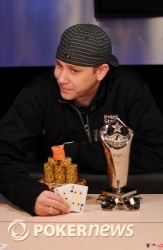 After an epic three and a half hour heads-up battle, online qualifier Kevin "ImaLuckSac" MacPhee has earned his cool €1,000,000. On Day 3 he proved his "lucksac" status when he was all in for his tournament life with pocket nines against Vikash Dhorasoo's pocket queens, and rivered a nine to stay alive. After that, there was no stopping him. MacPhee came into the final table as big chip leader and although the lead went back and forth between him and second placer Ilari Tahkokallio several times, at last MacPhee managed to wrest it back from Tahkokallio once and for all.

The last time these two titans clashed over a final table - in the £1,000 PLH/PLO back at EPT London last year - it was Tahkokallio who was victorious and MacPhee had to settle for second. This time MacPhee got to even the score, and became a Euro millionaire in the process.

Though fierce rivals at the table, there is certainly no bad blood between the two, and neither had anything but praise and respect for the other's game. In fact, this whole final table has been a masterclass in good sportsmanship, and we hope that the inaugural PokerStars.net EPT Berlin will be remembered for the high standard of play and the gentlemanly behaviour of its finalists rather than the unfortunate incident that disrupted play yesterday.

As players and staff alike head assortedly towards their hotel beds, flights home, or just downstairs to the bar, one gentleman has other plans. The newly-crowned champ was asked what he was planning to do this evening to celebrate. True to his passion, MacPhee replied, "I'm going to play online. The Sunday Million starts in 15 minutes."

Says it all really.

From all of us at PokerNews and PokerStars.net here in Berlin, it's over and out.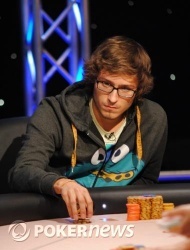 Kevin MacPhee raised to 700,000, and Ilari Tahkokallio called.

Flop:
- Tahkokallio slid out a bet, MacPhee raised him, and Tahkokallio moved all in for 8.995 million. MacPhee snap called.

Showdown
MacPhee:
for a pair of fours and an open-ended straight draw
Tahkokallio:
for a gutshot and backdoor straight draw

The
on the turn gave Tahkokallio a flush draw. The
on the river paired Ilari but gave MacPhee' a six-high straight and the EPT Berlin title. After impressive play all week and a clear display of poker acumen at the final table, Ilari Tahkokallio finished as runner up for €600,000.
First hand back and Ilari Tahkokallio bet out 400,000 on a
flop. MacPhee folded, and Tahkokallio took the pot.

This is turning into a very long night.
Back to the felt with our good friends Kevin MacPhee and Ilari Tahkokallio.
Level: 33
Blinds: 150,000/300,000
Ante: 0
One more level down, but no more players down.

The heads up will continue shortly.
While the action slowly creeps along in the Main Event, over in the High Rollers we have action!

Bijan Zahmat four-bet all in with pocket sevens, and got called by Andreas Bauer holding pocket tens. Zahmat flopped a set, but Bauer runner-runnered a straight to send him home with fourth-place money - thats €53,000.

The final three look like so:

Jeff Sarwer - 440,000
Andreas Bauer - 370,000
[Removed:39] - 130,000

Play continues with blinds at 2,500/5,000.

Update: Andreas Bauer won the High Roller tournament for € 188,000. Jeff Sarwer finished second, earning € 110,000, and [Removed:39] took home €67,000 for third.
Ilari Tahkokallio limped, Kevin MacPhee made it 625,000 to go, and Ilari called to see the
flop. MacPhee bet 750,000, and Tahkokallio upped the price to 2 million, earning a quick fold from MacPhee.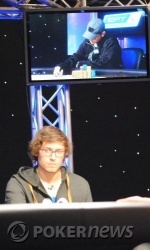 Ilari Tahkokallio had the button and rased to 450,000. Kevin MacPhee called and the flop came down
. Both players checked and then the turn was the
. MacPhee fired 575,000 and Tahkokallio called.

The river completed the board with the
and MacPhee fired 950,000. Tahkokallio studied and then called. MacPhee's exact hand wasn't shown on camera, but he held two pair, tens (on board) and sevens, two win the pot. Tahkokallio claimed he called with king high.