Main Event
Day 5 Completed

Level 27 : 25,000/50,000, 5,000 ante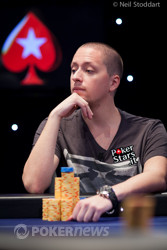 Italy is always a fun place to come to watch and play poker and today didn't disappoint. The Sanremo leg of the EPT9 played down from 24 to the eight remaining players that make up the final table. The penultimate day took a little less than eight hours for three tables to become one.
The player leading going in to tomorrow is Jason Lavallee on 5,545,000 chips. The Canadian pro has looked in complete control for the last two days and is playing at the top of his game. If the play is to seven-bet shove with queen-high and force an opponent to fold, he's done it; if it's to fold top pair top kicker on the turn and be shown kings by an opponent, he's done that; and if it's to make a big over-shove with an over pair and get a dangerous opponent to call off with ace-high, he done that too.
The player he has to fear the most tomorrow is his nearest chip-rival, Ludovic Lacay. The intense Frenchman has had a lean year by his standards but he played relentless poker today, never letting his opponents rest of their laurels for a minute. He and Lavallee played for long periods yesterday but managed to avoid each other for most of today. Each will want to dominate tomorrow and will not let the other stand in their way. Their battle has the potential to be an epic duel. We can't wait!
Here's how the final table will line up tomorrow:
| Seat | Player | Counts |
| --- | --- | --- |
| 1 | Ludovic Lacay | 5,366,000 |
| 2 | Jason Tompkins | 3,605,000 |
| 3 | Adrian Piasecki | 2,045,000 |
| 4 | Micah Raskin | 1,550,000 |
| 5 | Jason Lavallee | 5,545,000 |
| 6 | Ismael Bojang | 2,845,000 |
| 7 | Angelo Recchia | 1,755,000 |
| 8 | Artem Litvinov | 800,000 |
The unfortunate player to bubble the final table was Amerigo Santoro when his
failed to overcome fellow Italian Angelo Recchia's
on a
board.
The early part of the day was dominated by the two huge hands that Inge Forsmo, the player who led the way for half the tournament, played out. In the first hand he was very unlucky to flop trip fours versus Micah Raskin, put the American all in with pocket sevens, only to have a seven to fall on the river. A short while after he called all in with ace-high after Lavallee had bet 150% of the pot on the turn of a nine-high board. The latter had pocket queens and scooped the huge pot.
Lacay, as we mentioned already, was busy in action for a lot of the day, but it was a hand against Tompkins that really gave him the boost he needed. He flopped a wheel in a heads up three-bet pot and managed to get two streets of value including a called river raise. That pot alone was worth 1.5 million chips.
Yevgeniy Timoshenko, Matt Salsberg and Michael Benvenuti were three players that all others feared so their presence will not be missed at tomorrow's final table. Timoshenko did not get that much going today and lost a race for his tournament life. So much went right for Salsberg in the first few days of play, but that run-good deserted him today. He got short, pushed with
, and failed to outdraw Bojang's
for a 16th place finish. Benvenuti joined him two spots later when his
failed to hit versus Recchia's
.
Jonas Mackoff busted one spot later in 13th for €32,000, not a bad result for a player who was never supposed to be playing. He only hopped in the tournament because he lost his passport in Cannes when he was over to rail Chris Brammer at the WSOPE final table. EPT Sanremo filled the days while he was waiting for a replacement to be issued. We believed it was his destiny to win but ultimately it was not to be.
Tomorrow's final table is going to be aired on Italian TV with cards face-up, as well as on PokerStars.tv. Play will get under way at 3:00 PM CET with the stream and PokerNews' coverage starting from 4:00 PM CET so as to protect the integrity of those playing. Join us back here then when a brand new EPT champion will be crowned. Eight players are hoping to join in the footsteps of these lucky five players and claim the prestigious EPT San Remo title:
Former EPT Sanremo Champions
| Season | Date | Buy-In | # of Players | Prize Pool | Winner | Top Prize |
| --- | --- | --- | --- | --- | --- | --- |
| 4 | April 1-5, 2008 | €5,000 | 701 | €3,100,000 | Jason Mercier | €869,000 |
| 5 | April 18-23, 2009 | €5,300 | 1,178 | €5,713,300 | Constant Rijkenberg | €1,508,000 |
| 6 | April 15-21, 2010 | €5,300 | 1,240 | €6,014,000 | Liv Boeree | €1,250,000 |
| 7 | April 27-May 3, 2011 | €5,300 | 987 | €4,786,950 | Rupert Elder | €930,000 |
| 8 | October 21-27, 2011 | €4,900 | 837 | €3,734,694 | Andrey Pateychuk | €680,000 |
Level 27 : 25,000/50,000, 5,000 ante
Fourth place EPT Campione finisher Balazs Botund last night took down the €330 'Antes only' event beating a surprisingly tough table, some of whom were possibly being helped (more likely hindered) by red wine.
Find out more by clicking through to PokerStars Blog.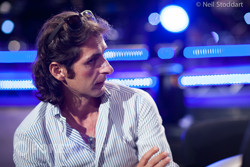 Angelo Recchia raised to 100,000 before the flop and it folded around to Amerigo Santoro's small blind. He moved his short stack all in and Recchia called.
Recchia:

Santoro:
The board fell
and Recchia was able to win the race, making Sanotor our official final table bubble boy.

Level 27 : 25,000/50,000, 5,000 ante
Jason Lavallee raised to 100,000 from middle position and it folded around to Ludovic Lacay who three-bet to 225,000 from the cutoff. Lavallee called the three-bet and the two saw a flop of
.
Lavallee checked his option and Lacay continued out for 225,000. Lavallee called the bet and the
turned. They both checked to see the
hit the river and once again the both tapped the table. Lavallee showed
and was able to drag in the pot.

Level 27 : 25,000/50,000, 5,000 ante
The players have been playing cautiously since joining to a single table. It's been rare to have a hand see a flop so far.

Level 27 : 25,000/50,000, 5,000 ante
The final nine players have taken their seats and cards are back in the air.

Level 27 : 25,000/50,000, 5,000 ante
| Seat | Player |
| --- | --- |
| 1 | Ludovic Lacay |
| 2 | Jason Tompkins |
| 3 | Adrian Piasecki |
| 4 | Micah Raskin |
| 5 | Amerigo Santoro |
| 6 | Jason Lavallee |
| 7 | Ismael Bojang |
| 8 | Angelo Recchia |
| 9 | Artem Litvinov |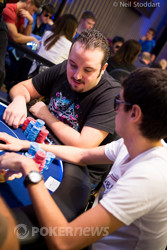 On the first hand back from break, Ludovic Lacay raised to 100,000 from under the gun. Charly Maracchione then moved all in for 555,000 total. It folded back to Lacay who called the bet.
Lacay:

Maracchione:
The board fell
and Lacay's full house of eights full of deuces was able to send Maracchione to the rail in tenth place. With the elimination of Maracchione, the field is now combining to an unofficial final table of nine.
Level: 27
Blinds: 25,000/50,000
Ante: 5,000