Litvinov Table Change Provokes Angry Barouk

Level 13 : 1,000-2,000, 300 ante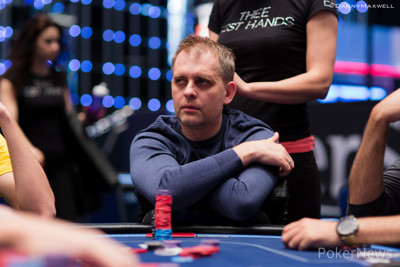 Artem Litvinov's table has broken and he has now been moved to a table with two other Russian speakers, Aliaksei Zhuk and Andrey Gulyy. There was some sort of disagreement and the floor was called once again to explain the "English only at the table." rule. The three were laughing and joking, with Zhuk mock plaintively declaring the language close to his heart.
An angry Philippe Barouk from France however had had enough of Litvinov's ebullient approach to the game and banging the table he demanded an end to his shenanigans, threatening to ask for a penalty if he continued. Everyone agreed to play by the rules and the floor left the table.
The table fell into an uncomfortable silence and now no one was willing to say anything. Barouk remained looking angry but Litvinov looked furious.
Barouk opened a pot for 4,000 and it folded round to Litvinov in the small blind who stared daggers at him. He looked at his cards and cut out a stack of 20 red T2000 chips, stroking them menacingly. Barouk was paying no attention to this however and Litvinov folded his hand as did the big blind.
I doubt we have heard the last of this.