€10,300 High Roller
Day: 3
€10,300 High Roller
Day 3 Completed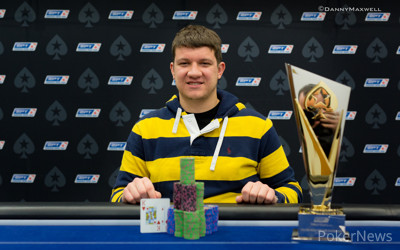 The third and final day of the 2016 PokerStars European Poker Tour €10,300 High Roller saw 13 hopefuls from a 185-entry field return to the tables at the Royal Dublin Society. With the top 27 spots reaching the money, the remaining field was well into the money with Sergey Lebedev in the lead, but the Russian wasn't the man walking away with the title. That accomplishment was fulfilled by American Samuel Panzica to the tune of €375,770.
Lebedev ultimately settled for third place after having already finished 10th in the €10,200 Single-Day High Roller a few days ago.
Panzica and Akin Tuna cut a deal before heads-up play started and left €65,770 and the trophy up for grabs. In the end it was Panzica who emerged victorious and shattered his previous biggest cash of $109,326.
Tuna finished second for €290,000 and more than quadrupled his live earnings to date.
Diego Ventura was the shortest stack coming back for Day 3, and the Peruvian first doubled up with pocket aces against the pocket sevens of Ryan Riess before he saw his pocket queens getting cracked one hand later by the ace-ten of Lebedev when an ace appeared on the river.
EPT regular Sam Chartier finished 12th after defending his big blind with jack-six suited. The French Canadian found middle pair on a queen-high flop and check-raised all in. Tuna called with the superior pocket tens and held up to bust Chartier.
Christoph Vogelsang also fell victim to the early run of Tuna, who jumped into the lead by sending his fellow German to the rail in 11th place. Vogelsang defended his big blind with eight-five suited and found a five-high flop that prompted him to check-raise all in. Tuna had an overpair with pocket sixes, called, and won the hand.
The unofficial final table was set with the elimination of Jerry Odeen in 10th, and, wouldn't you know, he also sent his stack over to Tuna. The story was exactly the same with Odeen defending the queen-jack suited from the big blind and finding top pair on a jack-high flop, only to check-shove right into the pocket kings of his opponent.
Panzica then scored a huge double up after flopping a set of fours in a four-way pot. Lebedev paid off his check-shove with pocket tens and didn't get there. It was this pot that really helped propel Panzica forward, and he gained plenty of momentum.
It was then Rocco Palumbo who fell in ninth place when his three-bet shove with ace-king was snap-called by Panzica, who held pocket aces to jump into the top spot.
Then it was William Arruda who exited in eighth place, Timothy Adams who finished in seventh, and Ryan Riess who took sixth.
For Riess, the 2013 World Series of Poker Main Event champion, he recorded his second high roller cash during the Dublin festival after finishing 13th in the €10,200 Single-Day High Roller. He was eliminated when his pocket sevens ran into the pocket eights of Davidi Kitai.
Despite scoring that knockout of Riess, Kitati was the next to go. He got his stack into the middle of the table by three-bet shoving with ace-seven. Tuna called with ace-six and made a straight on the river.
Emil Patel's run came to an end in fourth place. The American, now based in Finland, was at risk with ace-ten and had hopes of a comeback when Panzica turned over the ace-eight in the all-in showdown. However, an eight hit on the turn, and that was all she wrote.
Down to the last three, Lebedev was the shortest stack. After a passive start, the Russian then open-shoved for 24 big blinds from the button with pocket threes. Panzica called with pocket nines in the small blind, and no miracle happened for Lebedev.
After a quick discussion, the two remaining title contenders agreed to a deal that saw Panzica lock up €310,000 and Tuna €290,000. Tuna got off to an early lead, but then surrendered two bigger pots to become a 2-1 underdog.
On the final hand between the two, a board with three kings on the flop saw Tuna fire all three streets with jack-ten. A ten appeared on the river, and Panzica shoved over the third barrel from Tuna, who called it off with a full house only to get shown quads by Panzica holding king-five.
EPT Dublin €10,300 High Roller Final Results
| Position | Player | Country | Prize |
| --- | --- | --- | --- |
| 1 | Samuel Panzica | United States | €375,770 |
| 2 | Akin Tuna | Germany | €290,000 |
| 3 | Sergey Lebedev | Russia | €184,650 |
| 4 | Emil Patel | Finland | €150,550 |
| 5 | Davidi Kitai | Belgium | €120,050 |
| 6 | Ryan Riess | United States | €92,240 |
| 7 | Timothy Adams | Canada | €67,120 |
| 8 | William Arruda | Brazil | €48,630 |
That's it from the PokerNews Live Reporting team reporting on the €10,300 High Roller. However, make sure to check out the updates of the €5,300 Main Event.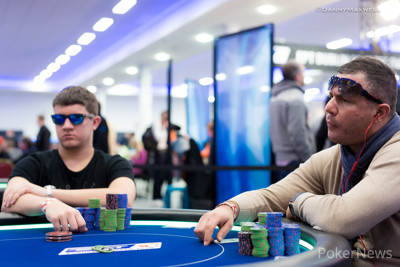 After a raise to 175,000 and a call Samuel Panzica and Akin Tuna headed to the flop of
. Tuna bet 225,000 and Panzica called before the
came on the turn. Now Tuna fired a bet of 375,000 and was once again called. The
on the river saw Tuna lead for 800,000 and Panzica announced all in.
Tuna checked his stack and then called off with Panzica quickly rolling over
for the nuts while Tuna tabled his
for a rivered full house. The German takes home €290,000 according to the deal made before the heads up started while Panzica scoops a payday of €375,770 and the winner trophy.
Akin Tuna raised to 180,000 and Samuel Panzica called. On the
flop, Panzica checked and Tuna continued for 225,000 before folding to a check-raise worth 475,000.
The next hand, Panzica raised to 175,000 and Tuna called. The flop came
and Tuna check-folded to a bet worth 175,000 to drop below 3 million in chips.
Samuel Panzica raised to 175,000 and scooped the big blind and antes. One hand later, Akin Tuna raised for the same amount and Panzica called. On the flop
, Panzica check-folded to a bet of 225,000 by Tuna.
Two limped pots in a row brought no action on a king-high flop and then Panzica limped in and Tuna raised for 150,000 more. Panzica called but folded the
flop to a bet of 275,000 by Tuna.
One hand later, Tuna limped in and folded to a raise by Panzica for 200,000 on top.
Samuel Panzica raised to 175,000 and Akin Tuna called to see a flop of
. Both players checked and the
turn saw Tuna lead for 275,000. Panzica called and then faced a huge bet of 1.2 million on the
river to eventually fold.
One hand later, Tuna raised to 165,000 and Panzica called. After a flop of
, Panzica check-called a bet worth 225,000 before they checked through the
turn. On the
river, Panzica bet 650,000 and Tuna let go. "Very good. You go all in, I call," Panzica said to his opponent.
The chip stacks barely changed, but the heads up strategy surely did.
Level: 27
Blinds: 40,000/80,000
Ante: 10,000
Both players headed into their first 20-minute break of heads up. Below are their current counts.
Samuel Panzica raised to 150,000 and Akin Tuna called to see a flop of
. Tuna check-folded to a continuation bet worth 175,000 and then limped the next hand. They checked the
flop and Panzica's bet worth 85,000 on the
turn scooped the pot.
Last but not least, Tuna raised to 125,000 and was called. There was no betting action on the
flop nor
turn before Panzica bet the
river for 150,000. Tuna paid and was shown queen-high to claim the pot with
, his opponent nodded.
After relentless post-deal pressure from Tuna, is this perhaps a turning point in this heads-up battle?
After Panzica called pre-flop, Tuna raised to 160,000 and Panzica called. On the flop of
, Tuna bet 175,000 and Panzica called. On the
turn the Turk fired again, for 350.000.
The river was the
and Tuna bet a third time, this time for 775,000. After only a short while, Panzica deftly moved two full stacks of green chips (worth 500,000), plus two black chips, for a river raise worth 1.7m. Tuna folded. Could that be a turning point in the momentum of this heads-up battle?