€25,500 Single-Day High Roller
Day: 1
€25,500 Single-Day High Roller
Day 1 Completed

Level 21 : 50,000/100,000, 10,000 ante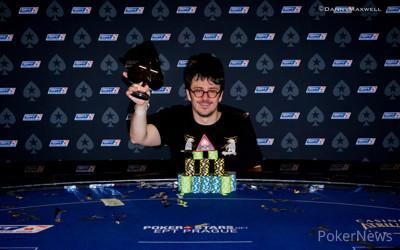 'Don't worry, Isaac Haxton never wins tournaments' Steve O'Dwyer said when Isaac Haxton grabbed the chiplead with still 13 players left in the €25,500 Single-Day High Roller at the last ever PokerStars EPT Prague.
A quick look at Haxton's Hendonmob-profile proved that statement wasn't entirely accurate, but his two wins did look pale compared to the seven runner-up finishes he had.
Haxton would prove O'Dwyer even more wrong today, as the high stakes online cashgame player known as "Ike" won the PokerStars EPT Prague €25,000 Single-Day High Roller for €559,200!
| Position | Player | Country | Prize |
| --- | --- | --- | --- |
| 1 | Isaac Haxton | United States | €559,200 |
| 2 | Julian Stuer | Germany | €397,550 |
| 3 | Adrian Mateos | Spain | €260,300 |
| 4 | Ramin Hajiyev | Azerbaijan | €200,300 |
| 5 | [Removed:17] | New Zealand | €158,610 |
| 6 | Steve O'Dwyer | Ireland | €124,050 |
| 7 | Pablo Fernandez | Spain | €97,600 |
| 8 | Paul Newey | United Kingdom | €76,260 |
| | | | |
| 9 | Charlie Carrel | United Kingdom | €57,950 |
| 10 | Koray Aldemir | Germany | €50,840 |
| 11 | Igor Yaroshevskyy | Ukraine | €50,840 |
The €25,000 Single-Day High Roller at the PokerStars EPT Prague started off with a big field already. Before the first seconds of the first level had passed, 40 players had already signed up. With registration open for the first eight 30-minute levels, that number would only grow more rapidly.
By the time registration had closed, 69 players had entered. A total of 14 reentries made for 83 entries total and a prize pool of €2,033,500. With 83 entries, three more than last year, 11 players were to cash. By the time that was announced, a bunch of players had already departed.
Amongst the early casualties were a bunch of players who had played the $100,000 Super High Roller in the Bellagio, Las Vegas only a couple of days ago. The champion there, Jan-Eric Schwippert from Germany who had won over $1.4 million just three days ago, wouldn't be so lucky here in the Czech capital. His countryman EPT Prague Single-Day High Roller title defender Rainer Kempe would also hit the rail early on.
Familiar faces like Sam Greenwood, Igor Kurganov, Mustapha Kanit and Justin Bonomo all had already left by the time bubble was looming. Thomas Muehloecker got closer, but departed in 13th place and initiated hand for hand play.
With 12 players remaining, only one more player would go empty-handed. The others would be guaranteed a min-cash of €57,950. After just a couple of hands, action folded to PokerStars EPT Vienna champion Oleksii Khoroshenin. He pushed all in and big blind Steve O'Dwyer only needed a short glance at his cards to make the call. It was a classic set-up as short stack Khoroshenin had queens while big stack O'Dwyer had ace-king. An ace on the flop and river made Khoroshenin an unhappy man, but the twelve others were celebrating (silently).
As these things go, players busted rather quickly after the money stage of the tournament had been reached. Ukrainian Igor Yaroshevskyy (ace-seven to jack-five) and German Koray Aldemir (ace-jack to king-queen) did not last long.
With nine players remaining, two tables merged to just one. 2015 EPT Prague Super High Roller champion Steve O'Dwyer held a healthy lead with Julian Stuer and Isaac Haxton in second and third. Shortest stack coming into the final table was Paul Newey with Charlie Carrel and Pablo Fernandez just barely hanging on as well.
While Newey started out the shortest, it would be his countryman Charlie Carrel to go out first. After finishing runner-up in the €50,000 Super High Roller for €535,250 the day before, now the road ended in ninth place for Charlie Carrel. The Brit cashed for the eight tournament in a row, with just one of them not being a final table. He got it in with sixes against the aces of Ramin Hajiyev and did not improve.
Paul Newey, who like Carrel made the final table of the €50,000 Super High Roller the day before (5th for €200,000), was next to go. He made the final table, the fourth in a row on his Hendon Mob, but departed soon after when his ace-king failed to outrun Julian Stuer's pocket nines. Newey hit an ace on the flop but, like on his previous final table, a nine would spoil his party. Stuer made a set and send home Newey in eight place.
While the average stack was growing, the bust outs would keep coming. Pablo Fernandez was short stacked and pushed his stack and luck with queen-eight from the button. Small blind Isaac Haxton called with king-ten and send his Spanish neighbor packing.
Steve O'Dwyer was the one following him out the door. O'Dwyer, last year's EPT Prague Super High Roller champion, clashed in a big pot with Ramin Hajiyev. The two got their huge stacks in with ace-king (Hajiyev) against tens (O'Dwyer). An ace on the river prevented O'Dwyer from lifting another trophy in Prague.
Suffering an unavoidable second nut flush against nut flush situation, [Removed:17] parted ways with 99 percent of his stack. The following hand he got it in with seven-six against king-five and would again get flushed away. Yan chopped the €25,000 Super High Roller in Barcelona and walked away with the most money there, then outright won the one in Malta. Now, here at the last ever European Poker Tour, in Prague he came fifth for €158,610.
Not much later, Ramin Hajiyev got it in with eights against the ace-king of Isaac Haxton. The king on the river did him in and catapulted Haxton's stack.
Immediately talks of a deal commenced but Haxton was quick to inform his two opponents he would not agree to an ICM-chop. They did look at the numbers but couldn't find an agreement and play resumed three-handed.
After some back and forth, EPT Grand Final champion Adrian Mateos got short and pushed with king-ten. Isaac Haxton woke up with pocket tens and saw the best hand hold up to send the Spaniard packing.
With Mateos gone, play was heads-up between Isaac Haxton and Julian Stuer. Three hands later, it was all over. Haxton got it in with eights against the ace-jack of Stuer and hit an eight on the turn to lock up the third victory of his luminous career.
With that, the last ever EPT Single-Day High Roller was in the books. Or was it? There were talks of organizing an extra Single-Day High Roller event with still plenty of players interested in firing big one more time this festival. Will it happen? Keep your eyes on PokerNews as we'll be the first to report if it does. Other than that, the Main Event continues with Day 2, and there are two more €10,000 events; a Pot-Limit Omaha and a closing No Limit Hold'em high roller.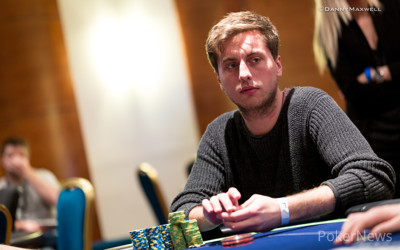 After a split pot in the first hand in heads up and a successful three-bet shove by Julian Stuer in the second hand, the decision over the title came in hand number three.
Stuer opened to 250,000 and Isaac Haxton moved all in, Stuer quickly called.
Julian Stuer:

Isaac Haxton:
The German and Austrian rail jumped up to see the action, rooting for Stuer. However, a the board of
left their friend drawing dead on the turn and Stuer was eliminated in second place for a career-best payday of €397,550. Haxton gets to lift the penultimate EPT High Roller trophy and takes home €559,200 for his efforts.
A recap of today's action will be available shortly.

Level 21 : 50,000/100,000, 10,000 ante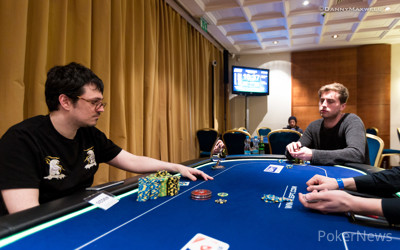 Play has resumed.

Level 21 : 50,000/100,000, 10,000 ante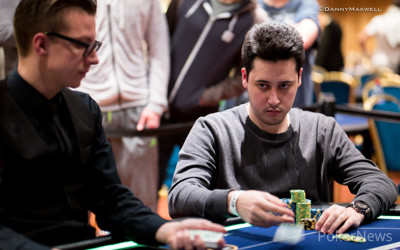 Adrian Mateos was first to act and shoved all in for 1,910,000.
Instantly, Isaac Haxton in the small blind asked for a count. When the dealer replied how much it was, he thought about it for a bit. Meanwhile, the floor asked the rail to be quiet.
"All in" whispered Haxton all of the sudden. "All in?" asked the dealer, "All in" repeated Haxton himself. Stuer folded right away.
Adrian Mateos:

Isaac Haxton:
The flop came
, doing not much of anything for either. The
on the turn did increase the amount of outs Mateos had, but none of them fell with the
on the river.
Mateos exited in third place for €260,300. Haxton and Stuer are guaranteed €397,550.
Level: 21
Blinds: 50,000/100,000
Ante: 10,000
Julian Stuer limped in from the small blind, Adrian Mateos checked in the big blind. The duo checked the board
and Stuer claimed the pot with
.
Then, Stuer raised to 220,000 from the button, Mateos shoved for 1,460,000 and Stuer folded.
Last but not least, Mateos raised to 225,000 and Stuer called in the big blind. The flop of
went check, check. On the
turn, Stuer checked and folded to a bet worth 225,000.
Isaac Haxton stayed out of most hands and occasionally shoved from the button, neither time he picked up a call to remain on the same stack.
Julian Stuer limped in from the small blind and Adrian Mateos checked his option in the big blind. The flop came
and Stuer bet 100,000, Mateos called.
After the
turn, Stuer fired a second bet worth 320,000 and Mateos called again.
The
completed the board on the river and Stuer moved all in. Mateos asked for a count and the shove was for 1,240,000. After some consideration, Mateos called and Stuer flipped over
for two pair, Mateos only had
for a busted gutshot and pair of queens.
Adrian Mateos opened to 200,000 on the button and Julian Stuer called in the big blind. On the
flop, Stuer checked and folded to a continuation bet worth 350,000.
Mateos then made it 225,000 to go from the button one orbit later and Stuer shoved to claim the pot. Isaac Haxton won a limped pot against Mateos before the button was once again on Mateos.
The Spaniard raised to 225,000 and Stuer defended the big blind. On the
flop, Stuer checked and Mateos bet 200,000. Stuer moved all in and Mateos folded almost instantly. The gap between the three players is slowly but surely closing, Haxton holds a narrow lead over Mateos now.

Level 20 : 40,000/80,000, 10,000 ante
We missed the pre-flop action but saw small blind Adrian Mateos check-call 100,000 on a flop of
. The
on the turn saw Mateos check again and Isaac Haxton bet 600,000. Mateos called again.
The
on the river saw both players check and Mateos showed a winner with
, Haxton mucked.