Raul Paez Wins the €2,200 French National High Roller for €200,400 at the 2019 PokerStars and Monte-Carlo®Casino EPT

Level 31 : 80,000/160,000, 160,000 ante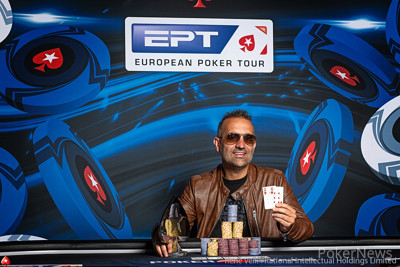 Almost thirteen hours after resuming play on Day 2 of the €2,200 French National High Roller, Raul Paez has walked away triumphantly with €200,400 and the PokerStars Spade trophy after defeating Antoine Goutard heads-up. In total, there were 538 entries collected which also included 110 reentries, creating a total prize pool of €1,043,720 and 81 players would be in the money.
Even though Paez can't be found on The Hendon Mob, the first cash showing on PokerNews took place in 2008 during the Main Event of the PokerStars.net EPT4 German Open in Dortmund where he finished in 17th place. He also had some deep runs in Las Vegas with cashes dating back to 2005. But this win is his biggest to date, at least in the databases where his results are publicly shown. For Goutard, this is also his biggest live cash ever so records were broken for both of them.
The final table here at the 2019 PokerStars and Monte-Carlo®Casino EPT also included Dietrich Fast, Alan Lau, Romain Matteoli, and Harry Lodge.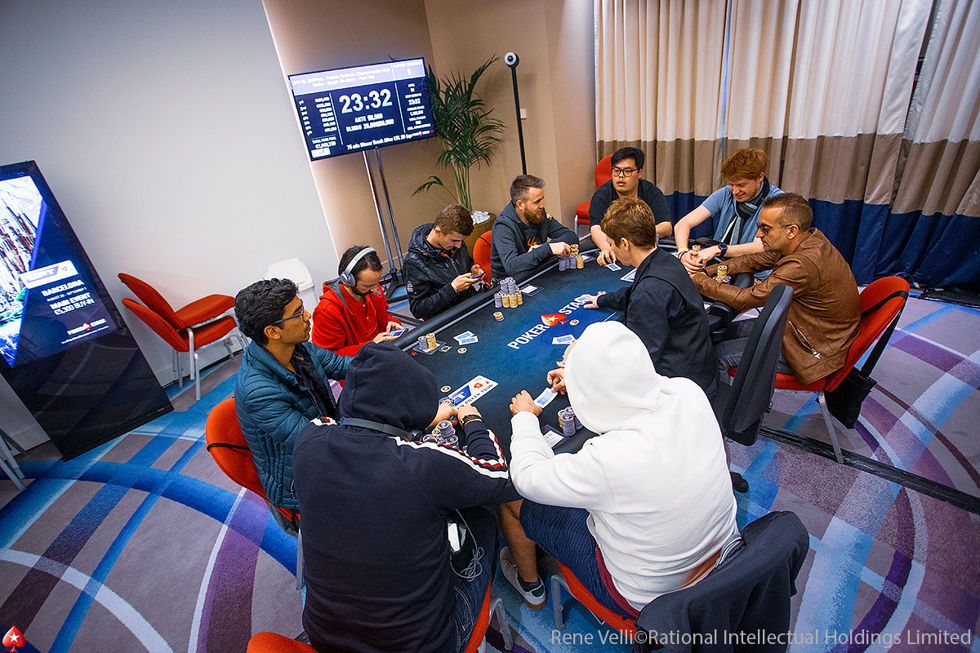 Final Table Results
| Place | Player | Country | Prize (EUR) | Prize (USD) |
| --- | --- | --- | --- | --- |
| 1 | Raul Paez | Spain | 200,400 | 223,133 |
| 2 | Antoine Goutard | France | 125,500 | 139,737 |
| 3 | Dietrich Fast | Germany | 89,900 | 100,098 |
| 4 | Pablo Brito Silva | Brazil | 70,100 | 78,052 |
| 5 | Alan Lau | Hong Kong | 55,000 | 61,239 |
| 6 | Loic Dobrigna | France | 43,100 | 47,989 |
| 7 | Romain Matteoli | France | 32,250 | 35,908 |
| 8 | Harry Lodge | UK | 22,340 | 24,874 |
Today's Action
The tournament started with 81 players in their chairs with 18 minutes left in the level they finished on last night. During those first hectic level, twelve players had picked up their cash from the payout desk including Paul Newey, Maria Ho, Leo Margets, and Denis Timofeev. The second level of the day wasn't any less hectic but it was also the start of Goutard's incredible run towards the final table. Fourteen players left the tournament area in that level and Goutard was responsible for at least one of them when he hit trip aces on the river with ace-king against the nine-eight of Ankit Ahuja on the six-ace-five-eight-ace board.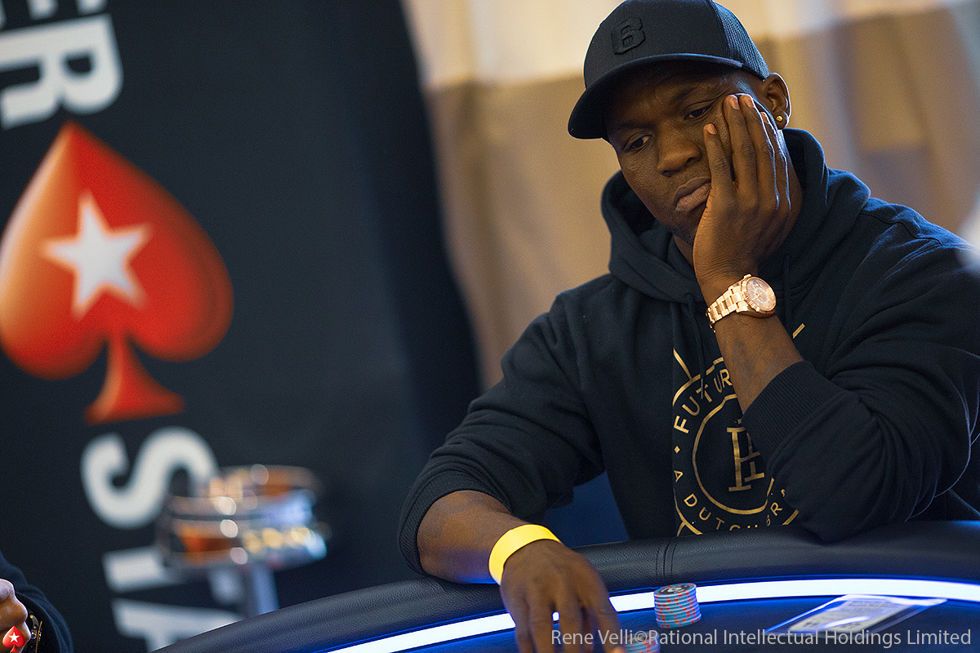 Jean-René Fontaine, Erwann Pecheux, Kristen Bicknell, Lukasz Grossmann, Julien Bolimowski, Christopher Frank, Aladin Reskallah, and Dario Sammartino were all by the time the first break took place. Just after the break, probably the most well-known person to the outside world, Dutch footballer Royston Drenthe was eliminated when he ran his last sixteen big blinds into the ace-jack of Goutard while he himself held king-jack. Drenthe was happy enough with the result after having had to reenter the day before.
Marius Kudzmanas won the €1,100 Freezeout which was the first event of this festival but couldn't add another trophy to his collection. Gaelle Baumann, Osman Aksu, and Nariman Yaghmai were all sent away before a redraw could take place for the final three tables. Julien Martini was also one of the many notable players to make another deep run but couldn't make things happen after the redraw. The PokerStars Players Championship runner-up lost his last twenty big blinds to Loic Dobrigna when he ran his pocket jacks into the pocket nines of Dobrigna who hit a set on the flop and even improved to a full house. Martini was sent away to register for the Main Event where he didn't have a bad day either as he finished second in the Day 1a chip counts.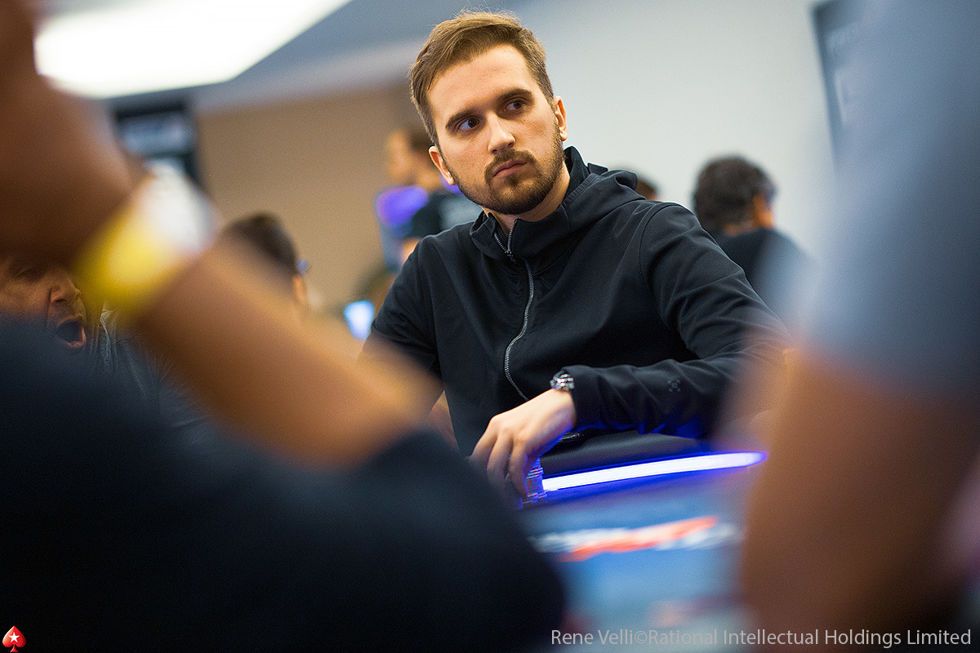 David Peters ran his last fifteen big blinds into the ace-nine of Lodge when he held king-queen. Sonny Franco first doubled Lau up and then his king-deuce suited couldn't beat the ace-ten of Matteoli. Bruno Soutavong was eliminated by Fast, Borge Sandsgaard fell to Itai Levy who then proceeded to lose more than half of his stack to Pablo Brito Silva. Silva then dealt the final blow to Levy when he took away his last eleven big blinds. Levy held ace-deuce and Silva had eight-seven but managed to hit a seven on the river for all remaining players to be redrawn to one table.
Abedel Douair ended up being the final table bubble when he shoved his ace-nine into the kings of Dobrigna. Lodge doubled Paez up when his ace-king couldn't beat the tens of Paez and then lost his last 10,000 to Silva with ace-six while Silva had pocket treys. Matteoli lost it all when his queen-nine couldn't win against the king-jack of Dobrigna. And then it was time for Dobrigna himself to leave the final table. Dobrigna held pocket queens but Goutard managed to win another preflop all-in situation by hitting a straight on the river.
Lau fell at Goutard's hands too when his king-five were no match to the Goutard-effect of hitting on the river as Goutard hit a pair of queens with queen-seven. But when Goutard doubled up Fast, it seemed that the magic was waning for Goutard. After winning nine all-ins preflop, Fast's ace-ten held up against the six-five of Goutard. Silva left the tournament in fourth place when he shoved his ace-four into the ace-ten of Goutard. Fast finished in third place when his king-queen couldn't beat the ace-ten of Paez and then it was time for heads-up.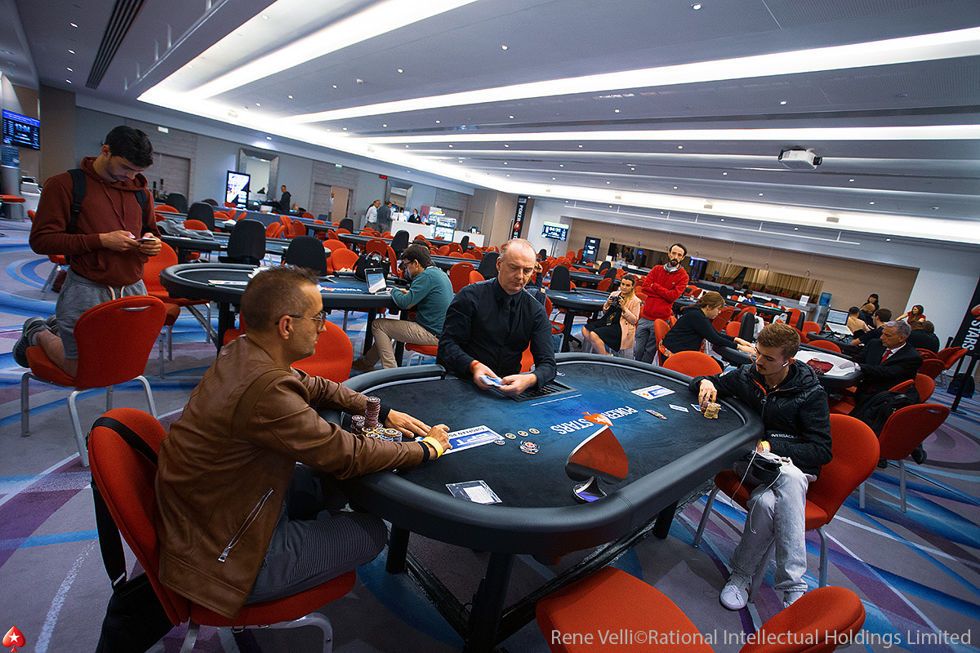 Both players agreed to take a short break, when they returned they discussed a deal but Paez wanted to stop playing and just claim the trophy after they agreed on the numbers. This seemed to be a deal breaker as Goutard wanted to play for the spade. Paez didn't want to do so unless there was some money on the line. They then agreed to play for €10,000 and the trophy but after a quick smoke break, Goutard had changed his mind and wanted to play for it all.
After just over 30 minutes of heads-up play, Paez had ground Goutard down to his last twelve big blinds. In the end, Paez managed to hit two pair with six-deuce while Goutard had flopped a pair of sevens when it all went in on the river. A bunch of happy Spanish people celebrated at one side of the table while the other side showed visible disappointment but also some happiness in the end as they both realized what they had accomplished.
This concludes the coverage for the €2,200 French National High Roller but stick around as the PokerNews live reporting team will be roaming around until the end of the festival to bring you all the updates from Monaco!