Tonka Doubles as De Luca Rides the Rollercoaster

Level 4 : Blinds 200/400, 400 ante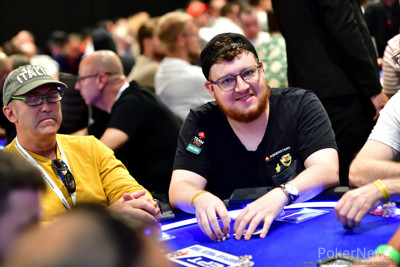 Sergio De Luca has been involved in back-to-back hands on Table 76.
In the first hand, Mario Colavita opened to 900 from early position and was called by Sergio De Luca on his direct left. Parker Talbot was seated next to De Luca and threw in a call before it folded around to Xavier Mouysset, in the cutoff, who three-bet to 3,500. Colavita folded and both De Luca and Talbot called.
On the flop of
, all players checked and the turn came the
. De Luca bet 7,000 and Mouysset called.
The river was the
and De Luca fired another bet of 14,000. Mouysset folded and De Luca flashed
, for the nut flush, to the table.
In the next hand, De Luca limped from early position and was met by a raise of 1,600 from Talbot in the seat to his left. Abdessamade El Mzdadi called from the cut off and De Luca also called.
All three players checked on the
flop and the
hit the turn. De Luca checked once more and Talbot bet out 1,600. El Mzdadi got out of the way and De Luca called.
On the
river, De Luca checked and Talbot overbet, firing 13,000 into a pot of 8,000 and leaving himself 200 chips behind. De Luca thought for a minute before deciding to call and mucked when Talbot showed him the
for two pair.
Player
Chips
Progress

Xavier Mouysset

69,000

69,000

Sergio De Luca

35,000

35,000

Parker Talbot

34,000

9,000

Ambassador

Abdessamade El Mzdadi

32,000

32,000

Mario Colavita

28,000

28,000