€10,300 High Roller
Day: 3
€10,300 High Roller
Day 3 Completed

Level 32 : 120,000/240,000, 30,000 ante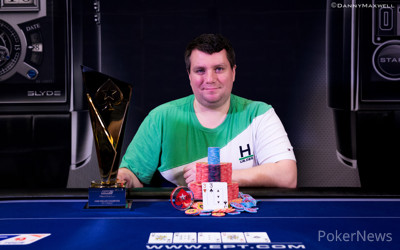 The third and final day of the 2014 PokerStars.com European Poker Tour Season 11 Prague €10,300 High Roller started with 23 players left in the tournament. They were already well into the money, but a final table was not in sight yet.
A lot of familiar faces took their seats at noon local time. Marvin Rettenmaier wasn't one of them, though, as he was two minutes late. He rushed through the tournament room, jumped over chairs, and was in his seat milliseconds before his cards would have been mucked by the dealer. He shoved the first hand and ran ace-five suited into Martin Finger's ace-nine.
"I'll take a chop," said the still cheerful Rettenmaier.
He got more than he asked for as the turn gave him a flush and guaranteed him the double up.
"That's what you get for being modest," replied Anton Astapau with a smile.
Finger wouldn't recover from the clash and would bust minutes later. He ran king-jack into Ole Schemion's ace-queen.
Like Finger, many big names wouldn't make the final table. Jonathan Little busted in 20th, Ari Engel couldn't double and hit the rail in 19th spot, and many more followed.
After the redraw at 16, the tournament was down to its final 13 players within the hour and it looked like it might keep going with that pace. But while the €5,300 Main Event was already nearing its early finish, the High Roller slowed down a lot.
It would take some time before Senh Ung got eliminated in 13th place when his king-ten couldn't beat Clavio Anzalone's ace-king.
Then it was Alexander Ivarsson to bust in 12th when he fell at the hands of Viacheslav Goryachev.
Short stacks Roman Emelyanov (11th) and Oleksii Khoroshenin (10th) followed soon after, and the final nine players moved to one table — just one elimination away from the official final table.
Dan Shak would be the unlucky one to fall in ninth place. The high-rolling regular lost aces to kings earlier in the day, but doubled a couple of times to stay alive. He maneuvered his stack enough to make the final nine, but not enough to be able to recover from being on the short end of another set up. With ace-king he ran into Andrey Zaichenko's pocket aces and was gone.
Schemion started out as the chip leader at the final table of eight. As per usual, he had been crushing in the short-handed period leading up to the last table, and poker reporters all over the world must have already started writing recaps expecting Schemion to win. Not this time around, though, as a lot went wrong. Schemion lost chips left and right, didn't get there where he usually would, and got called by ace-high at one point where he didn't have much of anything.
After Anzalone was eliminated in eighth place by Zaichenko, the latter took the lead. By the time the dinner break started, there were seven players left and Schemion was the shortest of them all with just 10 big blinds.
After returning from break, Joao Vieira was the first out the door. He was knocked down to a single big blind and all in for the main pot as Francois Billard and Zaichenko battled for the side pot. When it was all said and done, both Billard and Zaichenko showed up with ace-king for top pair and top kicker, and that meant Vieira's unimproved nine-five was worthless.
While Schemion was short for a long time, Goryachev was as well. This made for some interesting situations as none of the players wanted to bust before one of the two small stacks got eliminated, but neither of these two wanted to go. Both just hung around, but it came to a point where Schemion eventually had to make a move. He moved in with ace-eight and eventually battled it out with Levinskas who had ace-king. Schemion flopped two pair, but he got counterfeited on the turn and was sent home in sixth place.
Goryachev would eventually finish fifth. He did well to stay alive for this long, but eventually his jacks got beaten by ace-queen when an ace hit the river.
Simon Deadman was the next to go. He got it in with ace-eight and was up against Zaichenko with pocket eights. Rail bird Jack Salter rooted hard for Deadman, but no ace, no straight, no flush, no nothing for Deadman, and he departed in fourth place.
The remaining three players discussed a deal, and after some 30 minutes they got to an understanding. With €39,000 still to battle for, these were the numbers they agreed on:
| Player | Prize Money |
| --- | --- |
| Andrey Zaichenko | €448,180 |
| Laurynas Levinskas | €412,905 |
| Francois Billard | €405,260 |
After the deal, Billard pushed from the small blind with ace-ten suited and was looked up by Levinskas, who held the king-queen. The flop was full of blanks, but the
turn gave Levinskas a pair and Billard a flush draw. The river blanked, and Billard hit the rail in third for €405,260.
Heads-up play started with a lead for Levinskas. That soon changed though when Zaichenko turned trips and Levinskas pushed with his open-ended straight draw. The straight didn't come for Levinskas on the river, and the two remaining players effectively changed chip stacks. Another big hand happened soon after. Levinskas and Zaichenko got their chips in on an
flop. Both had a six but Levinskas had the better kicker. The river queen gave both players the same full house, though, and they chopped the pot.
The chips moved back and forth, and every time someone was all in and there was a call, it was a colliding of two big hands. It truly was the story of the day; in spots where players should shove a wide range of hands, they always had strong holdings.
The same occurred on the last hand where Zaichenko pushed all in and Levinskas called with just about 11 big blinds left. Zaichenko had the worst of it with pocket threes, and Levinskas had pocket nines. A three on the turn ended the tournament this time, and Zaichenko was crowned the champion.
| Position | Player | Country | Prize |
| --- | --- | --- | --- |
| 1 | Andrey Zaichenko | Russia | €487,180* |
| 2 | Laurynas Levinskas | Lithuania | €412,910* |
| 3 | Francois Billard | Canada | €405,260* |
| 4 | Simon Deadman | United Kingdom | €238,320 |
| 5 | Viacheslav Goryachev | Russia | €186,840 |
| 6 | Ole Schemion | Germany | €141,420 |
| 7 | Joao Vieira | Portugal | €103,870 |
| 8 | Clavio Anzalone | Italy | €76,310 |
*Denotes three-way deal.
With that, the PokerNews coverage from EPT Prague has come to a close and it's time for the holidays. We wish everyone a grand holiday season, and we look forward to seeing you back here with us for coverage of the 2015 PokerStars Caribbean Adventure to kick off the calendar year on the tournament circuit.
Level 32 : 120,000/240,000, 30,000 ante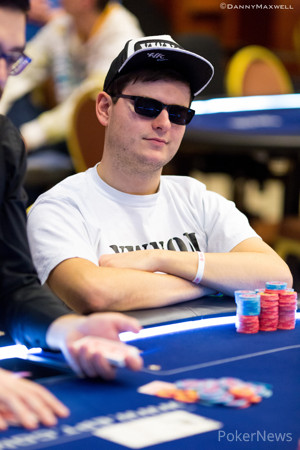 In the final hand of the morning, Andrey Zaichenko pushed all in for around 13 million in chips and was snap called by Laurynas Levinskas.
Zaichenko:

Levinskas:
It was looking a certain double up for Levinskas as the dealer produced the
flop. However, the
dropped on the turn giving Zaichenko the lead with a full house.
Unfortunately the
would complete the board resulting in Levinskas walking away with €412,910 for his second place finish.
Level 32 : 120,000/240,000, 30,000 ante
Andrey Zaichenko has been slowly chipping away at Laurynas Levinskas without going to show down.
He has rocketed to over 12 million in chips during this level of play.

Level 32 : 120,000/240,000, 30,000 ante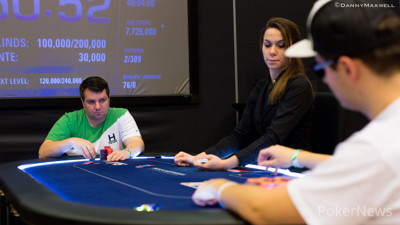 Andrey Zaichenko opened to 500,000 and Laurynas Levinskas shoved all in. Zaichenko made the call all in for 4,285,000 but was behind.
Andrey Zaichenko:

Laurynas Levinska:
"Same suit" said Zaichenko who had seen the situation before today. It wouldn't be the suits that would make the difference, so much was certain, it would be the river:
.
"Standerd" said Lavinska about the pre flop all in, "Just cooler again" added Zaichenko.
Level: 32
Blinds: 120,000/240,000
Ante: 30,000
Level 31 : 100,000/200,000, 30,000 ante
Andrey Zaichenko raised to 400,000 from the button and was called by Laurynas Levinskas.
The flop came down
and both players checked. The
fell on the turn and Levinskas led out for 500,000 which was called.
The
on the river saw Levinskas cut out another bet totalling 1.5 million in chips. Zaichenko thought for a moment before making the call.
Levinskas then tabled his
for trip sevens as Zaichenko tossed his hand into the muck.

Level 31 : 100,000/200,000, 30,000 ante
Apparently Laurynas Levinskas has proposed to fasten up the blind structure a little bit, instead of the one-hour levels that are still on the clock right now. Zaichenko has declined, and declined once more just now. "Still don't want to make it a turbo?" asked Levinskas, "Still don't" answered Zaichenko.

Level 31 : 100,000/200,000, 30,000 ante
Laurynas Levinskas limped in for 200,000 and Andrey Zaichenko raised to 700,000. Levinskas made the call and they saw a flop of
.
Zaichenko bet 600,000 and Levinskas raised to 1.5 million. Zaichenko checked his cards one more time, and then mucked what appeared to be
, though he flashed to fast for us to tell with a hundred percent certainty.
Level 31 : 100,000/200,000, 30,000 ante
Laurynas Levinskas raised to 400,000 from the button and was called by Andrey Zaichenko.
The flop came down
and Zaichenko checked. Levinskas bet out 400,000 only for Zaichenko to quickly raise to one million in chips. The bet was called and both players watched the
drop on the turn.
A pair of checks followed before the
completed the board. Zaichenko reached for his chips and bet out another million in chips only to have Levinskas come over the top with a raise to 2.3 million. Zaichenko tanked for over a minute before finally mucking his hand.