Main Event
Day 3 Completed
Level 28 : 40,000-80,000, 80,000 ante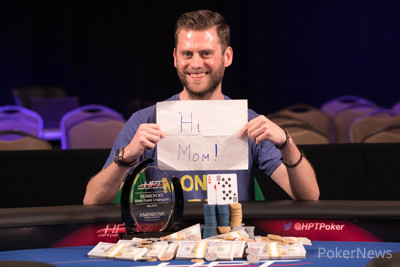 It's still a few days from the full moon, but a different sort of Moon shined brightly at Heartland Poker Tour Ameristar East Chicago $1,650 Main Event.
Chris Moon topped a field of 570 to take down a career-best $183,899 and a $3,500 HPT Championship package. It's the first live tournament win for Moon, who said it's been over a decade in the making.
"I've been trying to win a live tournament since I was like 18 years old," said the Michigan man. "So, this is a dream come true, truly."
HPT Ameristar East Chicago Final Table Results
| Place | Player | Prize |
| --- | --- | --- |
| 1 | Chris Moon | $183,899 |
| 2 | Artem Zverkhovskyy | $113,605 |
| 3 | Eric Salazar | $74,456 |
| 4 | Craig Casino | $51,735 |
| 5 | Bryant Miller | $37,596 |
| 6 | Mike O'Neill | $29,178 |
| 7 | Paul Elfelt | $24,519 |
| 8 | Dennis Ng | $20,433 |
| 9 | Bret Martin | $16,346 |
Moon utterly dominated the final 10 levels or so of play, as he rolled into the final day with a massive chip lead and a stack of more than 200 big blinds. If victory seemed predetermined to many observers who took a glance at the standings, which showed Moon holding more than double the chips of nearest competitor Craig Casino, it didn't feel that way to Moon.
Back in 2015, Moon made the final table of HPT Mount Pleasant in his home state of Michigan. There, he narrowly missed out on a title as he lost heads-up, taking a $101,823 consolation prize. He also had another final table in this same event in 2017, winding up with an eighth-place finish.
"I've been here before and came up short," Moon acknowledged. "I was just trying to play my hands and my ranges as good as I could."
Fortunately for Moon, there were plenty of big hands to play and he frequently found himself near the top of said ranges.
After staying relatively quiet during the first couple of levels, which saw a flurry of fast eliminations, Moon got busier when the table was shorter-handed. He busted short stacks Bryant Miller — aces over king-queen suited — and Craig Casino — ace-queen over king-queen — in the space of a few minutes to whittle it down to three.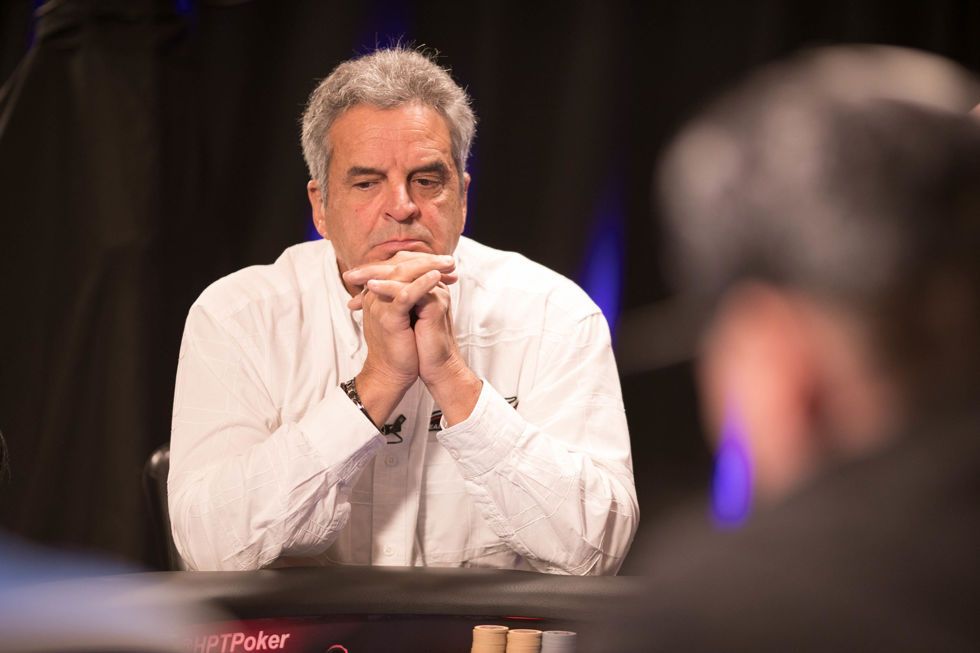 Casino, while settling for a fourth-place finish, added to his HPT-leading cash total of over $800,000.
Moon had about two-thirds of the chips but three-handed play would see his momentum slowed a bit. Eric Salazar and Artem Zverkhovskyy hung in for over an hour before the latter busted the former, putting Moon heads up for the title in commanding position.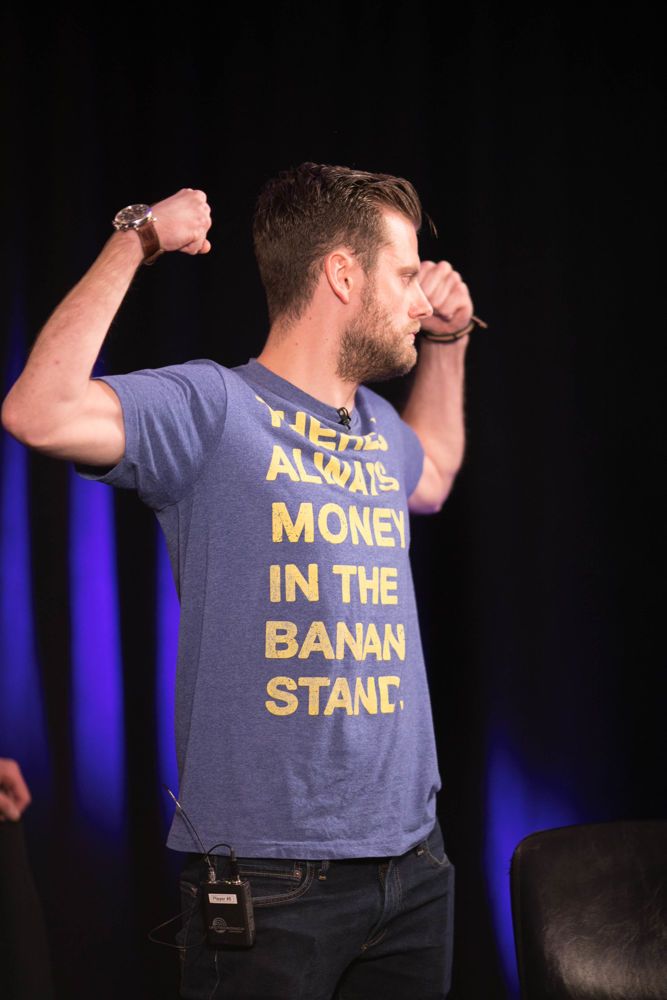 However, Zverkhovskyy did get a little momentum when he coolered Moon for an early double with a straight over aces up. Moon quickly regained control though and sealed things with dominating ace-ten against ace-five all in preflop, after which he celebrated with some feeling, flexing and stalking away from the table.
He then turned to embrace Zverkhovskyy, a Chicago-area regular who can be found playing in most of the tours that run through the area.
Both players said they plan to put the money they won to use over the summer with a heavy poker schedule.
"Can't wait to see what the future holds," a grinning Moon said.
Level 28 : 40,000-80,000, 80,000 ante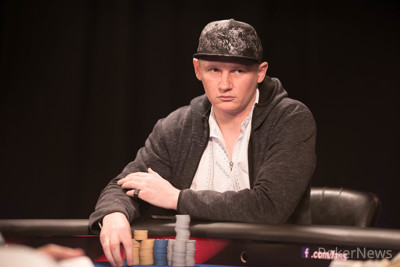 Artem Zverkhovskyy shoved on the button for 1.6 million with
and Chris Moon called with
.
The
flop didn't change much but the
turn left Moon fading far more cards as his foe picked up a flush draw. The river was a
, ending the tournament in Moon's favor.
Level 28 : 40,000-80,000, 80,000 ante
Artem Zverkhovskyy opened for 200,000 with
and Chris Moon defended
.
Moon checked the
flop and Zverkhovskyy bet 250,000. Moon made it 600,000 and they continued to the
. Moon bet and Zverkhovskyy immediately gave it up.
Level 28 : 40,000-80,000, 80,000 ante
Chris Moon limped with
and Artem Zverkhovskyy bumped it to 500,000 with
.
Moon called and they saw a
flop that checked through to the
. Moon called a bet amount that wasn't shown and then tank-called 950,000 on the
river. Zverkhovskyy was forced to show his ace high and concede the pot.
Level 28 : 40,000-80,000, 80,000 ante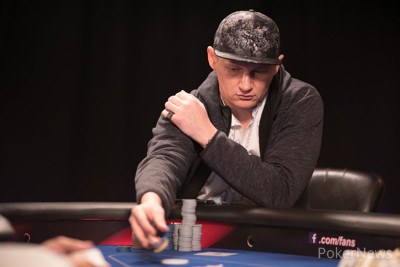 Chris Moon opened to 200,000 with
and Artem Zverkhovskyy defended with
.
The flop came
and Artem Zverkhovskyy check-called 250,000. He checked again on the
and Moon bet 650,000. Zverkhovskyy took some thinking time then ripped for 1.9 million and Moon quickly called.
The
was a brick river and Moon sent over a double.
Level 28 : 40,000-80,000, 80,000 ante
Chris Moon raised with
to 200,000 and Artem Zverkhovskyy called with
.
They checked the flop and the board read
. Zverkhovskyy check-called 225,000 and then 400,000 on the
river.
Level 28 : 40,000-80,000, 80,000 ante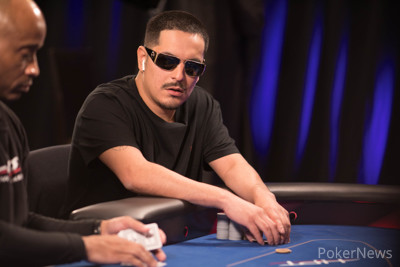 Artem Zverkhovskyy opened for a raise 220,000 and called the shove of Eric Salazar, who jammed just over 1.1 million in the big blind with
. Zverkhovskyy had
and the
flop paired him. The
brought a flush draw for Salazar but the river was a
, meaning it's heads-up time and there's a short break.
Level: 28
Blinds: 40,000/80,000
Ante: 80,000