€3,000 Main Event
Days: 3
Level: 18
Blinds: 5,000/10,000
Ante: 1,000
€3,000 Main Event
Day 3 Completed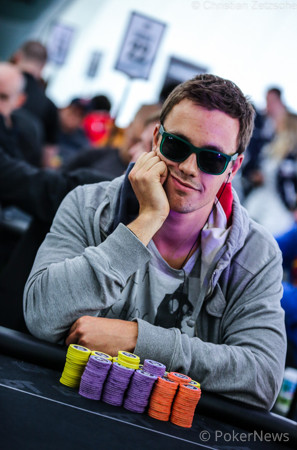 Sunday was Day 3 of the International Stadiums Poker Tour at Wembley Stadium and what a day it was. When play began there were 421 players in their seats, but by the end of eight 60-minute levels all but 99 of them were eliminated. Leading the way going into Day 4 is a name you are all probably familiar with, Ole Schemion.
Schemion bagged up a tournament leading stack of 1,534,000 at the close of play, one of four players to finish with a seven-figure stack. Schemion is an unbelievably gifted poker player. At just 20-years old he has amassed almost $3,100,000 in live tournament winnings and he is now on course to add €1,000,000 to that already impressive total.
When you play as loose and aggressively as Schemion do, players often make ill-timed moves against you. One such move happened towards the end of play and Schemion lead on a
board and then call as his opponent moved all in. His opponent held ace-king for complete air, Schemion queen-six for two pair!
Poker becomes an easy game to play when you are making big hands and have a crazy image. This combination of factors saw Schemion be paid off with a full house when his opponent completed a flush. Those two hands, combined with the fact Schemion bossed each table he sat at today saw the young German run out as a deserved chip leader.
As mentioned, there were three other players to end Day 3 with over 1,000,000 chips. Neil Benardout (1,400,000), Day 2a chip leader Alban Juen (1,100,000) and Ben Middleton (1,049,000) have each given themselves the best chance of winning a huge sum of money from this tournament.
Other notable big stacks include Toby Lewis (973,000), Pete Linton (920,000), Sam Trickett (805,000), Mat Frankland (701,000) and Dave "Devilfish" Ulliott (700,000).
Each of the returning players is guaranteed at least €2,400 for their efforts, a fact made possible by the all-important money bubble bursting. During the hand-for-hand period there were fall simultaneous all-in and call situations and the atmosphere in the room was one of anticipation. Two short stacks survived their all-in confrontation, but David Gent and Tomasz Gluszko did not and they were eliminated on the bubble at the same time and shared the €540 min-cash.
Some of the players to enjoy reaching the money places included Tony G, James Akenhead, Team PokerStars Pro Marcel Luske, former tennis ace Boris Becker, Liz Lieu, David Benyamine, and Roberto Romanello.
Play on Day 4 begins at 12:00 and sees the action shift from the Wembley football pitch into the Bobby Moore Suite, which is named after the only England football captain to have won the coveted World Cup. Join the PokerNews Live Reporting team from noon UK time to see which players will be one step closer to glory themselves.
Level 17 : 4,000-8,000, 1,000 ante
Player
Chips
Progress

Ole Schemion

1,534,000

334,000

Neil Benardout

1,400,000

1,353,000

Ben Middleton

1,049,000

149,000

Toby Lewis

973,000

-27,000

Pete Linton

920,000

370,000

Sam Trickett

805,000

220,000

Xavier El Fassy

737,000

601,000

Mathew Frankland

701,000

-99,000

Dave Ulliott

700,000

300,000

Joseph Lovelady

480,000

449,000

Nicolas Cardyn

336,000

-114,000

Age Spets

316,000

-114,000

Leigh Wiltshire

257,000

-73,000

Peter Eastgate

257,000

-213,000

Praz Bansi

251,000

-69,000

Freddy Deeb

217,000

-183,000
Level 17 : 4,000-8,000, 1,000 ante
Play has just wrapped up for the night, expect a recap and chip counts to follow.

Level 17 : 4,000-8,000, 1,000 ante
The previous hand Tahiri had raised from the button and Khaitan had moved all in over the top. Tahiri folded and warned him that next time he would call.
"Pick one." Said Khaitan playfully. Tahiri pointed at one Khaitan 's cards and was shown the
"Other one the same." Laughed Khaitan.
On the next hand it was folded round to Tahir who again raised. Once more Khaitan moved all his chips over the line. 229,000 was the bet.
Tahiri could certainly afford it, and as soon as the big blind had folded he wasted no time in calling.
Khaitan showed
"Ahhh." Sighed Tahiri and showed his
The board was no help and Khaitan doubled up.
"Now I can fold. Now I can fold." He said happily.
Praz Bansi opened the betting with a raise to 16,000 from middle position and the player in Seat 1 called. Jerome Brion, who was seated on the button, also called.
The three players watched on as the dealer got busy putting the
flop into play. Bansi was first to act and he saw no reason to take the passive route and he bet 36,000. Seat 1 folded but Brion was not going away. Instead, Brion raised to 76,000. Bansi rechecked his cards before flicking them towards the muck.
Level 17 : 4,000-8,000, 1,000 ante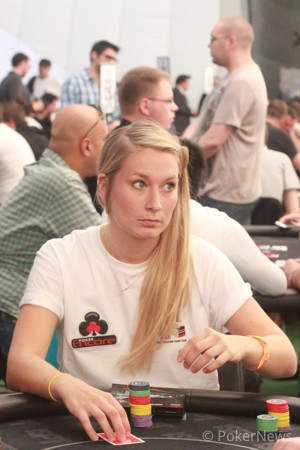 Back to back double-ups for Amy Trodd as she has found a bit of help from some cowboys.
Firstly, she opened to 17,000 and was called by Angelo D'Onfrio before Sebastian Muller squeezed to 45,000. Satnam Sandhu flat-called out of the big blind and Trodd reraised all in for 109,000 more.
D'Onfrio and Muller both folded but Sandhu couldn't let his hand go and made the call.
Sandhu:

Trodd:
The board ran out
and Trodd doubled up. Soon after she took even more chips from Sandhu, holding kings again on the turn of a board that had a five and two spades on. Sandhu held
but missed the river as Trodd added even more to her stack.
Player
Chips
Progress

Amy Trodd

520,000

396,000

Level 17 : 4,000-8,000, 1,000 ante
On a board of
Christophe Jean Choffray bet 24,000.
Immediately to his left sat Marius Pospiech who moved all-in over the top of his bet for a total of 135,000, more than covering Choffray's stack.
It took several minutes for Choffray to release his hand, and when he did he wanted his opponent and the table to see what he had.
Face up on the table was the now unwanted
Level 17 : 4,000-8,000, 1,000 ante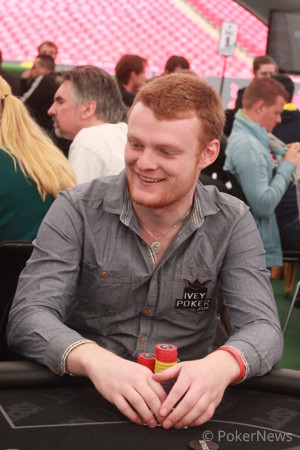 The ginger-bearded assassin is at it again. Mat Frankland is up to 800,000 after he min-raised from the button to 16,000 and then called the big blind's shove for 160,000. Frankland showed
to dominate the short stack's
despite a board of
giving him a scare or two.