€3,000 Main Event
Days: 5
€3,000 Main Event
Day 5 Completed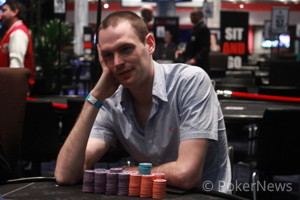 The penultimate day in the International Stadiums Poker Tour (ISPT) Wembley Main Event started with 20 players vying for the €1,000,000 first place prize. Of those 20 hopefuls, just six are still in with a chance of a seven-figure score.
The eliminations came in thick and fast from the very moment tournament director Simon Trumper started the day. Within minutes, James Sullivan, Neil Benardout and Giuseppe Stagno had each busted out and the remaining players had to redraw for new seats.
Despite the potential seven-figure first place prize on offer the aggression shown by the players never wavered and that resulted in elimination after elimination throughout proceedings. Leon Louis, Leigh Wiltshire and two-time World Series of Poker bracelet winner Praz Bansi were the next players to lose their stacks, and they were followed to the sidelines by the legendary Dave "Deviilfish" Ulliott Freddy Deeb and Florian Hoeller.
Next to head for the exits was Bassam Elia who informed PokerNews that he has never played in a casino setting before, preferring to play cash games at his and his friends' houses instead. Something tells us, maybe the €19,000 he won for his 11th place finish in this tournament that his preferences may change in the near future.
Just four hours after play began the final table was set. Jean Miguel Lacerda had recently doubled through Pete Linton when he shoved with pocket aces from the big blind when faced with a button raise from Linton (who had raise-called with ace-queen) when his tournament ended abruptly. Ferhad Seyadi opened in the cutoff and then called when Lacerda moved all in from the button Lacerda showed
and Seyadi the
. Neither player improved by the river, Lacerda exited in 10th place and the final table was set.
The nine finalists were sent on a 60 minute dinner break, during which a deal was discussed that would have seen the remaining prize pool split between each player based on chip count with €200,000 left for the eventual champion. After much deliberation between themselves, the players decided to keep the payouts as they were intended to be and continue the tournament.
Half-an-hour into the finale the first player busted – and in unfortunate circumstances. The action passed around to Linton in the small blind and he min-raised to 240,000. Julian Gardner called from the big blind and the duo shared a
flop. Linton continued with a 240,000 bet only to see Gardner raise to 550,000. Linton went into the tank before emerging with an all in bet! Gardner instantly called and showed
for trip tens, a much stronger hand than the
of Linton. The turn was the
and it was followed by the
river, improving Linton to the nut flush and leaving a stunned Gardner to exit in ninth place.
Eight became seven when the short-stacked Jerome Brion open-shoved from early position with
and Gwendoline Jadot, who is the last standing female player in the ISPT Wembley Main Event, called from the big blind with
. A board reading
condemned Brion to an eighth place finish and pushed Jadot towards the five million chip mark.
Day 5 came to an end 40 minutes later when Seyadi chose
to move all in from the small blind for 11 big blinds. Nick Hicks made the call with
and when the board ran out
Seyadi was eliminated and the tournament paused for the last time.
Play resumes at 12:00 UK time and continues until one man, or woman, has won all of the 40,450,000 chips in play. At the moment it is Linton who leads the way with 11,070,000 chips, followed by Alban Juen with 7,615,000 and Hicks with 6,230,000. Each player is guaranteed a prize of at least €73,000 although PokerNews expects a deal to be made in the early stages of play judging from the talk between the players earlier in the day.
ISPT Wembley Final Six Seat Draw
| Seat | Player | Chips |
| --- | --- | --- |
| 1 | Pete Linton | 11,070,000 |
| 2 | Xavier el Fassy | 4,555,000 |
| 3 | Nick Hicks | 6,230,000 |
| 4 | Jakub Michalak | 4,825,000 |
| 5 | Alban Juen | 7,615,000 |
| 6 | Gwendoline Janot | 6,230,000 |
Join the PokerNews Live Reporting team from noon UK time for all of the action from the ISPT Wembley Main Event.
Level 28 : 50,000-100,000, 10,000 ante
Player
Chips
Progress

Pete Linton

11,070,000

-370,000

Alban Juen

7,615,000

225,000

Nick Hicks

6,230,000

5,110,000

Gwendoline Janot

5,880,000

80,000

Jakub Michalak

4,825,000

825,000

Xavier El Fassy

4,555,000

-240,000

Level 28 : 50,000-100,000, 10,000 ante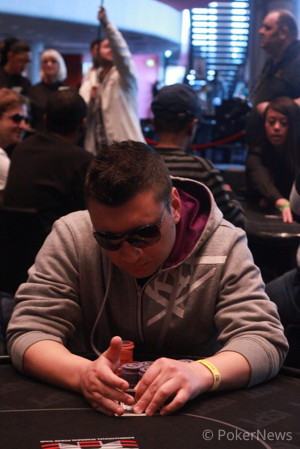 Ferhad Seyadi went all in for his last 1,120,000 in the small blind and was called by Nick Hicks.
Seyadi turned over
Hicks had
The board ran out
Seyadi's dreams were over. The applause rang out, both for the unlucky Seyadi, but also for the remaining players. It's all over for the day.
Jakub Michalak has just made a glaring error that resulted in Gwendoline Janot doubling up.
Michalak opened from the cutoff and Janot, who has played a tight solid game, three bet from the big blind. Michalak then four-bet shoved and Janot snap-called.
Janot:

Michalak:
The board ran out
and Janot doubled up.
Michalak's face was the picture of a man who knew he should have gotten away from his hand. We hope, for his sake, that he can compose himself and get over his mistake and progress deeper into this tournament.
Level 28 : 50,000-100,000, 10,000 ante
Player
Chips
Progress

Pete Linton

11,440,000

-560,000

Alban Juen

7,390,000

985,000

Jakub Michalak

7,190,000

1,545,000

Nick Hicks

5,245,000

345,000

Xavier El Fassy

4,795,000

825,000

Gwendoline Janot

2,865,000

-1,635,000

Ferhad Seyadi

1,120,000

-1,870,000
Break: 10 min.

Level 28 : 50,000-100,000, 10,000 ante
A few players are sitting tight waiting for big hands. Others are testing each other out, probing for weakness they can exploit when the time is right.
Pete Linton raised to 200,000 and was 3-bet from the small blind by Jakub Michalak to 525,000. Alban Juen in the big blind let them get on with it and folded.
The flop was
and both players checked to let a
fall on the turn.
First to act, Michalak bet 425,000 and Linton called.
The Qc on the river completed the board and Michalak continued the aggression with a bet of 850,000.
Linton was seriously pondering the call. A few minutes went by as he went through all of Michalak's possible holdings and motivation for betting that amount on that board.
"Do you want a call?" He asked Michalak.
"I don't mind." Michalak responded.
"How about a non-obvious answer?" Chuckled Linton and folded.
Next hand folded to Michalak on the button and he raised to 200,000. Alban Juen in the small blind raised to 500,000 which was enough to win the pot there and then.
It was Juen's button next hand and he raised slightly larger than has been the norm on the table to 310,000. Gwendoline Janot folded the small blind.
Whether or not Xavier El Fassey, in the big blind, saw Juen's unusual raise size as weakness or he himself had a big hand we'll never know, but his raise to a cool 1,000,000 was enough to take down a pot of his own.
Only one more player to eliminate until we stop play for the day and return for the final day six handed final which will deliver to the winner €1,000,000.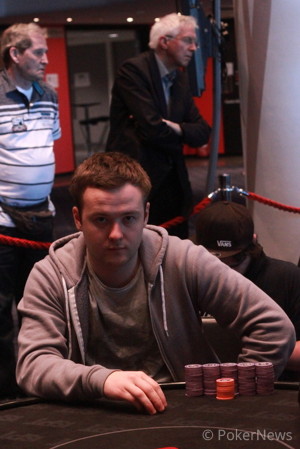 We are now just one elimination away from completing Day 5 of the ISPT Wembley Main Event after Jerome Brion was eliminated in eighth place.
Brion open-shoved from early position for around 1,200,000 chips with what turned out to be
and Gwendoline Jadot woke up in the big blind with
and she decided to call.
Jadot's call was rewarded with a king on the
flop. The turn was the
leaving Brion needing a ten and only a ten in order to stay in the tournament. Unfortunately, for him at least, the river was the
and Brion exited in eighth place for €37,000.
Level 28 : 50,000-100,000, 10,000 ante
Nick Hicks opened to 200,000 preflop and Gwendoline Janot reraised to 450,000 from the big blind. Hicks called but promptly gave up when Janot bet 400,000 on the
flop.