MPO Main Event
Day 1b Completed
The Day 1b of the 55e edition of the Marrakech Poker Open has wrapped up after 10 hours of play inside the luxurious Es Saadi Resort. The Moroccan Ismail Fath-Eddine had a reason to celebrate at the end of the day as he bagged best and will return to the felt with a 380,000 chip stack.
This second of three starting flights has wrapped up with 43 out of 177 entrants surviving the first day, surpassing the number of 70 entries from yesterday.
In the wake of Fath-Eddine, players like Mostafa Boukri (275,(00), Isabel Baltazar (265 000) , Karim Lehoussine (250,000), recent FPS Main Event paris winner Alan Goasdoue (211,000) and MPO High-Roller Dinesh Alt (199,000) are also in the top 10 at the end of the day.
Notables such as Rachid El Yaacoubi (175,500), WPT Paris winner Fabrice Bigot (140,500), German player Carsten Mawick (116,000), Sonny Franco (103,000) and Amine Seif (61,500) also punched their tickets to the second day.
The regular of Marrakech events and colourful player Anas Tadini ended up busting in the last 30-minute of play after he shoved with two pair on the flop against Thierry Gogniat, who hit a gutshot straight on the river.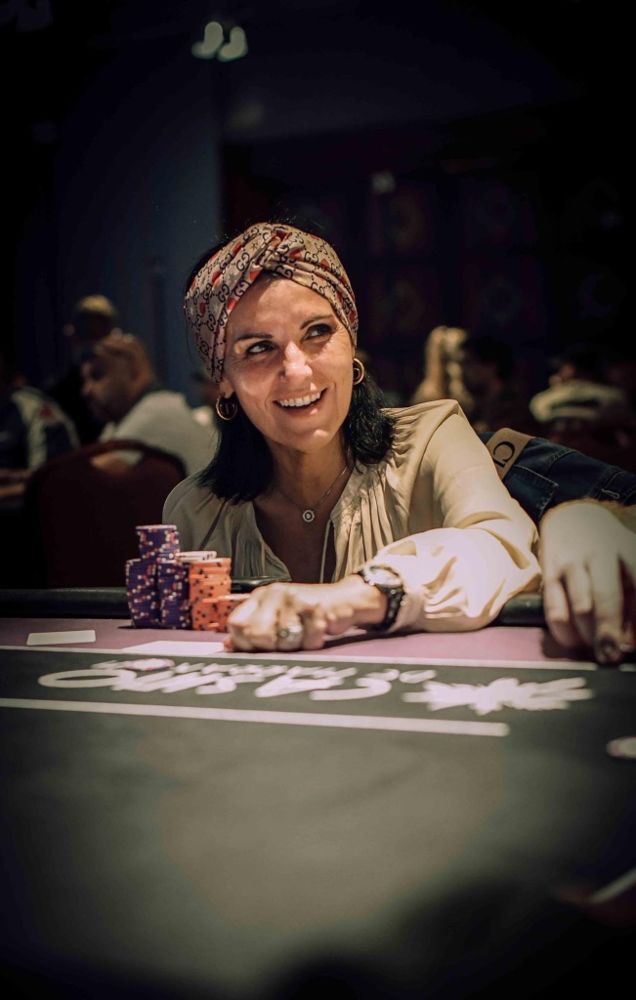 A total of 295 entries has been reached through the three flights, as Day 1c turbo saw 48 contestants join the party. 73 will be back on Day 2, which means over half the field has already been shed. Hopefuls such as Cecile Ticherfatine, Paul Tedeschi, Guillaume Darcourt, Jerome Zerbib and Omar Lakhdari fell along the way.
The survivors return on Saturday at 1 p.m local time, at blinds 1,000/ 2,500 with a 2,500 ante, to play on as the money stages will be reached quickly and the plan is to play until the final table is reached.
PokerNews covers this event start to finish until a winner has been crowned on Sunday night, so make sure to check back regularly who will lift the MPO trophy in Casino de Marrakech.
Player
Chips
Progress

Ismail Fath-Eddine

380,000

10,000

Mostafa Boukri

275,500

20,500

Isabel Baltazar

265,000

139,000

Karim Lehoussine

250,000

55,000

Alan Goasdoue

211,000

-68,000

Dinesh Alt

199,000

39,000

Ghost Rider

188,000

188,000

Hafid Kinany Alaoui

180,500

-59,500

Thierry Gogniat

179,500

33,500

Rachid El Yaacoubi

175,500

37,500

Roger Tondeur

162,000

1,000

Leandro Dirlewanger

159,000

-45,000

Miguel Couceiro

159,000

67,000

Georges Forge

143,000

143,000

Fabrice Bigot

140,500

77,500

Mathieu Di Meglio

130,000

130,000

Thierry Morel

129,000

42,000

Henri Benoni

123,000

84,000

Carsten Mawick

116,000

-1,000

Mounim Kaddouri

113,000

113,000

Adrien Sanz

110,000

110,000

David

106,500

106,500

Smain Mamouni

105,500

5,500

Sonny Franco

103,000

-27,000

Mourad Falfoul

102,000

102,000
The tournament clock has been paused, and the tournament director has announced the last two hands. 46 players currently remain, and as soon as play has ended, the full chip counts will be posted followed by an end-of-day recap.
In a heads-up pot, all the chips went in the middle on the flop
between Anas Tadini and Thierry Gogniat. The latter bet 11,000 and called the all-in raise from Tadini for a stack around 50,000:
Anas Tadini:

Thierry Gogniat:
Tadini was in good shape to double with two pair, but teh rest of the board broughjt
to give a straight to Gogniat and eliminate the Casino de Marrakech regular from the event.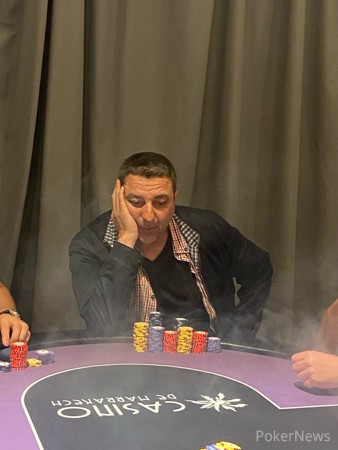 Hafid Kinany Alaoui started the action by raising before Thierry Gogniat three-bet to 11,000 in late position. Ali Habbad shoved in the big blind for 39,800 and after some thinking, both his opponents called.
The flop came
and Alaoui bet 30,000, which was enough to get a fold from Gogniat and the two remaining players tabled their cards:
Ali Habbad:

Hafid Kinany Alaoui:
Habbad was in desperate shape for a triple up, and couldn't find any help on the
turn and
river to be eliminated from the event while the big pot was sent to Alaoui.
The action was caught on a board
, with a big pot around 40,000. Rachid El Yaacoubi had bet 28,000 and his opponent considered it for some time before calling.
El Yaacoubi tabled
for trips and his opponent quickly sent his cards into the muck.
Player
Chips
Progress

Ismail Fath-Eddine

370,000

55,000

Alan Goasdoue

279,000

12,000

Mostafa Boukri

255,000

255,000

Leandro Dirlewanger

204,000

27,000

Karim Lehoussine

195,000

167,500

Miguel Couceiro Beleza

183,000

183,000

Hafid Kinany Alaoui

131,000

-37,000

Isabel Baltazar

126,000

40,000
Level: 12
Blinds: 1,000/2,000
Ante: 2,000