Event Info
| | |
| --- | --- |
| Buy-in | $4,700 |
| Prize Pool | $1,764,330 |
| Players | 387 |
Level Info
| | |
| --- | --- |
| Level | 30 |
| Blinds | 60,000 / 120,000 |
| Ante | 15,000 |
Main Event
Day 5 Completed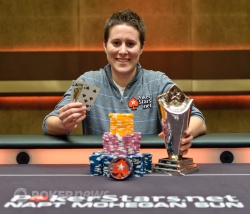 Well that's something you don't see every day.
Team PokerStars Pro Vanessa Selbst has just made NAPT history here at Mohegan Sun, completing an astounding defense of her 2010 title to take the trophy home for the second consecutive year. It's a feat that's really hard to overstate. In this modern day of super satellites and swollen fields, the best players aren't always the ones who eventually matriculate to the final table. But here at Mohegan Sun, you'd be hard pressed to find anyone to argue that the best player in the room has once again achieved an impressive victory.
As was the case last year, Selbst came into the day second in chips. And as was the case last year, she watched all seven of her fellow finalists fall by the wayside as she collected every last chip in play.
What changed from last year, though, was everything in between. Selbst certainly proved that she's more than a one-trick pony here at this final table. Last year, she was a bulldozer. She rammed and jammed and forced her chips down her opponents' throats with a fervor they were unprepared for. This time around, however, Selbst threw the field a change-up. Whether by necessity or by choice, her approach to this final table was much more methodical and measured. Selbst left the bulldozer at home, trading it in for a good old-fashioned bucket and shovel. She did yeoman's work today, grinding from big stack to short stack and back again, and plucking chips from pots with surgical precision. It took about ten hours of play, but at the end of the day, it was once again Selbst standing alone with the trophy.
For her efforts this year, she'll pocket $450,000, but the money has come to mean less by now. Selbst's accomplishments in the last calendar year are truly remarkable for anyone, let alone a part-time player, part-time law student. This latest title moves Selbst up over $4,000,000 in career earnings, which is... more than us. It's a lot, in fact, by any measure. What means more this time around is the trophy and the recognition and the fact that she's done something here that may not be repeated for quite some time. In all the years PokerStars has been running international tours, only Nacho Barbero and now Selbst have won multiple Main Events. Selbst is well on the way to making hers a household name, and this win will only serve as continued notice that she is not to be underestimated.
She was underestimated last year, and she won the whole thing. This year, everybody in the room knew she was the favorite to win, and she didn't even think about buckling under that pressure. Not even a bit. Selbst battled valiantly all day, never missing a beat even when her stack dwindled down to the dangerous 15-big-blind realm.
So what's next for Selbst? "I got finals in like two weeks, and I was supposed to be studying this week." It's straight back to school for the woman who's now used poker to pay for her tuition several times over. Actually, one thing comes first. After about an hour hour of interviewing, photo taking, and mingling, Selbst put this day to a close with five words any tournament winner can relate to: "Where do I get paid?"
That's all we have from the Main Event, but tomorrow is another must-see day at Mohegan Sun. In fact, our Main Event wasn't the only event with the potential for a repeat champion. Jason Mercier took down the Bounty Shootout here last year, and tomorrow it'll be him taking up residence at this table, looking to join Selbst's club of title defenders.
Once more, we hope you'll join us in congratulating the two-time and still-reigning champion of the NAPT Mohegan Sun, Vanessa Selbst!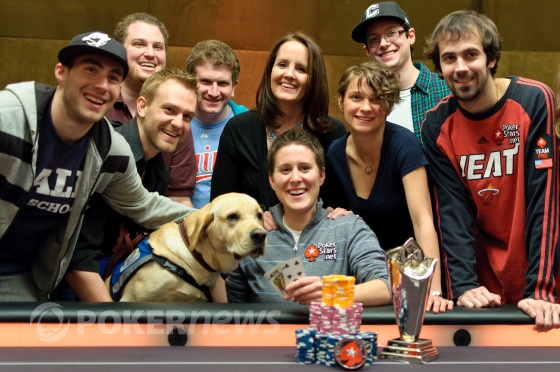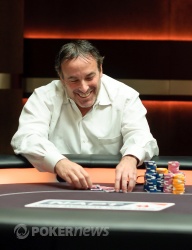 Dan Shak limped on the button and Vanessa Selbst checked her big blind.
The flop came down
and Selbst checked, leading Shak to bet 200,000. A raise to 625,000 was Selbst's next play. Shak responded with a shove for about 2.8 million and Selbst snap called with
for top two pair. Shak tabled
and was way behind with just middle pair, needing running jacks to survive.
The turn fell the
, sealing the deal for Selbst. The
river was merely a formaility, bringing an end to the tournament.
Dan Shak earned $254,000 for his runner-up showing.
Level:

30
Blinds:

60,000/120,000
Ante:

15,000
Vanessa Selbst

PokerStars Team Pro (USA)

8,875,000
610,000

Dan Shak

2,835,000
-610,000
That's another level done and dusted, and the lady and gentleman have stepped off the stage for a 15-minute break.
Vanessa Selbst opened to 200,000, and Dan Shak called the extra big blind to go off to the flop.
It came
, and both players checked through to see the
on the turn. Selbst grabbed the lead once again with a bet of 160,000, but Shak promptly raised to 400,000 straight. Selbst's cards hit the muck, and back and forth we go.
Vanessa Selbst opened to 200,000, Dan Shak three-bet to 700,000, and Selbst folded with a quickness.
Next!
Vanessa Selbst called on the button and Dan Shak checked, bringing out a
flop.
Shak check-called 125,000 from Selbst, leading to the
on fourth street. Shak checked again, prompting Selbst to bet 280,000. Shak, though, popped it to 680,000. A call from Selbst delivered the
river which led Shak to bet 800,000. Selbst called and upon seeing Shak turn over
, she turned over
to win the pot.
She is now just shy of 9,000,000 while Shak drop to about 2,750,000.
Vanessa Selbst limped in from the small blind, and Dan Shak knocked the table for a free flop.
It came
, and Shak check-called a bet of 125,000. On the turn, the
drew another check from Shak, and Selbst fired another 175,000 at the pot. This time, though, Shak snuck in a check-raise to 400,000 straight, and Selbst sent 'em into the muck.