Level Info
| | |
| --- | --- |
| Level | 31 |
| Blinds | 60,000 / 120,000 |
| Ante | 20,000 |
HK$16,500 Main Event
Day 4 Completed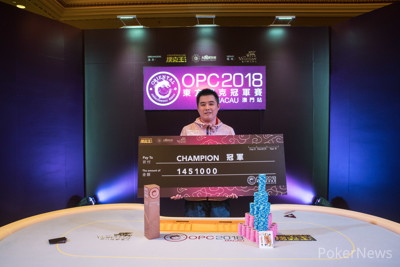 This inaugural Oriental Poker Championship had two flagship events: the HK$100K High Roller, and the HK$16,500 Main Event. And if it wasn't for our new Main Event champion Xiaobo Zhou, the same player would have won them both.
Ivan Leow's performance this week will be remembered for a while. Having entered the finale as the chip leader, he would go on to finish second out of a 513-strong Main Event field to win HK$1,016,700 ($129,588), just four days after he won the High Roller for HK$1,442,300 ($183,833). That's one hell of a good week.
But in the end it was Zhou who emerged victorious, claiming the title, the trophy, and HK$1,451,000 ($184,939). At one point down to just ten big blinds, Zhou rose to the top of the counts three-handed, then gained a 5:1 chip lead heads-up after he busted Chang Bo Feng in third place.
The heads-up battle didn't take long, with Leow dropping a chunk of chips the first hand of heads-up. Three hands later it was all over when Leow moved all-in for his last 1.2 million from the button holding
and Zhou made the call with
. The flop came
giving Zhou the nuts and the win.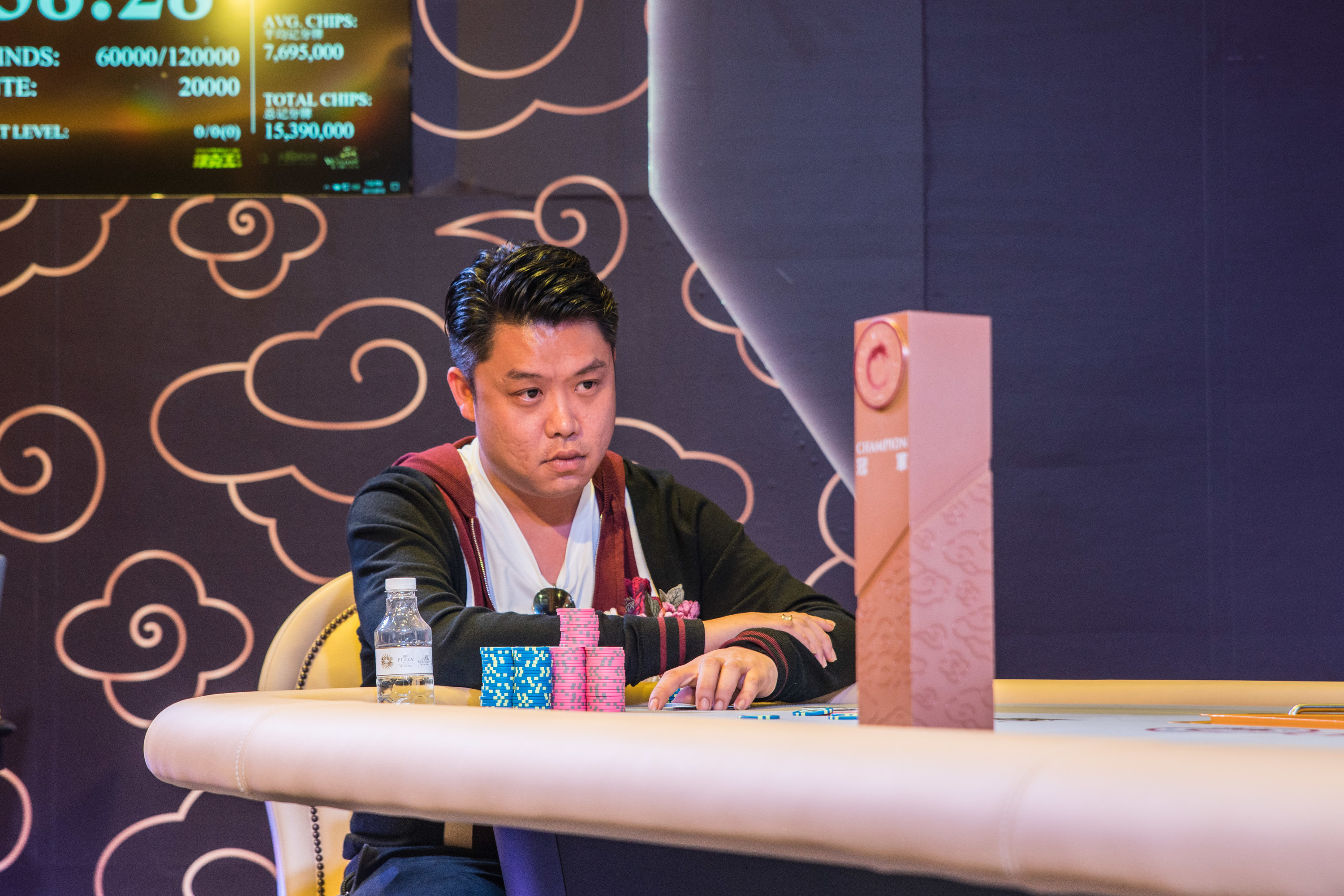 "My biggest score came back in 2011, when I came third in the APPT Red Dragon," Zhou said afterwards. "I come from Beijing, I've been playing for nine years, and this is my first big score. It means so much to me. I want to thank my family for being by my side."
He believed his biggest asset today was his tenacity. "Even when I was down to ten big blinds, I didn't give up," he added.
OPC Main Event Final Table Results
| Place | Winner | Country | Prize (in HKD) | Prize in (USD) | |
| --- | --- | --- | --- | --- | --- |
| 1 | Xiaobo Zhou | China | 1,451,000 | 184946 | |
| 2 | Ivan Leow | Malaysia | 1,016,700 | 129,589 | |
| 3 | Chang Bo Feng | China | 653,900 | 83,346 | |
| 4 | Wayne Zhang | China | 483,700 | 61,652 | |
| 5 | Austin Walton | USA | 362,800 | 46,242 | |
| 6 | Sang Hwang | Hong Kong | 291,100 | 37,103 | |
| 7 | Yazhou Chen | China | 242,600 | 30,922 | |
| 8 | Yuefeng Pan | China | 193,300 | 24638 | |
How It All Went Down
Let's rewind to the start of the day. Eight players returned to the Venetian Poker Room today, and with several short stacks we lost a few players early. Yuefeng Pan was the first to exit, shoving when he turned second pair but running into the flopped trips of Feng. We then lost Yazhou Chen in seventh, when he shoved with queen-ten and couldn't hit to beat Austin Walton's pocket eights.
Sang Hwang was our sixth-place finisher. Short-stacked, he shoved over an Ivan Leow open with jack-six suited, but Leow would call with ace-five off and held. Then Austin Walton fell in fifth, when an ambitious three-bet jam with eight-nine suited over two players was called by Zhou holding pocket jacks. The pair held up.
One of the most dangerous players at this final table would depart in fourth. Wayne Zhang's stack was getting whittled down, and with just seven big blinds he shoved with pocket threes. Zhou made the call, but then Leow moved all-in for 2 million more and Zhou let his hand go. Leow had pocket kings, and Zhang couldn't improve.
Feng had the chip lead three-handed, but several big pots didn't go his way and he found himself all-in with king-jack off versus Zhou's pocket queens. Feng hit a king on the flop, but one of the two remaining queens landed on the turn to leave Feng drawing thin. Only a diamond would save him, but alas, the diamond never came.
From there, you know how it went. Leow couldn't overcome Zhou's chip lead, nor could he win his second tournament of the OPC 2018. He gave it a right good go, though, didn't he?
Congratulations to the inaugural OPC Main Event champ, Xiaobo Zhou, and thanks for reading the PokerNews coverage this week from Macau. Until next time!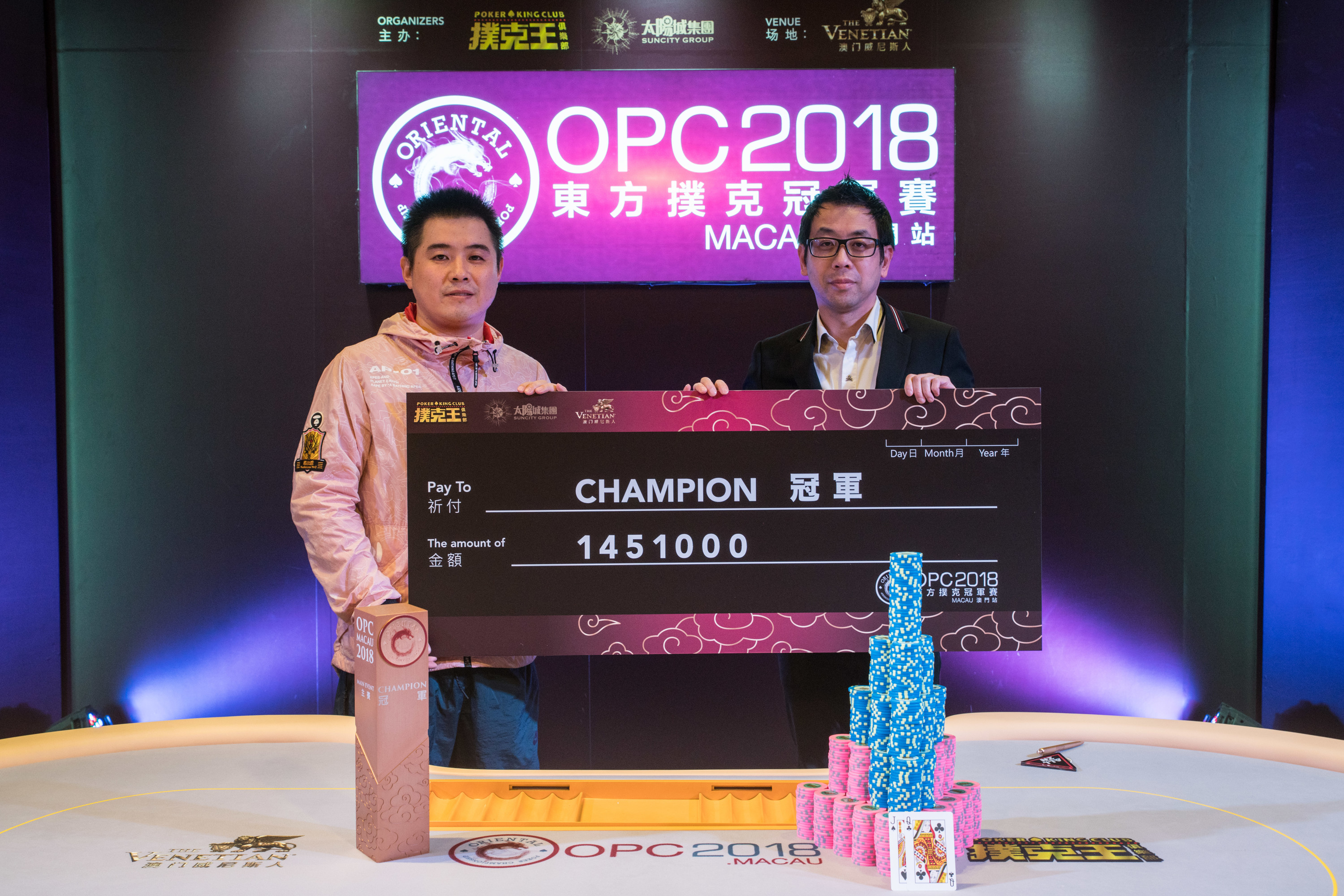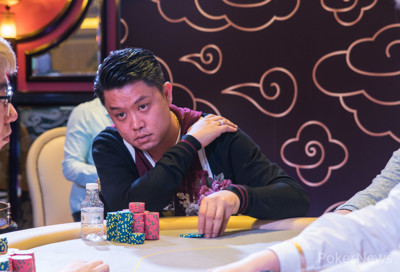 Malaysia's Ivan Leow came close to making history, but could not scale the mountainous slopes of Xiaobo Zhou's monster chip stack and heads-up was a brief affair.
Leow dropped a chunk of chips the first hand of heads-up when the two battled over a
flop. Leow, holding
made two pair on the
turn, but Zhou improved to trips on the
river and Leow did well to avoid going bust right there. However, the Malaysian had the nous to check back the river.
Three hands later it was all over. Leow moved all-in for his last 1.2 million from the button and feeling fortune on his side Zhou made the call.
Ivan Leow:

Xiaobo Zhou:
While Leow held a slender lead, all the momentum was with Zhou and the flop came down a decisive
to leave Leow drawing dead. The
turn and
river were merely a formality and Xiaobo Zhou is the inaugural Oriental Poker Championship Main Event Champion.
Zhou came over to give Leow a big hug, before celebrating with his friends on the rail and posing for his winner's photo. Leow gave a wry shrug as if to say 'can't win 'em all' and headed off to collect his HKD $1.01M runner-up prize money, leaving Zhou to bask in the glory of victory.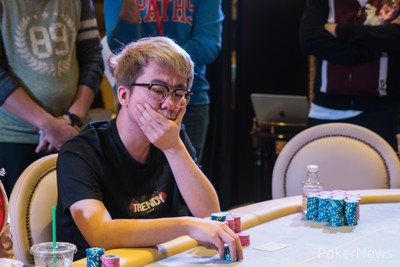 The very next hand after Zhou pushed Leow off that giant pot and the final table was down to heads-up. The action happened extremely quickly, with Leow folding the button, Zhou limped from the small blind and Chang Bo Feng moved all-in for his tournament life from the big blind, with Zhou calling immediately.
Xiaobo Zhou:

Chang Bo Feng:
Zhou is hitting hands at the perfect time it would seem, and while the
flop saw Feng briefly take the lead, his hopes were dashed on the
turn, which gave Zhou a set of queens. There was no diamond re-draw on the
river and the final table is now down to two. It is Xiaobo Zhou who will take over a 5-1 chip lead into the heads-up confrontation, so let's see if he can convert it into a win.
Xiaobo Zhou is turning up the heat, with Ivan Leow the man in the frying pan. It started with a Zhou button raise to 265,000, and Leow responded with a re-raise to 620,000 from the big blind. Zhou counted out two towers of pink 25k chips and four-bet to 1.68 million and Leow called to swell the pot to 3.4 million.
The flop came down
, Leow checked and Zhou moved all-in, prompting a grudging fold from Leow and increasing Zhou's stranglehold on the tournament.
| | | | | | |
| --- | --- | --- | --- | --- | --- |
| Xiaobo Zhou | | | | 10,240,000 | 1,750,000 |
| Ivan Leow | | | | 2,600,000 | -1,500,000 |
| Chang Bo Feng | | | | 2,550,000 | -250,000 |
There was some blind and ante swapping for a couple of orbits immediately following the break before there was a quick burst of action. It was Chang Bo Feng the man to pul the trigger, moving all-in from the small blind and Ivan Leow made a quick call in the big blind.
Ivan Leow:

Chang Bo Feng:
Both players caught a piece of the
flop, but Leow improved to two pair on the
turn to lock the hand up and climb to 4.1 million when the
river completed the hand.
| | | | | | |
| --- | --- | --- | --- | --- | --- |
| Xiaobo Zhou | | | | 8,490,000 | 940,000 |
| Ivan Leow | | | | 4,100,000 | 1,150,000 |
| Chang Bo Feng | | | | 2,800,000 | -2,090,000 |
Level:

31
Blinds:

60,000/120,000
Ante:

20,000
We have a new chip leader, with Xiaobo Zhou seizing control from Chang Bo Feng.
Zhou made it 275,000 from the small blind and Feng raised it to 700,000 out of the big. Zhou made the call, and then both players checked the
flop and
turn.
When the
river landed, Zhou now led out big for 1.5 million. Feng thought for a while before making the call, and Zhou announced "Yes!" before he turned his hand over. He had
for a flopped top set, and Feng mucked.
The three are now on a ten-minute break.
| | | | | | |
| --- | --- | --- | --- | --- | --- |
| Xiaobo Zhou | | | | 7,550,000 | 3,000,000 |
| Chang Bo Feng | | | | 4,890,000 | -1,099,000 |
| Ivan Leow | | | | 2,950,000 | -50,000 |
Chang Bo Feng dropped some chips to Ivan Leow, who gave them to Xiaobo Zhou, though this was not done willingly. It was Leow the initial aggressor, making 225,000 to go on the button. Zhou squeezed his cards individually like he was playing baccarat and then moved all-in for 2.25 million.
After Chang Bo Zheng got out of the way Leow asked for a count, crunched some numbers and then made the call with
, while Zhou rolled over the perfect nine (in baccarat at least), turning over
.
Zhou could not bear to watch his fate and turned away to watch it on the big tv screen instead as the dealer spread the
flop. That brought Zhou back to the table rather quickly, and he celebrated his double when the rest of the board ran out
and the
to climb right back into contention.
| | | | | | |
| --- | --- | --- | --- | --- | --- |
| Chang Bo Feng | | | | 5,989,000 | -1,491,000 |
| Xiaobo Zhou | | | | 4,550,000 | 2,100,000 |
| Ivan Leow | | | | 3,000,000 | -2,150,000 |
We haven't seen any flops for a while, but there have been some 'raise and take it' hands which have changed the counts slightly. Here are the current counts.