$250,000 Guaranteed
Days: 2
$250,000 Guaranteed
Day 2 Completed
Level 36 : 200,000-400,000, 50,000 ante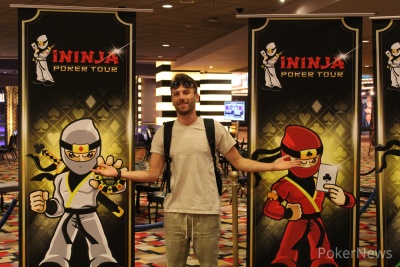 Collin Grubaugh came away with the lion's share of a three-way chop for the remaining prize money at iNinja World Championship, claiming $63,876 and a custom-made iNinja ring. Per the terms of the deal, his fellow deal-makers John Mann ($44,678) and Darius Studdard ($44,210) each got a little less than the original second-place money.
The agreement was reached after a marathon Day 2 that began at 2 p.m. local time here at Planet Hollywood and ended past 8 a.m. the next day, meaning play lasted 18 hours before factoring in breaks.
Grubaugh was the second-shortest stack when the final table began, but with seven players left, he made a key call for all of his chips. Blinds were 60,000/120,000/20,000 when he bet 335,000 from the button on a board of
and Joshua Steiner check-raised all in for about 2.4 million total. Grubaugh tanked and had the clock called on him before ultimately calling off his stack with nine seconds remaining in his countdown.
Grubaugh had the
, and Steiner the
.
Steiner had lots of outs but missed on the
river. He went bust next, and a rather unusual scenario followed after the ensuing break.
Munehiro Kurozumi was the victim of a misunderstanding, thinking the players were bagging, and he disappeared until well after play resumed. When he got back, he had a mere four big blinds and quickly went bust.
Grubaugh busted Ryan Belz with the
against the
all in preflop, and four-handed play took awhile before Grubaugh picked up jacks and then kings to first double through then bust Carlos Chang.
Well over half of the chips were in Grubaugh's stack at that point, and after blinds went to 200,000/400,000/50,000, the deal was reached with Grubaugh leading negotiations. For besting a field of 1,140, he gets a cash bigger than the rest of his live scores combined and the aforementioned ring.
Level 36 : 200,000-400,000, 50,000 ante
The players have agreed to a deal with adjusted payouts. Collin Grubaugh will "win" the tournament and take $63,876 and the custom-made ring from iNinja, while Darius Studdard and John Mann are essentially taking a hair below second-place money.
Level: 36
Blinds: 200,000/400,000
Ante: 50,000
Level 35 : 150,000-300,000, 50,000 ante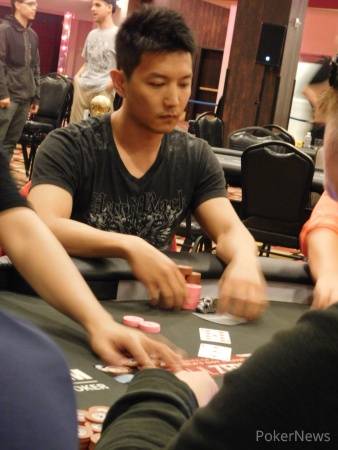 Carlos Chang put his last 2 million in with
and Collin Grubaugh woke up with
. Chang failed to catch up.
Level 35 : 150,000-300,000, 50,000 ante
Collin Grubaugh doubled when he shoved over a raise from Carlos Chang with jacks and held against
for 5 million.
Level 35 : 150,000-300,000, 50,000 ante
John Mann got his stack of about 2.7 million in preflop and was at risk against Collin Grubaugh.
Grubaugh:

Mann:
The board ran out
, and Mann took the pot with sevens.
Level: 35
Blinds: 150,000/300,000
Ante: 50,000
Level 34 : 120,000-240,000, 40,000 ante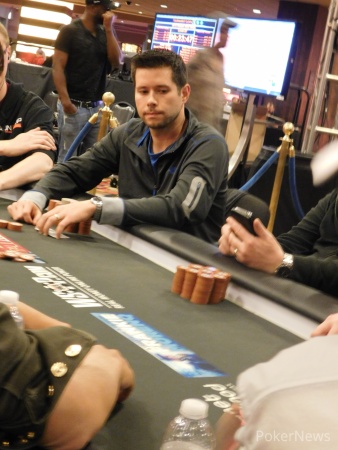 Ryan Belz got his remaining stack in with
. Collin Grubaugh had live cards with
and hit a straight on the
board.
Level: 34
Blinds: 120,000/240,000
Ante: 40,000