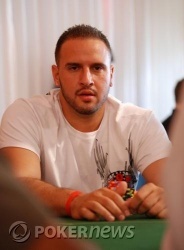 Shortly after we returned from dinner break a short stack from early position moved all-in. He got value for his hand as three players called him including Michael Mizrachi.
The flop came
. Two players checked (Mizrachi being the second one) before the third moved all in trying to force the others out. This didn't work, though, as both the other players moved all in behind him!
The short stack showed
, the player who moved all in first had
, the next player to move in had
and Mizrachi had
.
The turn came
and river
to see Mizrachi scoop the 65,000 pot, eliminate one player and leave two players very short.