Level:

23
Blinds:

10,000/20,000
Ante:

2,000
The clock has been paused while the 14 remaining players go on a quick break.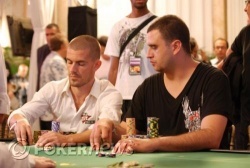 The eldest Mizrachi brother has just been eliminated from the tournament by fellow poker pro Gus Hansen up on the feature table stage. Because of our limited access to that table, we missed a majority of the hand, though we were able to piece together a few details:
According to Eric Mizrachi, Robert held pocket aces and moved all in over the top of a bet from Gus on a
flop that had one club. Gus made the call with the
and managed to hit running clubs to crack Mizrachi's aces.
Mizrachi will take home $34,953 in prize money for his 15th place finish, while Gus now sits with almost 1.9 million in chips.
Rachid 'Ralou' Ben Rezkallah has just been eliminated from the tournament by [Removed:133] in a battle of small blind versus big.
Action folded around to Ben Rezkallah in the small blind who moved all in holding
. Cournut thought things over and eventually made the call, saying, "Let's gamble," before tabling
.
Miles ahead before the flop, the man they call 'Ralou' fell way behind after the flop, which came
, subsequently giving Cournut the nut straight. Blanks on the turn and rivered sealed the deal and Ben Rezkallah would settle for 16th place prize money, worth $34,953.
Table 1:

Seat 1: [Removed:133]
Seat 2: Guillaume Darcourt
Seat 3: Raul Paez
Seat 4: Claudio Renaldi
Seat 5: Michael Abecassis
Seat 6: Alain Roy
Seat 7: Philippe Narboni
Seat 8: Rachid 'Ralou' Ben Rezkallah

Featured Table:

Seat 1: Jean Philippe Rohr
Seat 2: Stephane Bazin
Seat 3: Pierre Yves Ayme
Seat 4: Gus Hansen
Seat 5: Robert Mizrachi
Seat 6: Antonin Tesseire
Seat 7: Michael Mizrachi
Seat 8: Thierry Crenn
The players are now situated in their new seats and the cards are back in the air. We'll have the new seating assignments available momentarily.

Of note, the Mizrachi brothers are now seated at the feature table.
The tournament clock has been paused while the PPT staff conducts a redraw of the remaining 16-player field.
Stephane Bazin has just eliminated Denis Patout from the Main Event, courtesy of a race in which Bazin's ace-king got the best of Patout's pocket eights.
All of the money went in preflop and the board filled out
to give Bazin a full house, earning him the pot.
Patout wished his table mates luck and exited the tournament area to a rousing round of applause from the studio audience. He'll take home $34,953 in prize money for his efforts.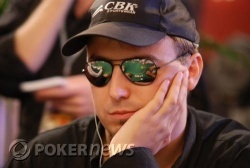 Michael Abecassis has been getting a little aggressive of late, and it is paying dividends in his chip stack. In his most recent pot, he opened with a raise on the button to 43,000. Fabrice Gouget was in the small blind, and he immediately moved all in for a total of 112,000. Thierry Crenn ducked out from the big blind and let the two men battle. With Gouget at risk for his tournament life, he tabled
and was racing against his opponent's
.
The flop ran safe for Gouget, showing
. The next two cards off the deck, however, were
and
respectively, giving Abecassis the winning triple tens.
Fabrice Gouget played a really incredible game of poker today. He came into Day 3 with just 35,000 chips -- third from the bottom. With impeccable timing and instinct, he managed to work that all the way up over 300,000 at one point, battling the toughest of tables. For his fine efforts over the past three days, he will pocket nearly $36,000.
Level:

22
Blinds:

8,000/16,000
Ante:

2,000