$25,000 High Roller Event
Day 2 Completed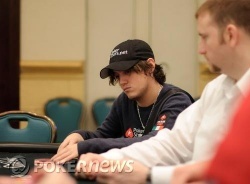 With 20 minutes and 55 seconds left in the level, play has been suspended for the day. Carter Phillips' elimination of Mike "The Mouth" Matusow was the last hand of the day, as the field reached 24 players.
Dario Minieri entered the day second in chips, barely behind fellow Team PokerStars Pro member Lex Veldhuis. The two drew the same table and the fireworks show was ready to be ignited. It wasn't until the last level of the day that the two clashed. Minieri took his kings up against Veldhuis'
in an all-in-preflop showdown. Minieri's kings held and he sent Veldhuis packing, shooting himself up the leaderboard to the top. At the end of the day, Minieri bagged up 430,700 chips.
Dutch player Michiel Brummelhuis is the other player who finished up with more than 400,000 chips and sits in second place. Here's a complete list of the end-of-the-day chip counts.
Dario Minieri - 430,700
Team PokerStars Pro
Michiel Brummelhuis - 403,800
Vivek Rajkumar - 301,700
Tobias Reinkemeier - 279,500
Dmitry Stelmak - 264,000
Alex Brenes - 253,600
Greg Raymer - 206,600
Team PokerStars Pro
Bijan Zahmat - 198,200
Sandra Naujoks - 180,500
Team PokerStars Pro
Shawn Buchanan - 171,700
Lisa Hamilton - 153,900
Nick Schulman - 143,400
Carter Phillips - 139,400
Joe Cada - 135,700
Team PokerStars Pro
Matt Marafioti - 121,000
Brett Richey - 106,400
Paul Berende - 104,400
Christian Kruel - 103,800
Bill Edler - 94,700
Adolfo Vaeza - 92,600
William Reynolds - 89,100
James Calderaro - 89,100
Isaac "westmenloAA" Baron - 76,200
Will Molson - 60,000
Play will resume tomorrow at 12:00 p.m. local time where the players will play until a final table is reached. We'll see you then!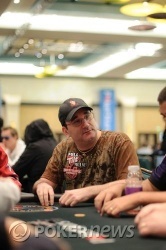 Action folded around to Mike "The Mouth" Matusow in the small blind and he limped in. Carter Phillips was in the big blind and jammed all in. Matusow quickly called with
. Phillips held
.
The board ran out
and Matusow was sent packing as the last player to go before play ends for the day. Phillips moved up to 139,400.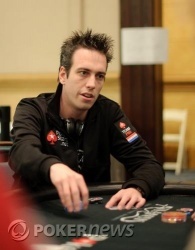 Bill Edler opened the pot with a raise to 6,600 from early position. Lex Veldhuis flat-called and then Dario Minieri reraised to 27,600. Edler folded and Veldhuis moved in. Minieri quickly called, tabling two kings. Veldhuis was dominated with
.
Veldhuis failed to get there against the little Italian and was sent to the rail.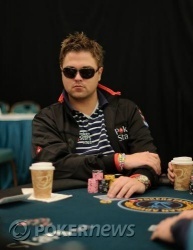 Team PokerStars Pro William Thorson was all in preflop with
. Dutch player Bijan Zahmat was his opponent holding
.
The board ran out
and Thorson was sent packing. Zahmat moved up to 205,000 chips.
The remaining members of Team PokerStars Pro are Sandra Naujoks, Greg Raymer, Lex Veldhuis, Joe Cada and Dario Minieri.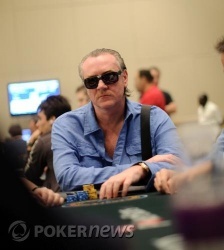 Alex Brenes raised to 7,000, Matt Marafioti reraised to 18,200 and then Govert Metaal moved all in for about 40,000. Brenes folded and Marafioti made the quick call.
Marafioti held
and Metaal held
.
The board ran out
and Metaal was eliminated from the tournament. Marafioti moved up to 125,000.
Vivek Rajkumar is up to 350,000 after busting Sami Kelopuro. All in preflop, Vivek held pocket eights to Kelopuro's pocket queens.

An eight on the river sealed the deal, sending Kelopuro to the rail.
The cards are back in the air.
Level:

12
Blinds:

1,200/2,400
Ante:

200
The remaining players are curently on a 15-minute break.