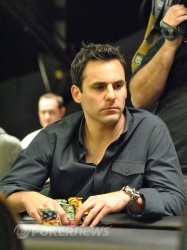 With the board reading
, PokerNews pro blogger Chris Klodnicki fired 4,500. Amnon Filippi made the call and the river brought the
. Both players checked and Klodnicki's
for two pair was the winning hand.
A couple hands later, Marko Neumann raised to 2,800 from the button. Klodnicki three-bet to 7,600 from the small blind and Neumann made the call to see a flop.
The flop came down
and Klodnicki fired 8,000. Neumann made the call and the turn brought the
. After a minute or two in the tank spent thinking and counting his stack, Klodnicki tossed his bounty button into the middle to signify that he was all in. The bet was worth about 30,000 in chips and Neumann quickly mucked.
After Neumann mucked, Klodnicki looked around and looked a tiny bit upset the cameras weren't rolling for this whole hand. Either way, he turned over the
for seven high to show the bluff.
He's got over 60,000 now.
To view Klodnicki's blog, head here and check it out. You can also check out all of our pro bloggers and see what they've got to say.