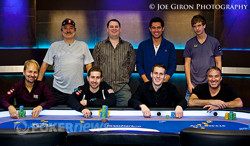 Dan Shak has a pack-and-a-half-a-day Tic Tac habit, and that caused some concern from the television staff as he took his seat. They informed him that he's not allowed to have anything on the table, and a few players raised half-serious questions about the "chark" that Humberto Brenes uses to cap his cards and intimidate would-be callers.
"What about 'the chark'? You can just discriminate against Dan Shak," Scott Seiver piped up with a laugh.
For now, Shak appears to be hiding his Tic Tacs behind his stack of chips, and Brenes' trademark card capper will likely be allowed to stay as well.
Everyone's seated and unbagged, and they're posing for a group shot right now. Cards should be flying in just a couple short minutes!