Main Event
Day 1e Completed
Level 14 : 1,500/3,000, 500 ante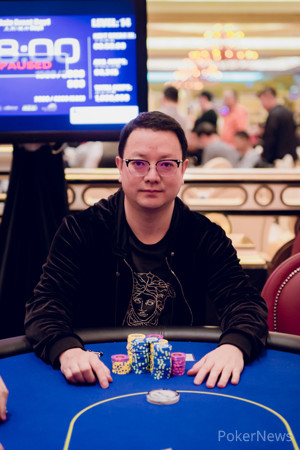 The fifth of the 2017 Suncity Cup Finale Macau starting flights proved to be the most popular one yet and attracted 109 unique entries. With the format offering unlimited re-entries a further 14 extra bullets were fired to bring the total number of entries up to 123.
With 15 percent of the field locking up a Day 2 berth it took fourteen 40-minute levels to whittle this down the final eighteen with the battle for pole position a fierce, but thoroughly entertaining one
It was tough at the top with China's Weizhou Zha and Mexico's JC Alvarado duking it out for the top spot as the bubble approached. While it was Zha who edged in front as play concluded, bagging up a monstrous 270,200 in chips, it was Alvarado who closed out the day to finish hot on the Chinese player's heels with a stack of 227,800. China's Chen Bin (162,200) rounds out the top three.
Zha enjoyed a decent start to the day and climbed to the top of the table not long after registration closed, winning a race with ace-queen to beat an opponent's pocket eights and become the first player to reach and breach the six-figure mark.
The Chinese player maintained his lead for the majority of the day, only losing it the once when JC Alvarado busted Linh Tran close to the bubble after the Vietnamese-Canadian moved all-in pre-flop with ace-eight suited and Alvarado woke up in the blinds with pocket queens.
However, it took Zha just minutes to edge back in front after attempting to pressure one of the shorter stacks. While Zha got all the chips in pre-flop with the dominated queen-five against his opponent's ace-queen, the Chinese player had the chips to spare and caught his five to bring the field down to the bubble.
Not wanting to be outdone, Alvarado was the man to wrap up the day's play calling the short-stacked shove of the unfortunate Lei Chen, who moved all-in pre-flop for a little over 10 big blinds holding ace-jack. The Mexican made the call from the blinds with queen-eight offsuit and immediately paired his eight before rivering two pair just to twist the knife and crush Chen's Day 2 dreams.
Alvarado was one of the later entries, joining not long before the close of registration but really began to come into contention after winning a race with pocket fives against the ace-jack of Victor Chong.
Alvarado went on a rush so hot after this that it was a wonder he did not catch fire at the table and he was the only other player to finish play with over 200,000 in chips, though Chong also managed to make the cut with the rest of the Day 1E survivors stacking up as follows:
2017 Suncity Cup Finale Macau Day 1E Survivors and Day 2 Draw
| Position | Name | Country | Chip Count | 2A Table/Seat | 2B Table/Seat |
| --- | --- | --- | --- | --- | --- |
| 1 | Weizhou Zha | China | 270,200 | 2-4 | - |
| 2 | JC Alvarado | Mexico | 227,800 | 3-7 | - |
| 3 | Chen Bin | China | 162,200 | - | 6-9 |
| 4 | Cheng Dong | China | 158,900 | 9-6 | - |
| 5 | Tang Wei Cong | China | 152,400 | 3-9 | - |
| 6 | Chang Yu Chung | Taiwan | 144,500 | - | 6-6 |
| 7 | Keng Po Wong | Macau | 111,100 | - | 10-1 |
| 8 | Fredric Stephan | France | 95,600 | - | 4-6 |
| 9 | Hua Bin Hwang | China | 75,100 | - | 4-9 |
| 10 | Li Tsan Wa | Hong Kong | 71,900 | - | 6-5 |
| 11 | Vincent Yiu Chung Tong | China | 59,900 | - | 9-4 |
| 12 | Bin Rui Wang | China | 59,500 | 8-1 | - |
| 13 | Guoliang Wei | China | 58,800 | - | 8-5 |
| 14 | Victor Chong | Malaysia | 56,500 | 7-9 | - |
| 15 | Ip Ka Leung | China | 46,700 | - | 2-8 |
| 16 | Jianfeng Xu | China | 38,500 | 2-9 | - |
| 17 | Song Xiong | China | 35,600 | 7-8 | - |
| 18 | Sheng Yong Wang | China | 19,900 | 4-8 | - |
Notables who came up short included Australia's Bobby Zhang who entered late and could not find any traction, Hong Kong'sJustin Chan who lost a race with pocket Queens against the ace-king of Kun Huang, and as previously mentioned Canada's Linh Tran.
Day 2A begins at 1pm on Wednesday, 29 November, with Day 2B playing out at the same time on Thursday, 30 November and the PokerNews Live Reporting Team will be on hand to cover all the Main Event tournament thrills and spills. Day 1F kicks off at 1pm local time (GMT+8) on Monday, 27 November so join us then as we see who else has what it takes to secure a Day 2 seat.
Level 14 : 1,500/3,000, 500 ante
Player
Chips
Progress

Weizhou Zhang

270,200

200

JC Alvarado

227,800

Cheng Dong

158,900

22,900

Tang Wei Cong

152,400

9,400

Chang Yu Chung

144,500

144,500

Keng Po Wong

111,100

25,600

Fredric Stephan

95,600

67,600

Hua Bin Hwang

75,100

75,100

Li Tsan Wa

71,900

71,900

Vincent Tong

59,900

59,900

Bin Rui Wang

59,500

59,500

Guoliang Wei

58,800

58,800

Victor Chong

56,500

25,500

Ip Ka Leung

46,700

-17,300

Jianfeng Xu

38,500

-14,500

Song Xiong

35,600

35,600

Sheng Yong Wang

19,900

19,900

Chen Bin

162

-26,238
Level 14 : 1,500/3,000, 500 ante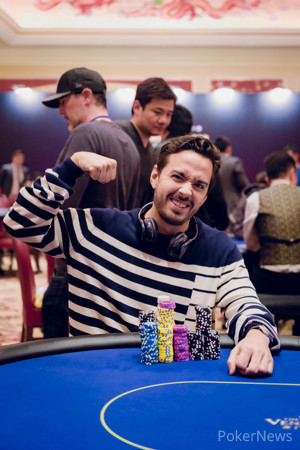 In what was quite possibly one of the shortest bubbles of all time - lasting all of two hands - the short-stacked Lei Chen moved all-in pre-flop from middle position and table messiah JC Alvarado made the call from the small blind.
Lei Chen:

JC Alvarado:
While Chen had the best hand, the way Alvarado had been running meant the result was almost a foregone conclusion. The Mexican paired his eight on the
flop and the
turn was not the ace or jack Chen needed to survive.
The
river just rubbed salt into the wound and Chen headed for the exit empty handed while the remaining 18 players have all made HK$6,000 and guaranteed themselves a Day 2 seat.
Player
Chips
Progress

JC Alvarado

227,800

27,800

Lei Chen

Busted
Level 14 : 1,500/3,000, 500 ante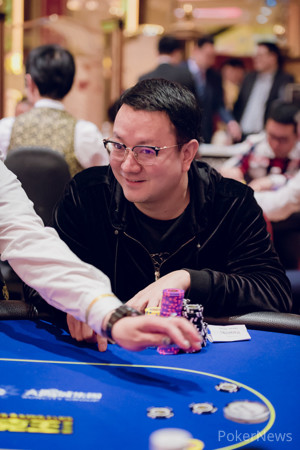 A slew of quick bust outs following Linh Tran's exit brought the field so close to the bubble the surviving 20 players could almost taste it.
The deep-stacked former frontrunner Weizhou Zha was moved to balance tables shortly after Tran's elimination and not wanting to be outdone by Alvarado, Zha brought the field to the bubble in a hand that will give his opponent nightmares for years to come.
The unfortunate player left so fast we did not get a chance to get his name, but then he didn't look like he was in much of a mood to give it had we had a chance to ask.
The man in question limped the cutoff (hoping to induce, as you will see) and after the button folded, the small blind completed and the cutoff got his wish when Weizhou Zha squeezed to 15,000 in total.
The cutoff moved all-in for 36,600 in total and, after the small blind bowed out, Zha tossed in the extras and the hands were turned over.
Cutoff:

Weizhou Zha:
Of course, poker being the totally unjust game that it is, the window card was the
with the
completing the flop and bringing an anguished groan from the all-in player. There was no help to be found on the
turn or the
river and the field was down to 19. Zha stacked up to over 270,000 and now the bubble had arrived the clock was paused with 18-minutes remaining on the level.
Player
Chips
Progress

Weizhou Zhang

270,000

103,000
Level 14 : 1,500/3,000, 500 ante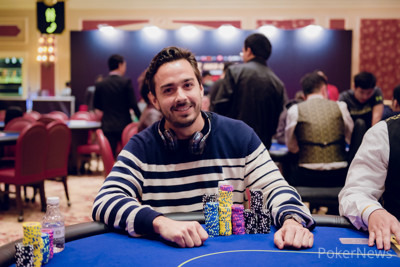 This tournament is fast becoming the JC Alvarado show and the Mexican player is running so hot right now it is a wonder he has not burst into flames.
We saw Alvarado push an opponent off a 45,000 pot after jamming the river on a fairly dry queen-high board to pad out his stack further before he put an end to Linh Tran's Day 2 hopes and dreams the very next hand.
Tran was down to his last 20,000 and moved all-in from middle position with
and Alvarado woke up in the small blind with
and made the call.
The
runout was not the one Tran was after and he hit the rail and Alvarado now has a massive 200,000-plus stack – we are not sure exactly how much for sure though as he has them unevenly stacked and does not know exactly how much himself. It's definitely more than 200,000 though.
Level: 14
Blinds: 1,500/3,000
Ante: 500
Level 13 : 1,200/2,400, 400 ante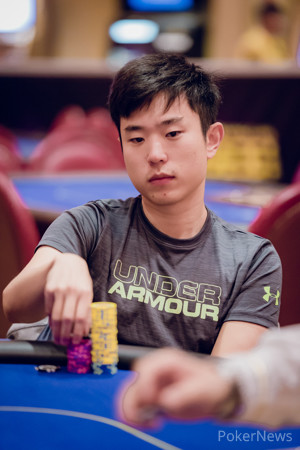 There are now 24 players in action with Nevan Cheng the man to thin the field. The short stacked Jeho Lee moved all-in pre-flop for his last 39,400 from under-the-gun plus one and action folded around to Cheng in the big blind.
It took Cheng some time to make his decision so it was quite a surprise to see him turn over the hand he did when he finally decided to make the call after around 2 minutes in the tank.
Nevan Cheng:

Jeho Lee:
It was a fair fight, but it was one that Lee lost immediately when the flop came down
and with Cheng holding a diamond Lee found himself needing to hit the deck's one remaining non-diamond eight.
As you can clearly see from the post title, that did not happen and after the
turn and
river completed the hand Lee headed for the exit while Cheng stacked up to 151,000.
Player
Chips
Progress

Nevan Cheng

151,000

44,000

Jeho Lee

Busted
Level 13 : 1,200/2,400, 400 ante
Since his double-up before the break against Victor Chong, JC Alvarado has become increasingly active and has climbed almost to the top of the ladder.
The only man standing in his way is Weizhou Zha and the two have not long played a decent sized pot together. Before that however, we caught Alvarado and Linh Tran tangling in a hand.
It was Tran who was the pre-flop raiser, making it 5,500 to go from middle position and Alvarado made the call from the small blind to take the action heads-up to a
flop.
The action went check, check and the
came in on the turn and brought an 8,500 Alvarado bet with it. Tran made the call and the
river completed the hand, but not the betting.
After thinking it over for a few minutes Alvarado fired for 17,000 and Tran had a decision to make as, with 38,000 behind, the bet represented a significant portion of his chips.
Eventually, Tran made the call and Alvarado turned over
for bottom pair and it was good. Tran dropped to 21,000 while Alvarado climbed to roughly 138,000.
Then Alvarado applied the heat to Weizhou Zha the following hand in a blind versus blind battle. We are not sure what the pre-flop action was as we picked up the hand on the turn with the board reading
just as Alvarado led out for a bet of 8,500 into a pot of close to the same.
Zha thought it over but eventually made the call and the
came in on the river. This saw Alvardo bet big and he splashed out a chunky bet of 45,000 to send Zha deep into the tank, where he remained for several minutes before finding the fold and leaving Alvarado to scoop another and climb to 160,000 while Zha dropped to what looked to be 167,000.
Player
Chips
Progress

Weizhou Zhang

167,000

17,000

JC Alvarado

160,000

22,000

Linh Tran

21,000

-31,100
Level: 13
Blinds: 1,200/2,400
Ante: 400