Main Event
Day 1b Completed
Level 11 : 800/1,600, 300 ante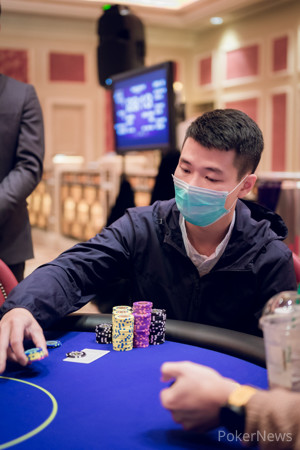 The second of the of 2017 Suncity Cup Finale Macau starting flights saw 13 players battle it out at the baize and while the format offers unlimited re-entry none of the contenders chose to fire additional bullets.
With 15 percent of the field making it through to Day 2, it took just eleven 40-minute levels to thin the field down to the final two, with Macau's Sam Cheong powering into a late chip lead after handing Hong Kong's Justin Chan a brutal beat to seize the lead and cripple Chan, all in one fell swoop.
The decisive hand saw Chan and Cheong get all the chips in pre-flop, and while Chan's pocket queens were leading Cheong's king-eight the Macanese player hit a straight when the board ran out
to crush Chan's hopes and dreams and give Cheong the chip lead.
It was all over the next hand with Chan getting his last 3.5 big blinds in the middle with both Cheong and Taiwan's Pete Chen making the call and checking the action all the way to the river. Cheong hit trip twos to send Chan to the rail and guarantee himself a Chen an HK$6,000 payday, in addition to a Day 2 seat each, worth HK$38,000.
Day 1B of 2017 Suncity Cup Finale Macau Survivors and Day 2 Draw
| Position | Name | Country | Chip Count | 2A Table/Seat | 2B Table/Seat |
| --- | --- | --- | --- | --- | --- |
| 1 | Sam Cheong | Macau | 168,800 | 7-6 | - |
| 2 | Pete Chen | Taiwan | 26,200 | - | 6-3 |
Cheong endured a rough start to the day and found himself as the shortest stack when play became nine-handed. However, a setup hand saw the Macanese player wake up with pocket aces when the USA's [Removed:151] moved all-in pre-flop with pocket kings. That hand catapulted Cheong to the top of the leaderboard, where he remained for the majority of the day before dishing out that brutal beat to Justin Chan.
Chen by comparison, was a late arrival, joining a level before late registration closed. The Taiwanese player is a seasoned tournament hand though and showcased his skills by ducking and diving at the right time to earn several crucial double ups and squeak into the money.
Cheong now finds himself sitting fourth in chips in the current Day 2 standings, though with six more starting flights to play (including two turbo flights) this could well change before Day 2A begins at 1pm on Wednesday, 29 November.
That concludes the PokerNews live coverage for the day with Day 1C getting underway on Saturday 25 November at 1pm local time (GMT+8) so join us then as we see who's got what it takes to go the distance and earn themselves a berth for Day 2.
Level 11 : 800/1,600, 300 ante
Justin Chan could not recover from that brutal last hand and was all-in pre-flop for his last 6,000 the following hand with both Pete Chen and Sam Cheong making the call.
The final flop fell
and Chen and Cheong checked it all the way to the river, with the
turn and
river completing the hand, but not the betting.
Cheong led out for 10,000 on the river, Chen quickly folded and the cards were turned over. Chan showed
for queen-high while Cheong had done it again with
and hit running cards to win the hand, though to be fair, his king-high was in front anyway.
All that excitement concludes Day 1B of the 2017 Suncity Cup Finale Macau with both Chen and Cheong making HK$6,000 and earning a Day 2 berth while poor old Justin Chan will have to try his luck again tomorrow.
Full end of day wrap and Day 2 Draw to follow so watch this space.
Level 11 : 800/1,600, 300 ante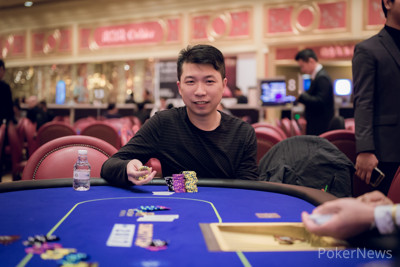 The best thing about poker is that anything can happen and unexpected turns of events keep things decidedly spicy. It was Sam Cheong who was adding the spice in this particular hand, at it was a doozy.
After Pete Chen folded the button Justin Chan chose to get cute and just complete from the small blind. Sam Cheong decided to try and end the hand pre-flop and moved all-in and Chan beat him into the pot.
Sam Cheong:

Justin Chan:
Chan was in great shape and looked to be primed to come back for Day 2 with a decent sized stack when the flop came down
. However, the poker gods had other ideas and the
turn gave Cheong additional gutshot straight outs to go with his one overcard.
You can guess what happened next… and you would be right if you guessed that Cheong got there, binking his runner, runner gutter when the
completed the hand.
Cheong celebrated with a fist pump and a cheer while Chan looked like he wanted to puke all over the table and dropped down to 6,000 while Cheong climbed to the giddy heights of 150,000.
Level 11 : 800/1,600, 300 ante
The short-handed table dynamic with a short-stacked Pete Chen and both Justin Chan and Sam Cheong pretty deep is fascinating to watch. Both Chan and Cheong are trying not to tangle too much while trying to pressure Chen at the same time, who appears to be ducking and diving at just the right time.
Chen had already shoved on Chan twice to earn himself a couple of free orbits and when he did it a third time Chan decided to look him up and the cards were turned over.
Pete Chen:

Justin Chan:
Chen found himself in great shape and locked in the double up when the board ran out
to climb to 32,000.
Level 11 : 800/1,600, 300 ante
There have been quite a few pots played being as the action is short-handed, but there have been no particularly significant changes to the pecking order. Pete Chen increased his stack slightly to climb to a little over 33,000 by pushing Justin Chan off a hand, but the Hong Kong player took all those chips back but a few more an orbit later to return the stack sizes to close to what all three players began the level with.
Sam Cheong and Chan played a hand after Cheong opened the action from the button with a raise to 2,800 and Chan chose to defend from the big blind. Chen check called Cheong's 3,000 c-bet on a flop of
, which slowed the Macanese player down a little and both players checked the
turn and td] river.
Chan turned over
for a pair of eights, but this was not enough to beat Cheong's
so Cheong padded out his stack slightly with the last three players stacking up as follows:
Level: 11
Blinds: 800/1,600
Ante: 300
Level 10 : 600/1,200, 200 ante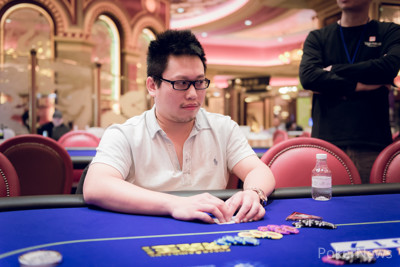 A huge hand has just played out that has brought Wingkei Chan's tournament to a close, with Justin Chan the man to show him the door.
It all started with a Sam Cheong raise from under-the-gun. Pete Chen got out of the way and Wingkei Chan moved all-in for 25,500 in total.
Justin Chan made the call from the big blind and now Cheong had a decision on his hands. Eventually, he decided to fold, showing the table
before pitching his cards into the muck.
That was good news for Wingkei, who turned over
and seemed happy to know there was an ace gone when Justin turned over
.
Unfortunately for Wingkei, the
flop was just the one that Justin was after and the
turn brought Wingkei's tournament to a close. That makes Pete Chen the short stack now, though he managed to catch at timely double up with pocket eights shortly afterward at the expense of Sam Cheong to climb to 25,000.
Player
Chips
Progress

Justin Chan

95,000

31,000

Sam Cheong

75,000

-10,500

Pete Chen

25,000

13,800

Wingkei Chan

Busted
Level 10 : 600/1,200, 200 ante
The four remaining players are all Macau regulars and have played so many tournaments together we have lost count. That makes for some interesting table dynamics and banter and we are getting treated to both.
As the shortest stack Pete Chen tried to get something going with a raise to 2,500 from the button, but was looked up by both Wingkei Chan and Justin Chan in the small and big blinds respectively to take the action three-way to a flop of
.
Action was checked around to Chen on the button and he continuation bet another 2,500, only to see Wingkei Chan check-raise all-in. Both Justin Chan and Pete Chen folded immediately leaving Wingkei free to rake in the pot.
Justin Chan limped from the small blind the next hand when the action was folded around, and Sam Cheong seemed happy to take the free
flop, folding as soon as Chan reached for betting chips.
Cheong won the next one after shoving into Pete Chen from the small blind and showing the table
when everyone else folded.
A couple of hands later and it was another blind on blind hand between Justin Chan and Cheong, with Chan choosing to mix it up a little and raise to 3,500 this time around.
Cheong responded with a re-raise to 9,500 but folded as soon as Chan moved all-in, flashing the latter the
with a chuckle as he did so.
Player
Chips
Progress

Sam Cheong

85,500

-15,700

Justin Chan

64,000

11,700

Wingkei Chan

30,000

6,400

Pete Chen

11,200

-9,200
Level 10 : 600/1,200, 200 ante
With late registration now closed for Day 1B of the 2017 Suncity Cup Finale Macau the field will not increase more than the 13 runners who have entered today. Just four of those remain in the running and two of those will be leaving empty handed while the other two will make HK$6,000 and lock up a Day 2 seat worth HK$38,000.