Main Event
Day 1c Completed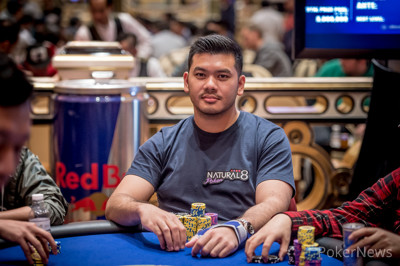 Day 1C of the 2017 Suncity Cup Finale Macau was the busiest yet, attracting 42 eager hopefuls, all looking to lock up their Day 2 berth. With the format offering unlimited re-entry, two of those chose to fire a second bullet to bring the total number of entries up to 44.
With 15 percent of the field making it through it took just over fifteen 40-minute levels to whittle this down to seven, with Malaysia's Michael Soyza the man who climbed the highest.
Soyza bagged up an impressive 174,500 when play concluded in the early hours of Sunday morning, though fellow countryman Wai Kiat Lee was not that far behind, finishing the day with a very respectable 150,000.
Hong Kong's Percy Chao also had a great day, though it took him until his second bullet to find his run good and Chao bagged up the third largest stack, finishing the day with 114,900.
Soyza came into the final nine as one of the larger stacks and some canny play and well-timed aggression saw him seize a lead he would not relinquish, making him currently the fourth largest Day 2 stack, though it was Lee who was the man to bring the Day 1C action to an end.
On the final hand the Malaysian opened the action with pocket aces and found an easy call when the short-stacked Wei Tso moved all-in over the top of his opening raise with ace-king.
Tso found no help on the flop, turn or river and departed empty-handed while the seven remaining players all earned themselves a HK$6,000 payday and secured their Day 2 berth with the end of day counts and Day 2 draw as follows:
2017 Suncity Cup Finale Macau Day 1C Survivors and Day 2 Draw
| Position | Name | Country | Chip Count | 2A Table/Seat | 2B Table/Seat |
| --- | --- | --- | --- | --- | --- |
| 1 | Michael Soyza | Malaysia | 174,500 | - | 2-9 |
| 2 | Wai Kiat Lee | Malaysia | 150,000 | 10-9 | - |
| 3 | Percy Chao | Hong Kong | 114,900 | - | 7-5 |
| 4 | Phachara Wongwichit | Thailand | 66,900 | 2-7 | - |
| 5 | Joey Wong | Hong Kong | 59,300 | 8-7 | - |
| 6 | Ho Yin Sau | Macau | 54,200 | 1-4 | - |
| 7 | Ka Ho Sun | Hong Kong | 37,400 | - | 9-2 |
The day began slowly with just four players, but by the time the first break came around at the end of the third level this had increased to 30.
Ironically, it was Tso who became one of the early frontrunners, winning a massive three-way all-in on an all-heart ten-high flop with pocket jacks after fading the flush draw of Joshua Zimmerman and spiking a set of jacks on the river to beat his other opponent's flopped set of threes.
That timely catch shot Tso to the top of the leaderboard for a spell before he nearly lost the lot and dropped right down to the bottom. However, Tso made a stellar recovery and climbed back near the top when play began to get short-handed.
Another player who started strong but came up agonizingly short was Macau's Ka Meng Ho, who edged into pole position just before the dinner break after picking off an ill-timed river bluff from Hong Kong's Yu Fai Wu. While Ho made the final nine he too ran ace-king into the pocket aces of Wai Kiat Lee to depart in ninth place empty-handed.
Lee came close to disaster himself after his pocket kings were out-flopped by the ace-ten suited of Ho Yin Sau as the tournament came close to the final table. Sau spiked his ace and turned his flush to leave Lee with just three big blinds.
However, the Malaysian spiked a set of fives the very next hand to quadruple up, then rivered another set against Joey Wong to bring himself right back into contention. Finding aces twice on the final table also helped of course.
Other notables who could not go the distance included Hong Kong's Nick Wong and Wingkei Chan, the latter of whom also came up short on Day 1B.
That concludes thePokerNews live coverage for the day with Day 1D getting underway on Sunday 26 November at 1pm local time (GMT+8) so join us then as we see who's got what it takes to go the distance and earn themselves a berth for Day 2.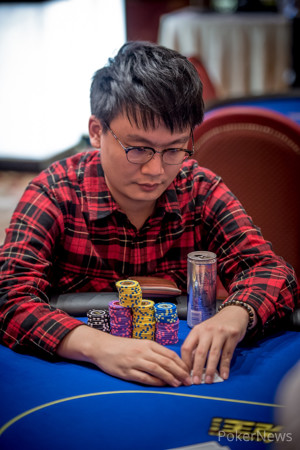 With the short-stacked Ho Yin Sau earning that double-up the pressure was on shorties Ka Ho Sun and Wei Tso and there was a palpable feeling that the end of the day was close. It came when Wai Kiat Lee opened the action to 10,000 from early position and the action folded around to Wei Tso in middle position.
Tso peeked down at his cards and quickly shipped in his stack and the rest of the table got out of the way.
"Sorry bro!" said Lee, who looked anything but as he slammed down the call and rolled over the rockets for the second time, and just like the hand against Ka Meng Ho earlier the unfortunate Tso was holding bug slick.
Wei Tso:

Wai Kiat Lee:
The final board ran out
and that was it for Tso who departed empty-handed while the remaining seven players all made HK$6,000 and secured their Day 2 seats.
Full end-of-day wrap and Day 2 draw to follow so watch this space.
| | | | | | |
| --- | --- | --- | --- | --- | --- |
| Wai Kiat Lee | | | | 150,000 | 40,000 |
| Wei Tso | | | | Busted | |
Just minutes after play restarted and Ho Yin Sau managed to earn a double up at Phachara Wongwichit's expense. It was Wongwichit who opened the action with a raise to 10,000 from the hi-jack and Sau jammed from the button for his last 22,000, Wongwichit made a quick call and the cards were turned over.
Sau held a slender lead with
with Wongwichit holding
. The window card was a king but the next card revealed was an ace, much to Sau's relief and the Macanese player doubled to 48,000 while Wongwichit dropped to 68,000.
| | | | | | |
| --- | --- | --- | --- | --- | --- |
| Phachara Wongwichit | | | | 67,000 | |
| Ho Yin Sau | | | | 48,000 | |
Level:

16
Blinds:

2,500/5,000
Ante:

500
The eight remaining players are just on a 10-minute break and it is now really just an exercise in ICM to see who becomes the next casualty with Ho Yin Sau the short stack with a little less than five big blinds when play resumes with the stacks as follows:
| | | | | | |
| --- | --- | --- | --- | --- | --- |
| Michael Soyza | | | | 173,000 | 33,000 |
| Percy Chao | | | | 117,500 | 22,500 |
| Wai Kiat Lee | | | | 110,000 | -24,000 |
| Phachara Wongwichit | | | | 89,000 | 9,000 |
| Joey Wong | | | | 56,200 | 1,200 |
| Ka Ho Sun | | | | 44,900 | 11,400 |
| Wei Tso | | | | 44,100 | -25,900 |
| Ho Yin Sau | | | | 25,600 | -10,400 |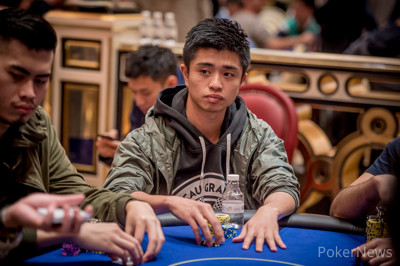 After a lull in the action and no bust-outs for the last two and a half levels, there was a sudden car crash of a hand that saw Ka Meng Ho's tournament come to a grisly end. It was Wai Kiat Lee the man to show Ho the door, opening the action with a raise to 8,000 and Ho moved all-in over the top for 57,000 in total.
Lee called so fast his chips left skid marks on the felt - usually not a good sign if you are the player who has just shoved - and the cards were turned on their backs.
Ho had
and was unfortunate to run into Lee's
and there was no help to be found on the flop, turn or river and there are now eight players left. The next bust out will conclude the action for the day and guarantee the remaining seven players a seat for Day 2.
| | | | | | |
| --- | --- | --- | --- | --- | --- |
| Michael Soyza | | | | 140,000 | 2,000 |
| Wai Kiat Lee | | | | 134,000 | 51,000 |
| Ka Meng Ho | | | | Busted | |
Wei Tso opened the action with a raise to 5,500 and Ho Yin Sau moved all-in for 27,800. Tso asked for a count and made the call and the cards were turned over.
Ho Yin Sau:

Wei Tso:
Sau was the at-risk player but held the lead and the best hand in poker and the board ran out
. While there was a sweaty moment on the turn when Tso picked up a flush draw to go with his pair of queens the river bricked out to grant Sau the double and he climbed to 57,000 while Tso dropped to 34,000.
Level:

15
Blinds:

2,000/4,000
Ante:

500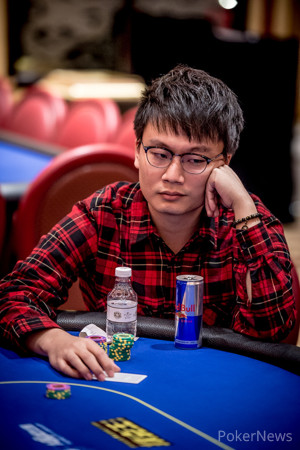 There has been no change at the top and Michael Soyza is still the current chip leader, with Percy Chao, Phachara Wongwichit, and Wai Kiat Lee all very close in stacks while the short stack is Ka Ho Sun.
Wei Tso was getting a little short but managed to win a small pot with pocket kings against Joey Wong to pad out his stack a little. Wong called Tso's pre-flop raise but there was no further betting in the hand as the flop came down ace-high and both players seemed content to check it down. Wong mucked as soon as Tso turned over the Cowboys.
Tso and Percy Chao played a pot immediately afterward that had the potential for fireworks but anti-climatically fizzled out. It was Tso who was the pre-flop aggressor again, making it 6,000 to go from middle position and Wongwichit (button), Percy Chao (small blind) and Ho Yin Sau (big blind) all called to take the action four-way to a flop of
.
The action was checked to Tso, who fired for 8,500 with Chao the only caller and the
came in on the turn. That was it for the betting and the
river completed the hand. Michael Soyza was as surprised as us when the hands were turned over.
Chao held
for top pair and a missed nut flush draw and Tso had turned two pairs with
but been counterfeited by the pair up on the river.
"How do you both not get it in on the flop or turn?" mused Soyza – but then being as the tournament is just two off the money it is understandable.
Ka Ho Sun moved all-in from middle position the next hand but found no customers and took down the blinds and antes.
| | | | | | |
| --- | --- | --- | --- | --- | --- |
| Michael Soyza | | | | 138,000 | 6,000 |
| Percy Chao | | | | 95,000 | -3,000 |
| Wai Kiat Lee | | | | 83,000 | 7,000 |
| Phachara Wongwichit | | | | 80,000 | |
| Wei Tso | | | | 70,000 | 4,000 |
| Joey Wong | | | | 55,000 | -8,000 |
| Ka Ho Sun | | | | 33,500 | -16,500 |