Main Event
Day 2 Completed

Level 27 : 25,000/50,000, 5,000 ante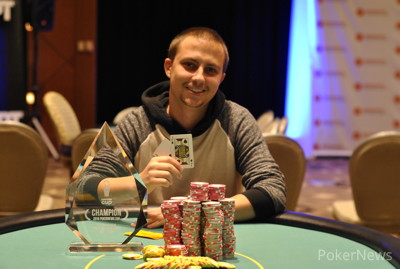 The first PokerNews Cup event in North America held at the Borgata Hotel Casino & Spa is in the history books, with Ryan Van Sanford claiming the title, along with $68,676. The 23-year old who currently lives in Colorado bested a field 120 players in this $2,150 buy-in tournament, putting his lifetime tournament earnings up over $900,000.
Van Sanford defeated Day 1 chip leader Dominic Picinic in a heads-up battle that only lasted about 45 minutes. Van Sanford, who held the edge during most of the heads-up play, put an end to the tournament in a hand that saw Picinic raise to 150,000 holding
on the button. Van Sanford, took a short moment to think about things before moving all in with
. Picinic made the call, which would be the end to his tournament. The board was no help to Picinic, rolling out
and shipping all of the chips to Van Sanford.
After the win, Van Sanford told PokerNews that he was thrilled that the PokerNews Cup was added to the Borgata Poker Open schedule, as it was a great addition for players who busted out of the WPT Main Event. When asked where the PokerNews Cup trophy would sit in his home, Van Sanford said, "All my trophies go to my dad, so I'm sure he'll find a special place for this one."
The second day of play at the PokerNews Cup moved swiftly, as only 26 players remained after Day 1. Players made a furious dash to the money which was reached when David Fink eliminated Jakov Klatzkin after his ace-queen out-raced the pocket sixes of Klatzkin when a queen hit on the flop.
After the bubble burst, it took another two hours for the final 18 to play down to a final table of nine, and it was David Olshan who was the unlucky 10th-place finisher. Olshan shoved in early position for 146,000 with pocket sevens and was called by Jayaram Kovoor-Chathoth who was holding a superior pair of jacks. The final board read
and Olshan headed to the cage to collect his payout.
There was no dominant force at the final table, and it seemed as if the short stacks continued to double up time each time they were in jeopardy of elimination making for an unpredictable conclusion.
Van Sanford, the eventual champion made his move with five players left when he doubled through Barry Hutter with pocket queens over Hutter's pocket jacks. Van Sanford than eliminated Christian Harder in fifth place when his king-queen flopped not only one but two queens against the pocket sixes of Harder.
Players took a 45-minute dinner break when play got four-handed, and after the final four ate, Van Sanford went on a tear knocking out Barry Hutter in fourth with Van Sanford's king-ten beating Hutter's flush draw after the two got all in on the flop. Van Sanford than knocked out Sergio De Zen after he raised to 60,000 on the button with
and called the 200,000 shove from De Zen who was in the big blind holding
. The
flop was solid for Sanford, although the clubs left De Zen with plenty of outs. The
on the turn, and the
on the river, however, were no help for De Zen leaving Sanford to battle Picinic for the title.
Final Table Results
| Place | Player | Prize |
| --- | --- | --- |
| 1 | Ryan Van Sanford | $68,676 |
| 2 | Dominic Picinic | $38,412 |
| 3 | Sergio De Zen | $23,280 |
| 4 | Barry Hutter | $18,624 |
| 5 | Christian Harder | $13,968 |
| 6 | Jayaram Kovoor-Chathoth | $11,640 |
| 7 | David Fink | $9,312 |
| 8 | Taylor Wilson | $6,984 |
| 9 | Aaron Massey | $5,238 |
While the inaugural PokerNews Cup is in the books, the event is sure to back in North America and in Europe in the not-so-distant future. Stay up-to-date by visiting PokerNewsCup.com.

Level 27 : 25,000/50,000, 5,000 ante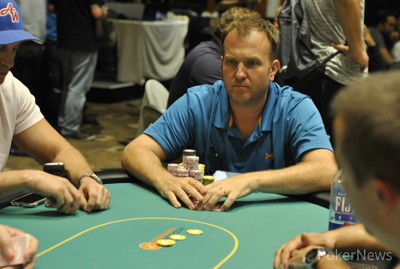 Dominic Picinic raised to 150,000 on the button, Ryan Van Sanford took a short time to think and moved all in. Picinic sat back in his chair, checked his hole cards and placed a calling stack of chips forward.
Van Sanford:

Picinic:
The dealer squared the cards on the felt and the board came
, Picinic didn't improve and Van Sanford won the pot.
The stacks were so close that it took a couple counts to verify that Van Sanford had Picinic covered by around 50,000 and Van Sanford won the title.
Level 27 : 25,000/50,000, 5,000 ante
Ryan Van Sanford completed, and Dominic Picinic raised to 150,000. Van Sanford moved in, and Picinic called immediately.
Van Sanford:

Picinic:
Van Sanford needed help and found some on the
flop, picking up a straight draw. The
turn didn't help but the
river got him there.

Level 27 : 25,000/50,000, 5,000 ante
On the first hand at 25,000/50,000 blinds, Dominic Picinic raised to 125,000 and Ryan Van Sanford called. The flop came
, Van Sanford check-called 125,000 and the turn came
. Van Sanford checked, Picinic bet 175,000 and Van Sanford called. The river came
, both players checked and Picinic turned up
.
Van Sanford sighed heavily and mucked his cards, giving Picinic the pot.
Level: 27
Blinds: 25,000/50,000
Ante: 5,000
Level 26 : 20,000/40,000, 5,000 ante
Ryan Van Sanford called a raise to 95,000 preflop and check-called 75,000 on a
flop from Dominic Picinic. Check-check on the
, and Van Sanford came out with 150,000 on the
river. Picinic took awhile to call, but Van Sanford showed
for an airball and Picinic took the pot with
.

Level 26 : 20,000/40,000, 5,000 ante
Dominic Picinic and Ryan Van Sanford went to a limped flop of
. Van Sanford check-called 40,000, the turn came
and both players checked. The river came
, Van Sanford bet 75,000 and Picinic pushed out a stack of 500,000 for a raise.
Van Sanford insta-mucked his cards and Picinic picked up another pot.
Level 26 : 20,000/40,000, 5,000 ante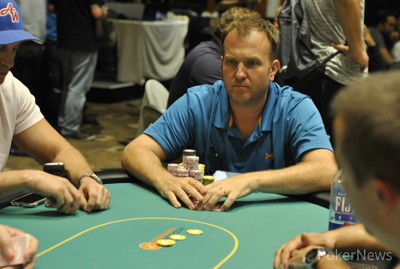 Dominic Picinic raised to 95,000 on the button and Ryan Van Sanford called. Check-check on the flop, and Van Sanford check-called 150,000 with the board reading
. Van Sanford checked the
river and Picinic immediately pushed in a pile of red T25,000 chips. It was 325,000, and Van Sanford thought about a minute before folding.