Main Event
Day 1b Completed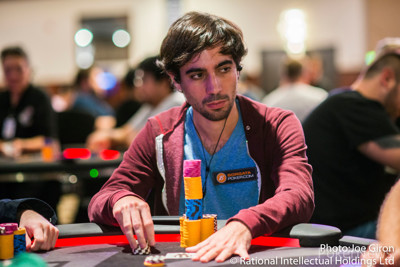 The Main Event of the inaugural PokerStars Festival New Jersey continued on Wednesday and drew 127 players, bringing the total field size to 208 players. The total prize pool is set at $201,760, with the top 39 places being paid and first place is set at $38,220. After 10 one-hour levels on Day 1B, just 45 players bagged and will join the 25 players who survived on Day 1a.
Bagging the Day 1b chip lead was Michael Gagliano with 144,900, putting him fourth in chips of the 70 remaining players. The rest of the top five Day 1b stacks are rounded out by Dan Howe (138,900), Tyson Apostol (135,200), Team PokerStars Online's Randy Lew (130,200), and Darren Elias (118,900).
Gagliano, who won Event #2 here a few days ago, had just more than a starting stack at the dinner break, but eliminated PokerStars MindSports Ambassador Jennifer Shahade to help propel his stack. Shahade raised, Gagliano defended his big blind with
, and after the flop was checked he turned a ten-high straight. Shahade called his turn bet, then his river shove, and she was eliminated. Gagliano had just more than 50,000 that hand and went on a heater to end the night, nearly tripling his stack from that point.
Among those who failed to punch their ticket to Day 2 include Ari Engel, Theo Tran, Jon Borenstein, "Boston" Rob Mariano, Alex Foxen, Scott Baumstein, Shankar Pillai, Nick Palma, and Team PokerStars Online's Jaime Staples.
Play resumes tomorrow at 11 a.m. where another 10 one-hour levels are scheduled to be played.
Player
Chips
Progress

Michael Gagliano

144,900

-10,100

Dan Howe

138,900

-17,100

Tyson Apostol

135,200

-9,800

Randy Lew

130,200

10,200

Darren Elias

118,900

38,900

Nick Aguilera

110,200

30,200

Vinny Pahuja

109,400

2,400

Eli Kim

97,200

David Levitch

96,900

43,900

Jovy Ounthongdy

90,700

Manuel Perito

90,500

30,500

Jason Acosta

87,900

43,900

Matthew Wantman

86,200

-11,800

Robert Cheung

83,200

9,200

Tom Pschar

82,800

-27,200

Jesse Elliott

75,700

-64,300

Craig Mason

72,400

Seung Woo Yoo

72,100

-22,400

Judith Bielan

70,800

Bradley Snider

67,900

15,900

Joe Sanfilippo

64,900

Chris Dombrowski

64,600

Shawn Dullavin

63,800

Charles Powell

63,400

Asher Conniff

60,900

25,900
Level 10 : 600-1,200, 200 ante
Players will play three more hands at each table before bagging for the night.
Level 10 : 600-1,200, 200 ante
Michael Gagliano won the first event here, a $2,200 six-max, and he's looking to keep the success flowing with another good result. He's up to 155,000 after dragging a pot worth over 70,000 on a board of
. Gagliano checked in the small blind and an opponent in the cutoff thought awhile before checking back. Gagliano showed queens full and dragged the pot.
Level 10 : 600-1,200, 200 ante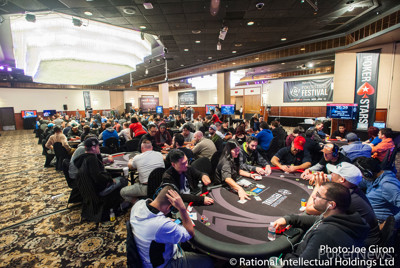 Prize pool information has been made available. The winner of the event will take home $38,220, while a min-cash in 39th will be worth $1,576.
Randy Lew raised to 3,000 from the hijack, John Mirkovich three-bet shoved from the cutoff for about 13,500, and Lew called with
, trailing Mirkovich's
.
The board came down
, giving Lews eights full of tens to score the elimination.
Player
Chips
Progress

Randy Lew

120,000

22,000

John Mirkovich

Busted
Level 10 : 600-1,200, 200 ante
Three players checked an
flop, and big blind Daniel Sewnig fired 6,000 on the
turn. Tom Pschar called from under the gun, and the third player mucked. The river was an
and Sewnig checked. Pschar bet 5,000 and Sewnig moved in for about 36,000 effective. Pschar stacked all of his chips in one tower and tanked about two minutes before putting them in the middle.
Sewnig turned
over for a counterfeited two pair, and Pschar showed
for trips. Sewnig had crumbs remaining and busted in short order.
Level: 10
Blinds: 600/1,200
Ante: 200
Level 9 : 500-1,000, 100 ante
Robert Cheung opened and then called the shove of a player in the hijack who had about 10,000. Cheung held
and was up against
. The board ran out clean for him and he collected the pot.