Day 2 Of RGPS Tunica $600 Main Event to Start at Noon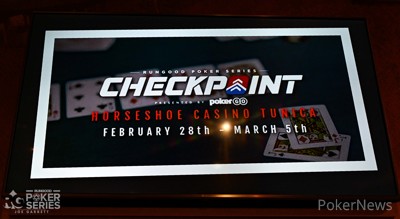 It's time for Day 2 of the 2023 RunGood Poker Series (RGPS)Tunica $600 Main Event!
Three starting flights have played to their conclusion over the last two days, with 76 players set to return Sunday at noon to play down to a winner from the 601 entries generated throughout the weekend. A grand total of $301,000 is up for grabs, with all players already in the money and guaranteed $886 while the champion will receive $56,000 and some new hardware.
Day 1c chip leader Brodie Harris (1,002,000) comes into Day 2 with the chip lead, finishing with the overall chip lead in the tournament's final flight roughly nine hours prior to play resuming. Rounding out the top five behind him are Day 1b chip leader Mike Chilton (773,00), Kevin Broadway (524,000), John George (414,000), and BJ McBrayer (397,500).
Only two RunGood Ambassadors, Drew Gonzalez and Chris Conrad (93,000) were able to find a bag to advance to Day 2. Other notables to enter the day include former champs Max Le (234,000) and Denise Pratt (228,000).
Play will resume at the start of Level 15 (4,000/8,000/8,000) with levels increasing to 40 minutes for all of Day 2. This event has generated a $312,500 prize pool with a minimum cash will be good for $844. A complete look at the payouts has been provided below.
Payouts
| Place | Payout |
| --- | --- |
| 1 | $58,573 |
| 2 | $39,034 |
| 3 | $28,846 |
| 4 | $21,501 |
| 5 | $16,220 |
| 6 | $12,376 |
| 7 | $9,532 |
| 8 | $7,438 |
| 9 | $5,875 |
| 10 | $5,875 |
| 11 | $4,657 |
| 12 | $4,657 |
| 13 | $3,781 |
| 14 | $3,781 |
| 15 | $3,063 |
| 16 | $3,063 |
| 17 | $2,531 |
| 18 | $2,531 |
| 19 | $2,531 |
| 20 | $2,531 |
| 21 | $2,125 |
| 22 | $2,125 |
| 23 | $2,125 |
| 24 | $2,125 |
| 25 | $1,781 |
| 26 | $1,781 |
| 27 | $1,781 |
| 28 | $1,781 |
| 29 | $1,781 |
| 30 | $1,781 |
| 31 | $1,781 |
| 32 | $1,531 |
| 33 | $1,531 |
| 34 | $1,531 |
| 35 | $1,531 |
| 36 | $1,531 |
| 37 | $1,531 |
| 38 | $1,531 |
| 39 | $1,531 |
| 40 | $1,531 |
| 41 | $1,344 |
| 42 | $1,344 |
| 43 | $1,344 |
| 44 | $1,344 |
| 45 | $1,344 |
| 46 | $1,344 |
| 47 | $1,344 |
| 48 | $1,344 |
| 49 | $1,156 |
| 50 | $1,156 |
| 51 | $1,156 |
| 52 | $1,156 |
| 53 | $1,156 |
| 54 | $1,156 |
| 55 | $1,156 |
| 56 | $1,156 |
| 57 | $1,031 |
| 58 | $1,031 |
| 59 | $1,031 |
| 60 | $1,031 |
| 61 | $1,031 |
| 62 | $1,031 |
| 63 | $1,031 |
| 64 | $1,031 |
| 65 | $938 |
| 66 | $938 |
| 67 | $938 |
| 68 | $938 |
| 69 | $938 |
| 70 | $938 |
| 71 | $938 |
| 72 | $938 |
| 73 | $844 |
| 74 | $844 |
| 75 | $844 |
| 76 | $844 |
| | |