1 PM Start for the PokerStars 2020 SCOOP-15-M: $215 NLHE [Sunday Million SE]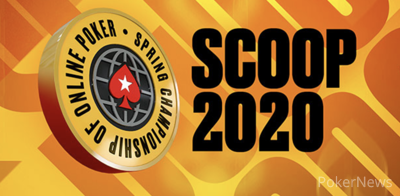 At 1 p.m. Eastern Time, the PokerStars 2020 SCOOP-15-M: $215 NLHE [Sunday Million SE] kicks off which features a guarantee of $1,000,000. The 15th event of this year's SCOOP is one that is on the schedule for most regular players every Sunday but it's a bit of a different feast when this time of the year comes around. With all tournaments having surpassed their guarantees and some of them even more than doubled, the expectations for this one are high.
With many impressive players already claiming a SCOOP and/or Sunday Million title, who knows who will take this down tomorrow as it's a 2-day event with Day 2 starting at the same time as today until a winner has been found. Day 1 will end after 8 hours and 30 minutes of play. The first 16 minutes of the day will last 15 minutes each and then the level duration will be increased to 20 minutes each. A 5-minute break will take place every hour at 55 minutes past the hour and the late registration period will remain open for the first 3 hours and 30 minutes of the tournament.
With familiar names like Jorryt 'TheCleaner11" van Hoof, "rickv17", Manu "manuverd0n" Bardon, and Benny "RunGodlike" Glaser claiming SCOOP titles and players like Rui "RuiNF" Ferreira, Mateusz "KeyserMM" Moolhuizen, Leo "LeoFernandez" Fernandez running deep, maybe they will aim to win their second 2020 SCOOP title in the Sunday Million.
To read more about yesterday's results, check out the daily recaps we provide. Or go to the 2020 SCOOP Hub for all the information related to this year's SCOOP.
PokerNews will be there from the first second until the final hand has been dealt so keep following along with the live updates right here.